Good Sunday morning! I wanted to create a spring project using my favorite color combination of green and purple against an all white background.  It may look a little stark with the white bench but I love how the tree full of flowers covers it.  Two of the dies used on my project were made for different uses.The flower tree was made using the Impression Obsession Wide Tree that was released last fall with the Halloween images.  The grass was made using the Icicle Edger. I paired them with the  Bench, Tiny Flowers and Butterfly Set.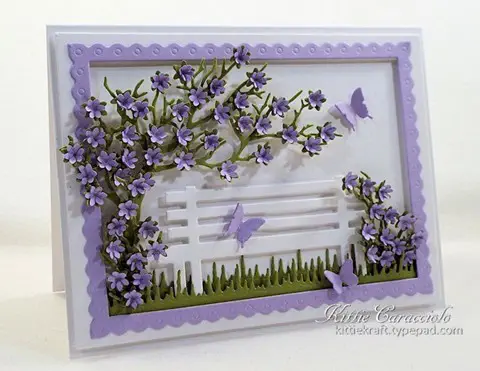 I cut two sets of tiny flowers in purple and two in green along with two wide trees.  I formed the flowers with my stylus and molding. I first attached the green flowers to the branches with glossy accents to be a base  for the purple flowers and to add fullness to the branches.  I followed by adding the purple flowers. I cut one of the trees apart to use as smaller flower bushes around the bench.
I attached the grass to the back of the frame and then attached mounting tape to attach the frame to the card base.  I attached the bench in behind the grass with mounting tape and then tucked the tree and flower bushes in behind the grass.  I used rolled up glue dots to hold the branches of the tree in place and attached the smaller flower sections with glossy accents.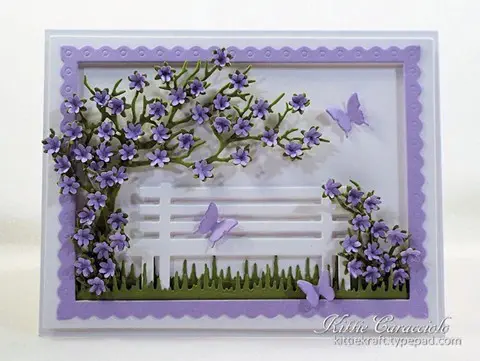 I added the butterflies for the finishing touch.  I would love to be sitting in that scene with all the flowers and butterflies.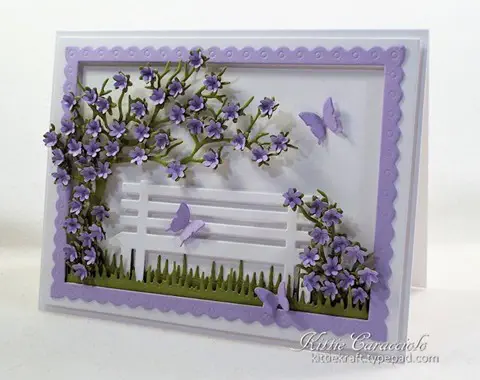 Thanks for stopping by today and I hope you enjoy your Sunday.
Card size:  5.50" x 4.25"