Good Saturday morning.  I've missed quite a few days this week due to a stressful work week,  I was sure happy to be able to sit at my desk and play with paper this morning. Before I talk about my project today  I want to announce my blog candy winner.  Congratulations to Jennifer Scull for being picked by Random.org.  Jennifer, please send your contact information to me at kittie747@cfl.rr.com and I will get your gift right out in the mail for you. 
56
  Jennifer Scull said…
that gorgeous Penny Black paper is the perfect bg for your picket fence scene! 🙂
as for dies, My Favorite Things is releasing a new die set that contains a cute picnic table/bench. I have been wanting one of these for the longest time! plus I love all of their stitched dies.
have a great week! 🙂
Reply April 06, 2015 at 11:39 AM
My project today was made for the Splitcoaststampers Inspiration Challenge.  Our inspiration site was a Pinterest page- Shafts of Light.  I almost became overwhelmed with all the gorgeous photographs displaying light.  I finally settled on a scene with a path lined with purple flowers and a forest background.  I watercolored in the yellow background which didn't turn out exactly as I pictured it in my head but I still like it.  And there in no way are any shafts of light.  LOL!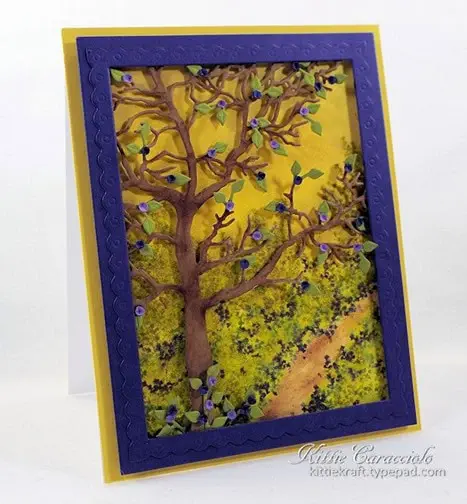 I used Scattered Straw and Squeezed Lemonade reinkers to watercolor the background and dried with my heat gun.  I sponged in the path and grassy area using Vintage Photo and Crushed Olive ink and mini applicators. I used a couple of the small stamps from the Coming Up Roses set to added dimension with Dusty Concord in for the flowers .  I added small branches along the grass line and filled in with green to create the sense of a foliage filled background. I heat set all the ink and then lightly with yellow to add a more brilliant green to the scene.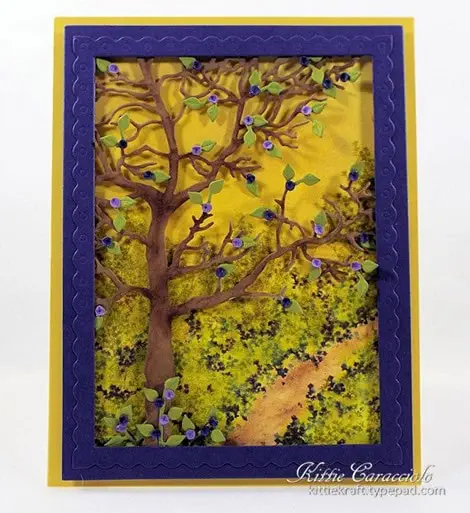 I cut the tree using a light brown paper and sponged in more brown with the Vintage Photo ink and mini applicator.  I cut several stems and cut the individual leaves off to attach to the tree.  I didn't fill the tree as I normally would because I wanted the main focus to be on the flower lined path and forest background.  I attached tiny purple flowers in two different shades to the leaves of the tree and to a few stems. I felt the tree trunk needed to have a few sprigs of foliage to soften it so I tucked three stems of flowers around it. I attached the double layered frame over the scene and attached with mounting tape. I added a few small pieces of tape to the back of the tree to hold it free from the background.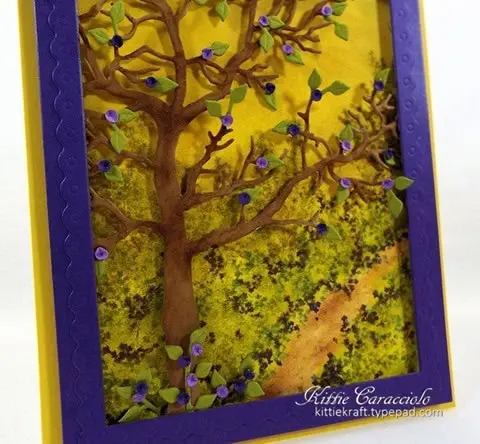 Here's a closer look at the scene.  There really isn't much definition to the scene but more an impression that there is a forest scene.  I hope that makes sense.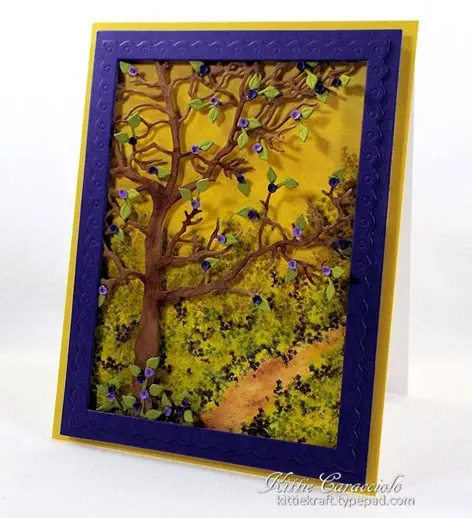 Here is the inspiration picture.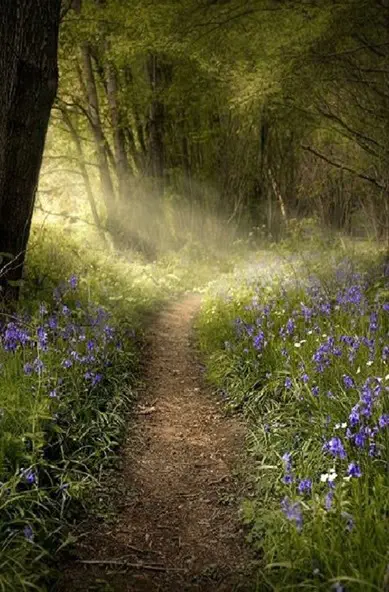 Thank you for coming by and I hope you are enjoying your weekend.  I sure am!!!
PS…..Mini Applicators are back in stock at Ellen's.  Woo Hoo!
Card size:  5.50" x 4.25"