Good Thursday morning and welcome to the Impression Obsession Design Team "Celebrate You" challenge.  I love creating clean and simple scenes with an all white background and green, purple and white seem to have become my new favorite color combination.  I thought the Celebrate You sentiment would be so cute hanging on one of the whimsical tree branches.
My project today was made using the Reading Tree, All-in-One Frames Rectangles 2, Picket Fence, Grass Border, Small Grass Border, Butterfly set, Tiny Flowers and Sentiments 2.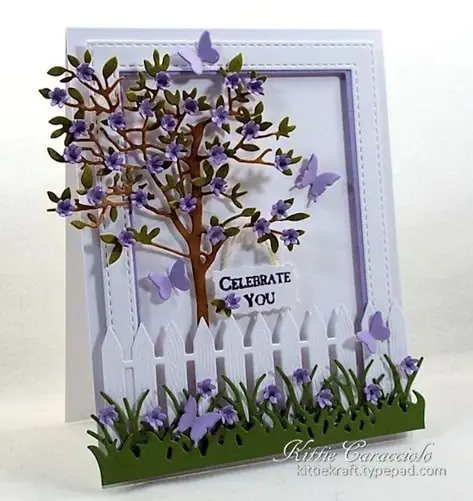 The frame was attached to the card base with mounting tape.  I attached the fence to the bottom of the frame with double stick tape and then attached the grass border with tiny flowers flat to the fence with double stick tape.  The small grass border was attached with thin strips of mounting tape.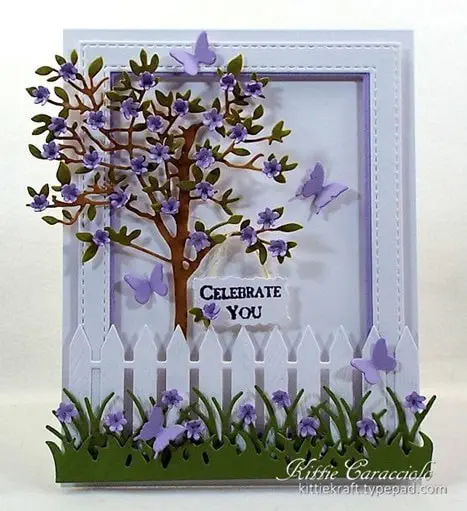 I colored the tree with Copic markers and attached the tiny flowers with glossy accents.  I decided that I wanted to make the tree a little fuller so I cut the top of a second tree, colored several of the leaves and cut them off and attached them on some of the more bare branches.  I attached a tiny flower on each of those additional leaves. I attached the tree to the card base with thin strips of mounting tape.  The butterflies were attached with touches of glossy accents and the sign was hung from the branch for the finishing touch.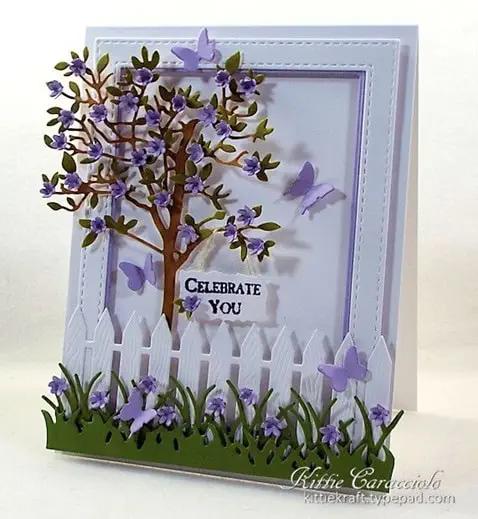 Why don't you come along and play with us. To enter the challenge go to the Impression Obsession Blog (all the details are there!). A random challenge card will be selected to showcase on the IO blog and you can to enter to win a $25 gift certificate to IO just by playing! I hope you will go check out what the other IO teams members created for the challenge. Thanks for coming by today.
Kittie Caracciolo  (that's me)
Card size:  5.50" x 4.25"