Good Sunday morning.  I used to be a watercolor fanatic and created a scene of some kind for almost every project. Somehow dies seemed to take over my interests and now I do very few stamped watercolor scenes.  Today I was in the mood so I pulled out my Coming Up Roses and Fresh Cut Flowers.  Here's what I came up with.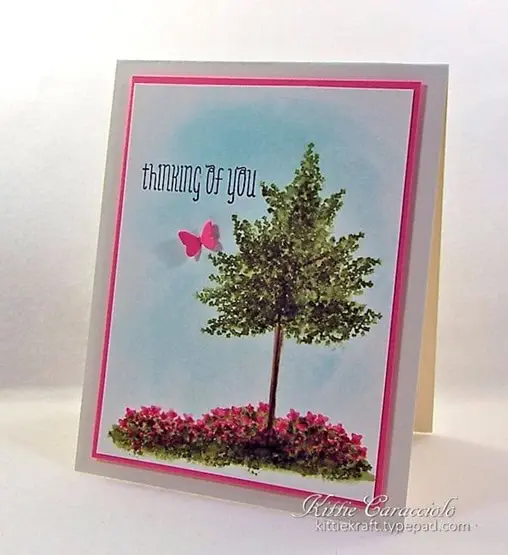 I applied the ink to all of the stamps with distress markers because it seems to create a more precise image.  I stamped the tree and branch image and lightly softened with a damp aqua brush. I stamped the main section of the leaves and then used the smaller leaves stamp to extend the leaf covered limbs.  I touched several spots of the leaves with the damp aqua brush to fill and create the watercolor effect but was careful to leaves the thin limbs showing.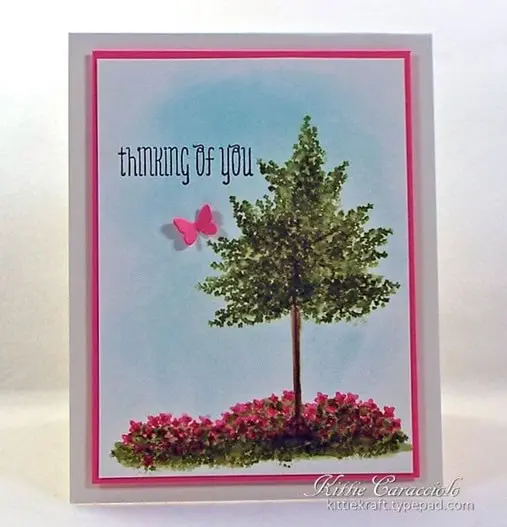 I applied a thin strip of green to the ground area and used a damp brush to spread the ink out.  Next I stamped the tiny flower images allowing some of them to be stamped in the grassy area.  I finished by stamping the small leaf image with green ink around the ground area and up into the flowers to fill in and depth.  I used my green marker to lightly touch areas in between the upper flowers and then lightly dabbed with the damp brush to spread the green. I sponged blue ink in the sky area and then stamped the sentiment.  As you can see I couldn't resist adding tiny die cut butterfly.  LOL! I really like how this turned out.  I think the simplicity of the tree and flowery ground cover is just enough for this clean and simple card.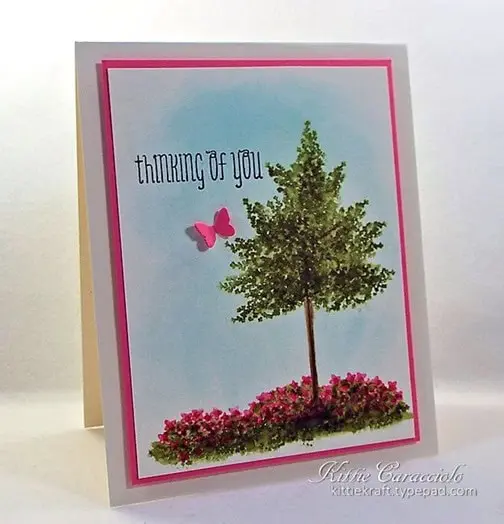 Thanks for coming by today and I hope you enjoy your Sunday.
Card size:  5.50" x 4.25"