Good Friday morning.  My project today is another attempt to create a shabby card by combining a weathered wood background and a delicate lacy die cut with a soft floral spray.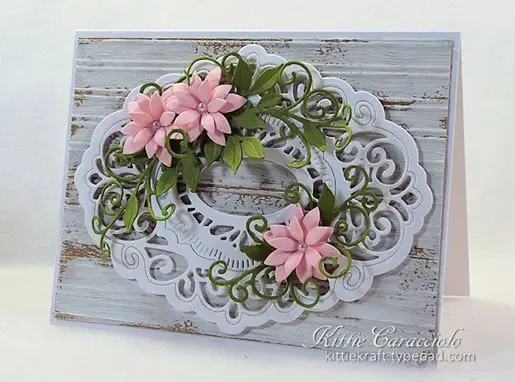 I wanted to create a background of weathered and distressed wood like you would find on an old dresser or window frame. I used the Taylored Expressions Bead Board embossing folder with kraft cardstock to create the wood lines and then lightly painted with the retired Picket Fence Crackle Paint leaving a few bare spots to allow the brown to show.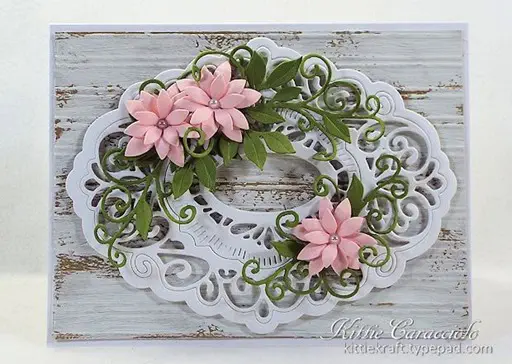 I used the Creative Expression Copenhagen set for the doily and attached it to the background using mounting tape. I used the Petite Vinery set for the foliage and the flowers were made using the Elizabeth Craft Bunch of Flowers1.  I formed the foliage and flowers using my Garden Tool Kit and attached them to the doily with glossy accents.  I added a tiny pearl in each flower center for the finishing touch.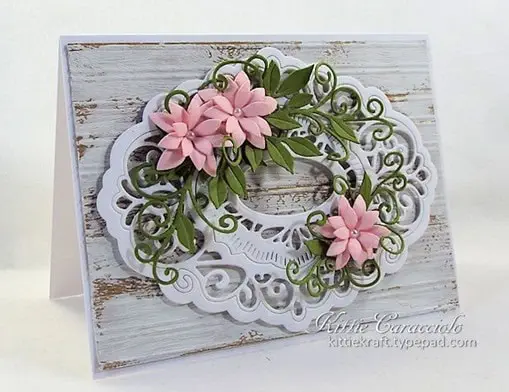 I would love to give away some blog candy.  Are you up for it?  Today I am offering eight dies sets from the Dee's Distinctively Bell Floral Collection.  There are three different flower petal sets with accompanying leaf and stem sets. All you need to do to qualify is leave a comment on this post telling me if you know of any crafting other product out there like the Picket Fence Crackle Paint that can be used to create the white crackling effect.  Well for that matter I would love to know about any other color  as well.  No need to worry if you don't have a suggestion.  Just leave a comment and you will still qualify for the gift. Click here to see the blog candy sets.  You will have until 5:00 pm on Sunday night, August 16 to leave a comment.
I love creating faux wood projects with the aged crackling effect and was very sad to see the Ranger line retire.   Here a few of my favorites from the past. Right click on the pictures to open a new tab to see a larger view.
Thanks for coming by today and I hope you have a wonderful upcoming weekend.
Card size:  5.50" x 4.25: