Good Saturday morning and Welcome to the Things We Love 2015! I'm so excited to be part of something new this year from Ellen Hutson LLC.  From December 1 thru 10 the Ellen Hutson Design Team will be sharing their favorites and each day a different designer will be featured.  Julie's favorites were featured yesterday and Carissa's favorites will be featured tomorrow. I have been excited this week seeing what my fellow design team members favorites are.  Make sure that you KEEP READING (or scroll down to the bottom of the post) for details on the giveaway and my exclusive discount code!!
Now I have to admit I started scratching my head trying to figure out how I would ever narrow down my top favorites. But then I started thinking about the inks, adhesives, and tools that I reach for and use on a constant basis and it didn't seem so overwhelming.  I did get a little shaky in the knees and my eyes started twitching when trying to narrow down my favorite dies.  Oh Ellen….can I list more than 5?  Wow!  This was not an easy job for me.  LOL!
Since I had such a hard time narrowing down my die choices I decided to list the frames I use most often.  I so love to frame my scenes and floral projects.
 I love Distress Inks pads, reinkers and markers.
Card Shoppe by Bazzill: This wonderful cardstock is dyed completely through and is a perfect heavy weight. I LOVE THIS PAPER. Hot Press watercolor paper is my very favorite to work with. It has a smoother finish more like cardstock but is a dream for water coloring.
I love all the tools below but I can't say enough about Susan's Garden Tool Kit. Those tools breathe life into my floral projects.
 Things We love Give Away Details
Ellen is providing a wonderful gift package to give you using one of my favorite coordinating die and stamp sets.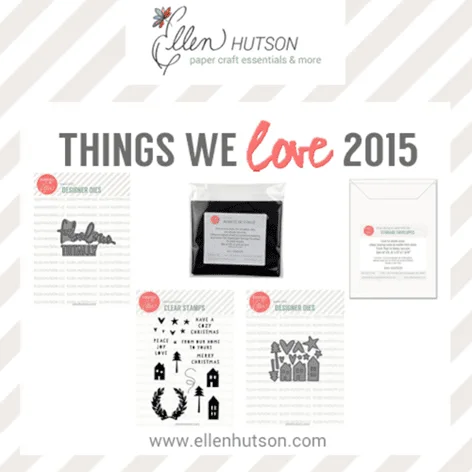 This giveaway consists of the following items:
For a chance to win simply comment on this blog post between now and December 9th and tell me what your favorite "tool" is. One winner will be randomly chosen to receive these five wonderful products. One comment per person please!
Things We Love Discount Code
If you want to go shopping I have an exclusive discount code for you! You can use this discount code thingswelovekittie on any purchase of in stock product at Ellen Hutson LLC from now until December 14th! Enjoy!
PS…All of Julie's stamps and dies are on a special discount.  Check it out!