Good Friday morning.  I am so happy the weekend is almost here.  This week has seemed extra long after having four days off last week for the holiday. LOL!   Today I'm sharing another snowman card and this festive guy was made using the Impression Obsession Snowman Set and paired with the new Peppermint Block stamp and die set, a Christmas tree from the Tree Landscape Layers and a couple Cardinals.  The whole scene was framed using the Rectangle 6-in-1 Frames.  The holly  paper background is from the Penny Black Wintertime pad.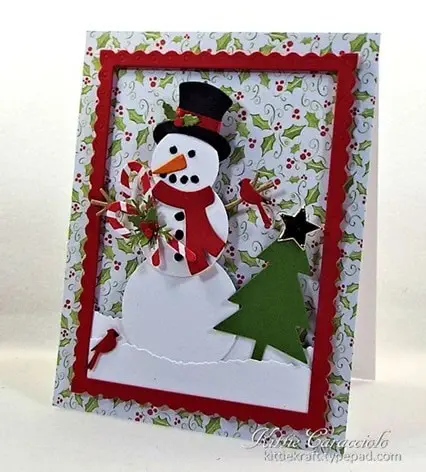 I started by cutting and attaching two ground snow layers to the back of the scalloped rectangle frame with double stick tape.  I applied thin strips of mounting tape to the back of the frame and attached it to the holly card base. Next I cut and assembled all the pieces of the snowman using glossy accents and double stick tape.  I embellished his hat with red ribbon,  holly and little red berries. I really love the snowman because it is large and makes such a statement on a card front.  I tucked him in behind the ground snow and attached him with double layered pieces of mounting tape.  I had the tree and gold star leftover  on my desk from another project and decided to use them to add interest to the scene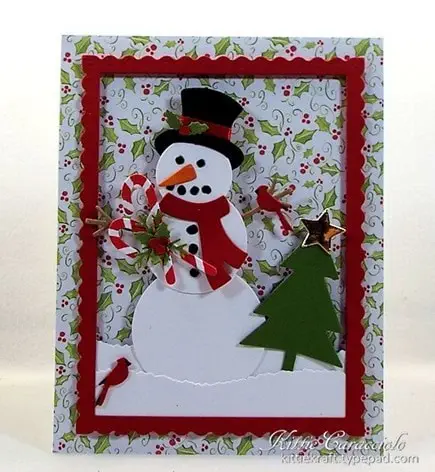 I arranged a couple candy canes with holly and berries and attached them to Frosty's twiggy arm.  I added a cardinal to his other twiggy arm and one sitting down on the ground.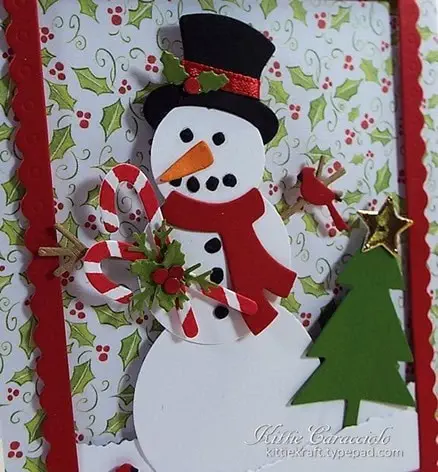 Here's a closer view of the candy canes and holly. I was so happy to see how perfectly the Peppermint Block stamp and die set set worked.  The stamp has a square border surrounding the images. The die cut block is perfectly sized to fit directly inside the stamped square and over the candy canes and peppermint candies.  No guess work, not outer white edges around the image, just a perfect cut.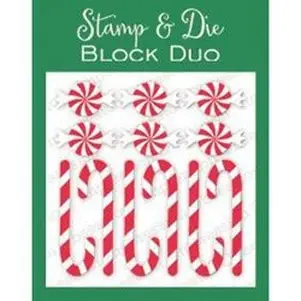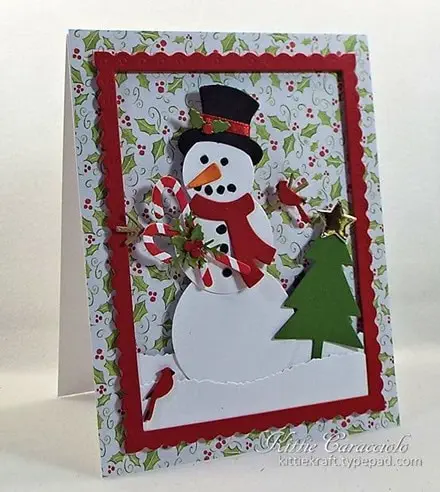 I am so happy you came by today and I hope you have a wonderful weekend.  I plan on rest, relaxation and lots of time at my craft desk.
Card size:  5.50" x 4.25"