Good Saturday morning.  Have you had the opportunity to play with the Art Impressions watercolor stamp sets?  My project today was made using the Foliage Set 4051 and Flower Set 4052.  I used the Impression Obsession Solid Tree set. I had a good time this morning using some of the watercolor techniques that I learned early on in my paper crafting experience.  I love creating scenes and although I do mostly die cut dimensional scenes I still enjoy playing with ink and brushes.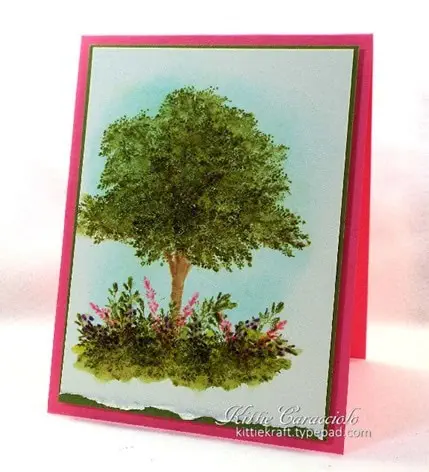 I started my scene by stamping the tree using light brown ink to give me a faint outline of the tree.  I filled in the top part of the tree with green ink and a ground grass stamp from the foliage set.  I used a darker brown ink and brush to add a few faint branches in the leaves. I then used my damp brush to lightly touch the leaf area to soften.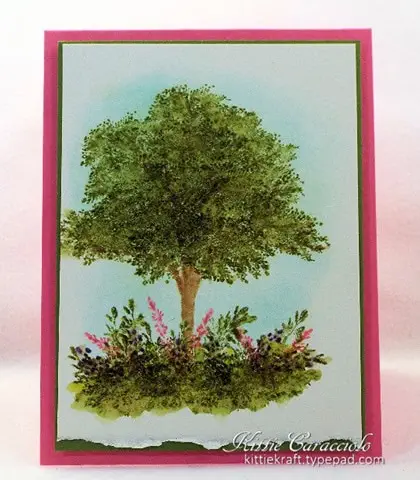 I used the grass stamp and green ink to add a ground base for the tree and then used a couple of the taller foliage stems to fill in around the tree trunk. I used three different stamp images from the flower set along with bright yellow, pink and purple inks to create the flower garden. The bright yellow and purple flowers don't show as well in the photo as the bright pink. I used my damp brush to soften the grass and flowers. I light filled in the tree trunk with my brush and darker brown ink.  I did this after I finished adding the flowers so it would make the trunk appear to be behind all the flowers. I finished the scene by lightly sponging a light blue background around the tree and flowers. 
I have a couple more of the Art Impression watercolor sets ordered and hope they arrive today. 
Thanks for stopping by and I hope you are enjoying your day.
Card size:  5.50" x 4.25"