Good Sunday morning. My baby duck Easter parade  project was made using the Impression Obsession Farm Girl set paired with the Leafy Branch, My Favorite Things Fresh Cut Grass, Elizabeth Craft Designs Country Scapes Flora 5 and Memory Box Butterfly Delights.  The frame was made using the My Favorite Things Pierced Rectangle Frames and the scalloped layer was made using the Lawn Fawn Scalloped Rectangle Stackables.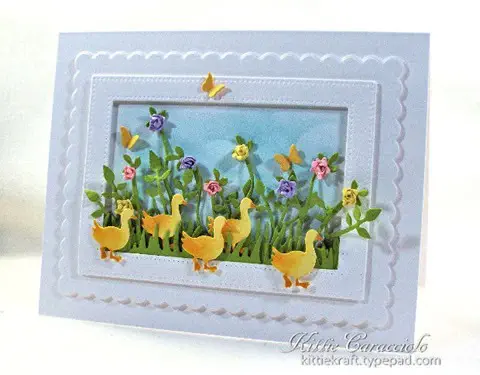 I started by cutting, coloring and assembling all the pieces for my scene.  The ducks were were cut in yellow and sponged lightly using a mini applicator and Wild Honey ink.  Susan's tiny rolled flowers were formed using the sharp pointed tweezers from her garden tool kit.  The stem from the Flora set was cut apart to form several sections and the tiny leaves and rolled flowers were attached to the tips of the stems with glossy accents. One Leafy Branch was cut apart to fill in the flower garden.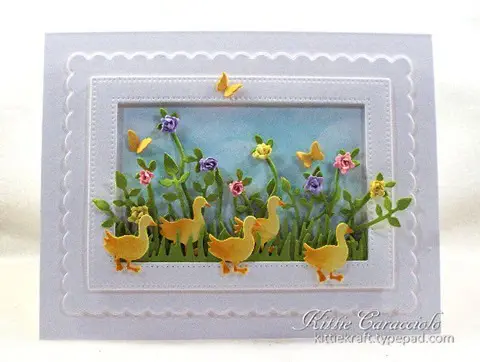 I used the frame as a template and lightly drew in lines with a pencil on the scalloped layer as a guide for sponging in the blue sky.  I didn't want the blue to show on the outer portion of the frame. I used my retired Stampin' Up! cloud template and a stylus and foam tip to sponge in the Tumbled Glass ink for the sky background. Two grass layers were attached to the back of the frame using ATG adhesive. Thin strips of mounting tape were applied to the back of the frame and then attached to the scalloped layer. The whole framed layer was then attached to the card base with mounting tape.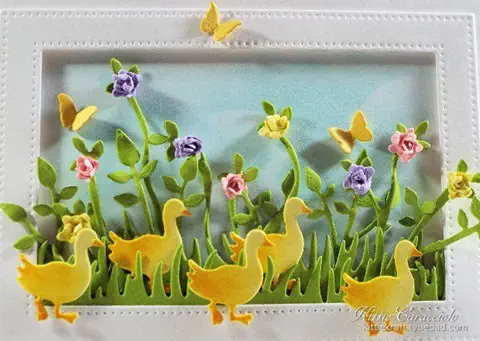 I started building the scene by tucking all the flower and foliage stems in behind the grass layers using glossy accents.  The ducks were randomly attached to the frame and between the grass layers using small pieces of mounting tape.  The three little butterflies were attached in the scene for the finishing touch. One of my favorite things about this card is how all the pretty spring colors pop against the all white background.  The dimensional frame layers add interest to the project without taking away from the scene.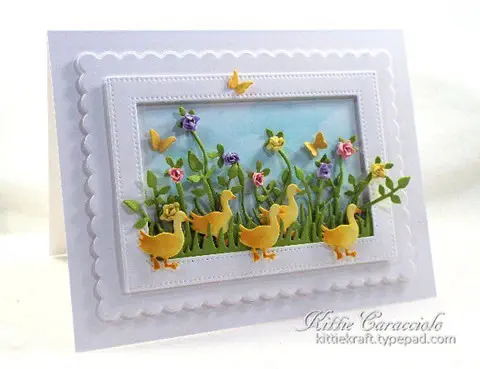 Thanks for coming by and I hope you have a wonderful Sunday.
Card size:  5.50" x 4.25"