Good Monday morning.  My project today was made for the Splitcoaststampers "Birds of a Feather" Inspiration Challenge and my project was inspired by the Black-capped Chickadees found in this picture.   I used the Impression Obsession Birds, Pine Pair, Rectangle 6-in-1 Frames and Spiral Flowers.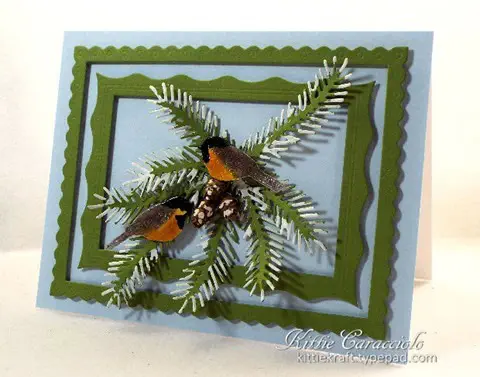 I used a black marker to draw on the black cap on the head of the birds and then applied the bodies colors using distress inks and a mini applicator.  When I finished with them I applied versa and embossed with clear embossing powder to enhance the colors.  I cut three spiral flowers, applied brown ink and rolled and attaching them together with glossy accents.  Instead of shaping them like a rose I pulled the shape out to look like pinecones.   I applied white gesso to the tips of the pine and the pinecones and set aside to dry.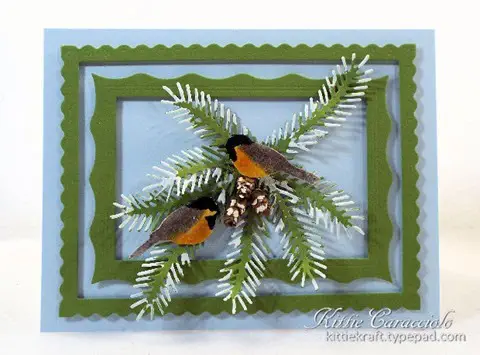 I applied thin strips of mounting tape to the back of the frames and attached them to the card base. I arranged the pine and attached to the card base with glossy accents. The pine cones were attached as a bunch and attached with glossy accents and the birds were attached with mounting tape.  My card is in now way as gorgeous as the inspiration photo but I sure had fun making it.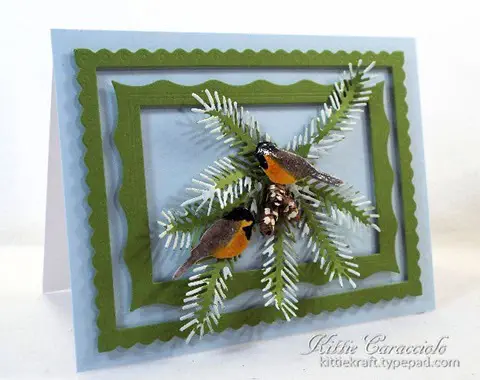 Thanks for coming by today and I hope you have a great week
Card size:  5.50" x 4.25"