Good Sunday morning.  I hope you are enjoying your weekend.  It seems like they go by so fast and the next thing we know it's Monday already and time to start the work week over again. 
My project today was made with the Creative Expressions Stockholm die set, Sizzix Starry Night embossing folder, Impression Obsession Spiral Flowers Large set, Leaf Cluster and Small Bow.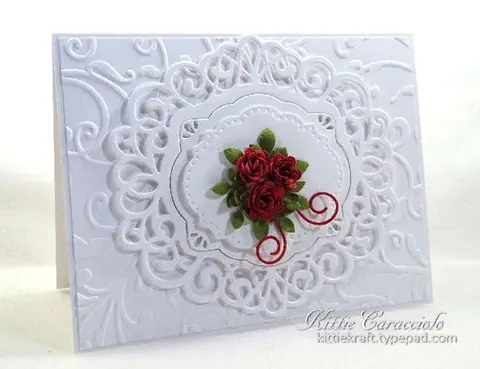 I started by embossing the white layer and attached it to the white card base with ATG adhesive. Next I cut the decorative frame layers, applied mounting tape to the back of all the different sections and attached them to the card base.  I really like how the embossed background adds an element of dimension without taking away from the framed layers.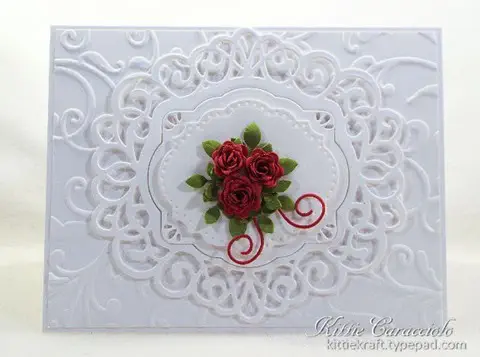 I assembled the roses by rolling them around the tweezers from the Garden Tool Kit and closed each rose by applying glossy accents.  The leaves were formed with the smaller end of the stylus and molding pad.  I applied glossy accents to the back of each rose and attached one of the larger leaves.  I attached the three roses to the card base with glossy accents and then filled in with a few more leaves around the roses and attached with glossy accents.  I finished by adding just the tails of the small bow and attaching it in among the leaves with glossy accents.  Have I told you how much I love using the Ranger Fine Tip Applicator on my mini glossy accents bottle. It provides so much more control and eliminates the dreaded clogging.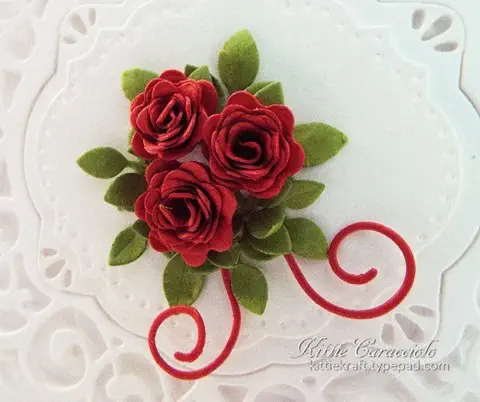 Here's a closer  view of the flowers and leaves.
I waited with bated breath for the release of the new Big Shot Express and was so excited when I got mine.  I have had it for several weeks now and have waited until I had lots of opportunity to work with it and putting it to the test before writing about it here on my blog.  All I can is WOW!!!!  I have used my Big Shot machine for years and have always been happy with it. The Big Shot Express has EXCEEDED MY EXPECTATIONS!!  It provides even more consistent pressure than the hand cranked Big Shot and with only the push of a button. If you are like me and use your die cutting machine daily then you should definitely treat yourself to this wonderful machine.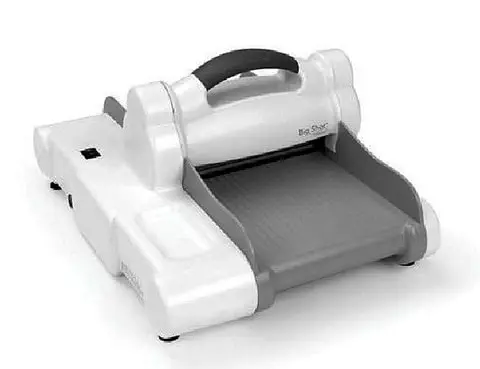 Are you a WOW embossing powder user?  If so you will want to check out the 25% off sale over at Ellen Hutson.  Use the WOWsale coupon code at checkout

Thanks for stopping by today.
Card size:  5.50" x 4.25"