Good Monday morning.  My project today was made for the Splitcoaststampers Inspiration Challenge.  This week we were provided The Vermont Country Store for our inspiration site.  One of my favorite color combinations is purple, green and white so I was especially inspired by the Lilac Vinyl Tablecloth found here. I made my card using the Taylored Expressions Garden Arbor and Gate and Arbor Accessories sets paired with the Memory Box Butterfly Delights, Impression Obsession Small Grass Border, Leaves and Stems and the Spellbinders Floral Ovals.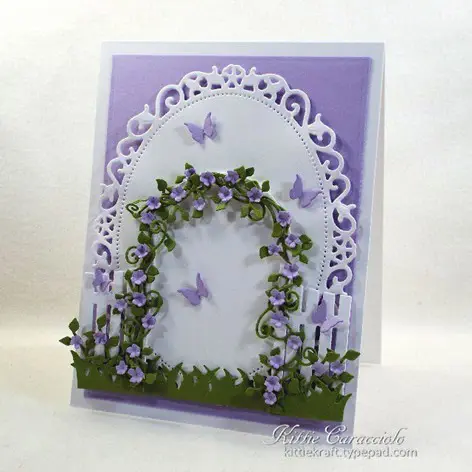 I cut the floral oval and attached it to the purple layer with strips of mounting tape.  I cut a grass border and attached it to the base of the floral oval to create a background for the arbor.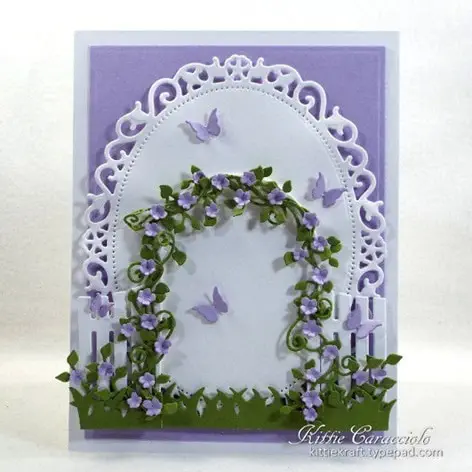 I cut several sections of the vine and the tiny flowers from the Accessories set.  I attached one full vine to the arbor with glossy accents.  I only attached in a few spots so the rest of the section of vine would look loose and natural. I then cut the other sections apart and attached them to the arbor to fill it in on both sides. I formed the tiny flowers with my stylus and molding pad and attached around the arbor with glossy accents.  I cut the fence section in half and attached to both sides of the arbor with glossy accents. I applied thin strips of mounting tape to the back of the arbor and fence and attached it to the card base.  I cut two small sections of grass border and attached in front of the fence and then attached a couple stems with tiny flowers on each side of the arbor.  I added a few butterflies to the scene for the finishing touch.  I think the Butterfly Delights might be retired as I couldn't find it on Ellen's site to link.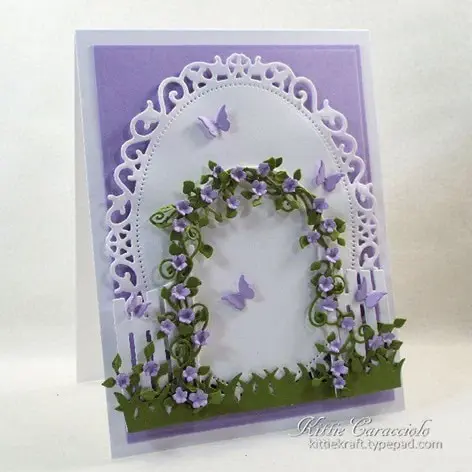 Thanks for coming by today and I hope you have a wonderful week.
Card size:  5.50" x 4.25"