Good Saturday morning.  Before I start on my post I want to announce that Pam Danner was comment was the lucky winner of my blog candy offer last Sunday.  Congratulations Pam.  Please write me at kittie747@cfrl.rr.com and give me your mailing address and I will get your gift right out to you. I know you will enjoy using the lovely Taylored Expression Damask Embossing Folder.
My project today is a fun and snowy dimensional scene made using the new Sizzix Tree Line, Snowglobe and Tiny Dots Embossing Folder. The little star on the tree by the house was made using the star from Impression Obsession Sun and Moon set.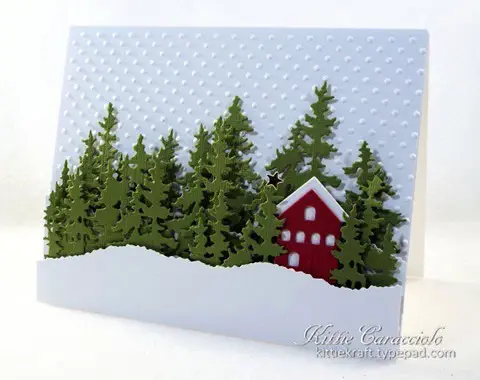 I embossed the scene base with the tiny dots folder and attached it to the card base with ATG adhesive.  I like those tiny embossed dots looking like snow in the background.  I cut the tree line three times and used one full layer as the farthest back section of trees and attached the tree line base with ATG adhesive and I anchored a few of the larger trees with small pieces of mounting tape. I actually attached a back layer of snow to cover the tree line but it doesn't really show with the trees I placed in front of it. I cut the other two tree line sections apart and randomly attached them with mounting tape to hold them out in front of the back line of trees. I cut another snow ground section and attached to the bottom of the card with mounting tape.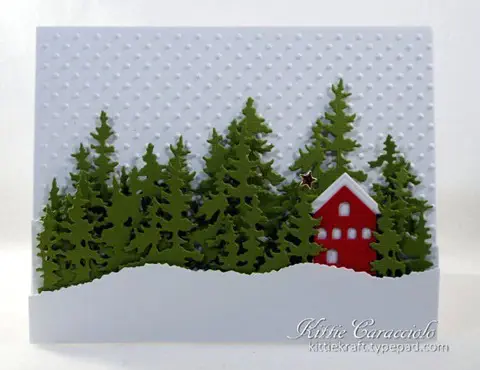 I cut out a white house section and red window section from the Snowglobe set, attached them together and then attached in the scene with mounting tape.  I added the tiny gold star on the tree closest to the house but you can barely see it in the photos.  I wasn't exactly pleased with this scene card as I felt like it was missing something but couldn't quite figure out what to add so I left it alone.  Do you have one of those kind of days?  LOL!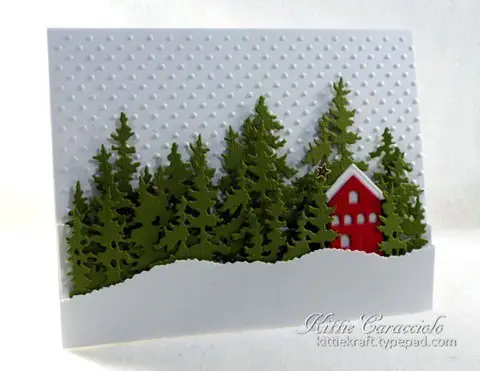 The 20% Save on Stamps sale at Ellen Hutson ends tonight.  You can see more details on the store site.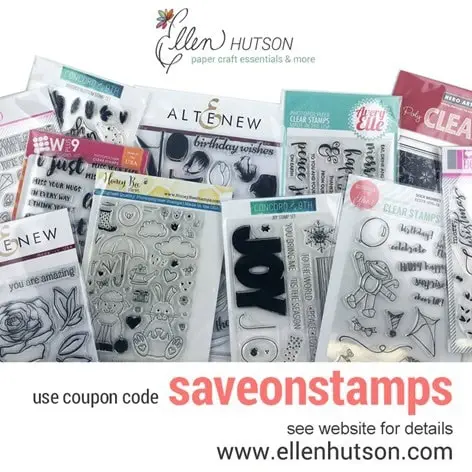 Thanks for dropping by today and I hope you have a wonderful weekend.
Card size:  5.50" x 4.25"
Save