Good Saturday afternoon.  I'm late getting started with my post today but I sure had lots of fun making this project.  This is my first chance playing with the new Essentials by Ellen Tree Farm Stamps and Tree Farm Die set. There are so many cute images to play with in this set.  I finally decided on a scene with the trees and trailer. If I had this to do over again I wouldn't add the flower soft snow as I think it took away from the trees. But once it's on it's on.  LOL!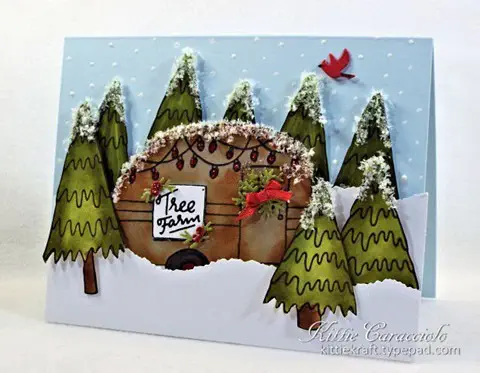 I stamped the trees several times and colored using my water brush and reinkers and cut out.  The trailer was stamped on grey cardstock, cut out and then I applied Rusty Hinge ink with a mini applicator to give an old rusted out appearance. I cut tiny branches off fir sprigs to create a little wreath for the door and attached the pieces with glossy accents.  I added a few sprigs to the sign and added red punched circles.  The lights were colored using a red marker and then I applied red stickles for some sparkle.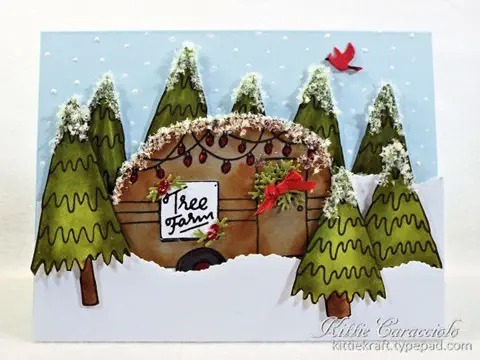 I cut two layers of ground snow using my deckle scissors and attached to the card base.  I tucked the back trees in behind the snow layer and attached with mounting tape.  The trailer was tucked in behind the front ground snow and attached with glossy accents.  The front trees were attached at the top with mounting tape and the bases of the tree were attached with glue dots. I used a small brush and white gesso to add falling snow in the sky area. I used the glitter glue to attached the flower soft to the tree tops and trailer roof.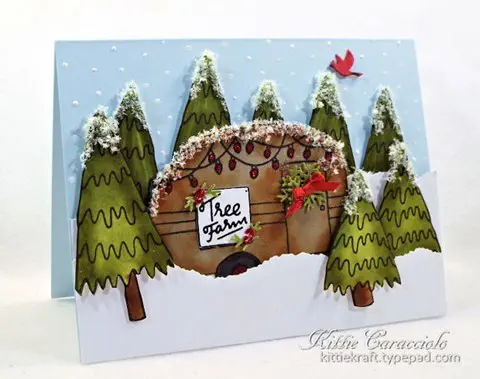 Thanks for coming by and I hope you have a wonderful weekend.
Card size:  5.50" x 4.25"
Save