I love the framed paper flowers on my project today.  The pink flowers and green foliage are so perfectly highlighted with the all white card base and frame. Attaching the white and pink frame mats together with mounting tape creates another element of  dimension and interest to the clean and simple card.  I used the Rubbernecker 5101D Nested Marquee Die, 5109D Mixable Flower Stack, 5118D Leaf Group Die and the tiny dot flowers from the 5114D Mini Flower Stack.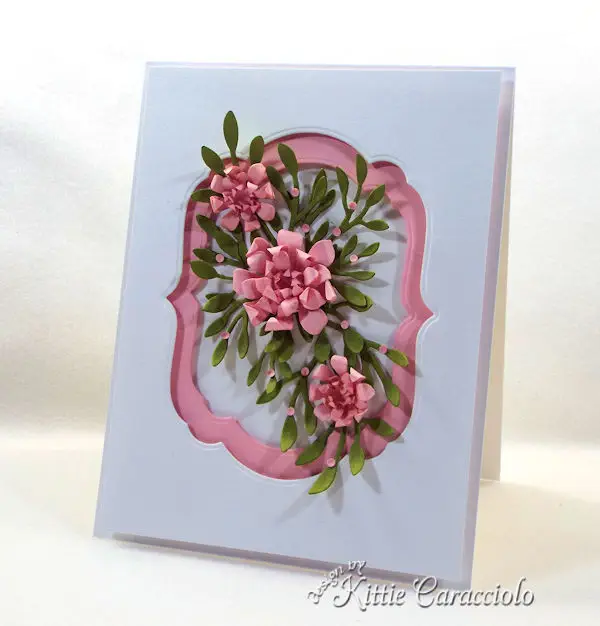 Assembling the Framed Paper Flowers

The two frame layers were attached together using mounting tape and then attached to the card base with another layer of mounting tape.  I did something a little different to form the flower petals.  I used small tipped needle nose pliers instead of using my stylus and molding pad. I curled each petal tightly around the pliers but alternated the direction to create a fluffier looking flower.  The flower layers were attached together using glossy accents.  I cut several sections of the leaf group to create the foliage base for my flowers.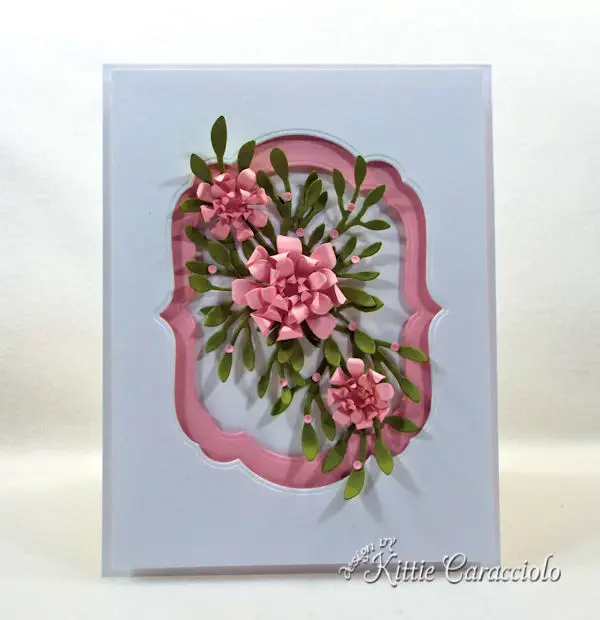 Creating the Framed Paper Flowers Arrangement

The foliage base and flowers were attached to the card base using glossy accents.  Once the flowers were secured in place I tucked several smaller pieces of foliage under and around them with glossy accents to fill in the arrangement.  I finished by adding the tiny cupped circle flowers to the foliage branches with glossy accents to add another element of pink.  I think the double matted frame with the separation between the layers and card base creates the appearance of a shadow box.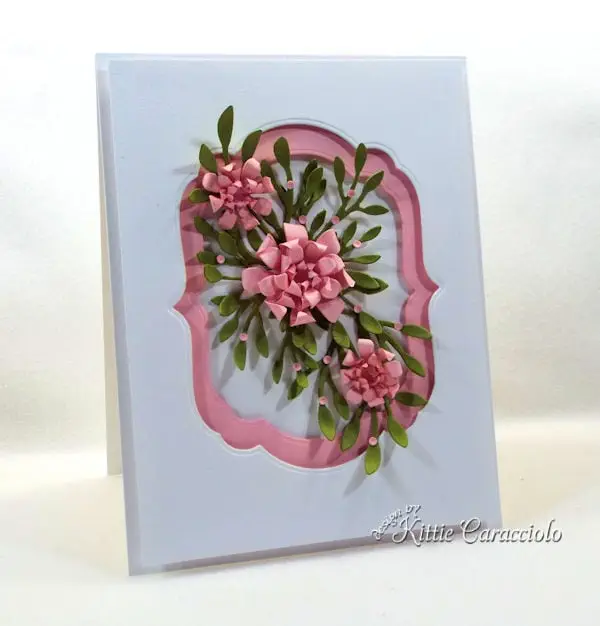 Have you noticed that my recent blog posts have been filled with Rubbernecker dies?   Rubbernecker began creating dies last year that coordinate with many of their existing stamp sets.  Now they have begun offering free standing dies as well as gorgeous nesting die sets.  I have been having so much fun playing with their new products.  If you haven't checked them out recently you will want to hop on over to see all that they have to offer.
I sure appreciate you coming by today and I hope you have enjoyed seeing my clean and simple framed paper flowers project. 
Mixable Flower Stack Die 5109D

Nested Marquee Die Cut 5101D

Mini Flower Stack Die 5114D

Kittie Kraft basics #1

Bazzill Card Shoppe Cardstock, Easter…

Heavyweight Card Stock Cotton Candy…

Neenah Cardstock, Neenah Heavyweight,…

Susan's Garden 4pcs. all metal tool set

SE LF01 Professional Quality Needle…

Large Molding Pad (6.5″ X 12″/16.5mm…

My Sweet Petunia MISTI Laser Etched…

My Sweet Petunia Mini MISTI Laser…

Be Creative Tape, 7mm (3/10″)

Be Creative Tape, 15mm (3/5″)

Be Creative Tape, 25mm (1″)

Be Creative Tape, 5mm (1/4″)

Be Creative Tape, 3mm (1/8″)

EK Tools, Precision 5 Inch Scissors…

Ranger Non-Stick Craft Sheet

Glue Dots, 3/8″ (4029)

Glue Dots, Mini (3/16″)

Glue Dots, Micro (1/8″)

Scotch Foam Mounting Tape

ATG Double-Sided Refill Tape, 2 pk, 1/4″

ATG Kit, Advanced Tape Glider

Ranger Accents, Mini Glossy Accents

Ranger Accents, Glossy Accents

Creative Expressions Cosmic Shimmer…

Crafter's Pick The Ultimate Glue, 4 oz.

PanPastel Sofft Mini Applicators, 12 pk

Hero Arts Embossing Gun (Wagner)

Tonic Maxi 12 Inch Guillotine Paper…

Teflon Bone Folder

Tonic Comfort 8.5 Inch Guillotine…

Scor-Pal Measuring & Scoring Board 12×12

Scor-Pal Glitter Clean-Up Cloth

Memory Box Dies, Metal Adaptor Plate

Sizzix Accessory – Standard Magnetic…

Sizzix Accessory – Precision Base…

Sizzix Big Shot White & Gray

Dremel 7700-1/15 MultiPro 7.2-Volt…