Good Sunday morning.  My project today is a sweet arrangement made using spring colors and flower basket die cuts made using the new Impression Obsession Hanging Basket, Tiny 6 Petals, Tiny 5 Petals , Foliage and Rectangle 6-in-1 Frames.  Before I start talking about the card let me just say I have missed posting for several days in a row due to some yucky computer issues that caused me to have to get a new laptop.  Transferring files and starting over with a new computer is not one of my favorite things to do but at least I'm off to a good new start.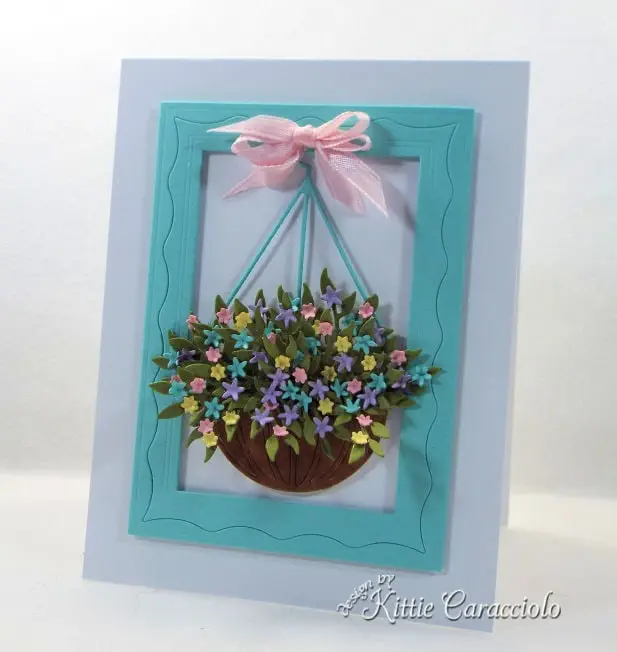 Flower Basket Die Cuts
I started by cutting the flower basket die using woodgrain cardstock.  I attached the negative cut pieces back into the basket using double stick tape.  I  colored the basket using Vintage Photo ink and a mini applicator.  I cut the 5 and 6 petals flowers in pink, purple, aqua and yellow and the foliage in green cardstock.  I cut the foliage pieces apart to create several smaller pieces and began attaching them to the basket. using glossy accents.  I started with the smallest pieces and worked my back to the tallest creating a full basket of foliage.  I formed all the tiny flowers using my stylus and molding pad and attached the flowers to the foliage using glossy accents.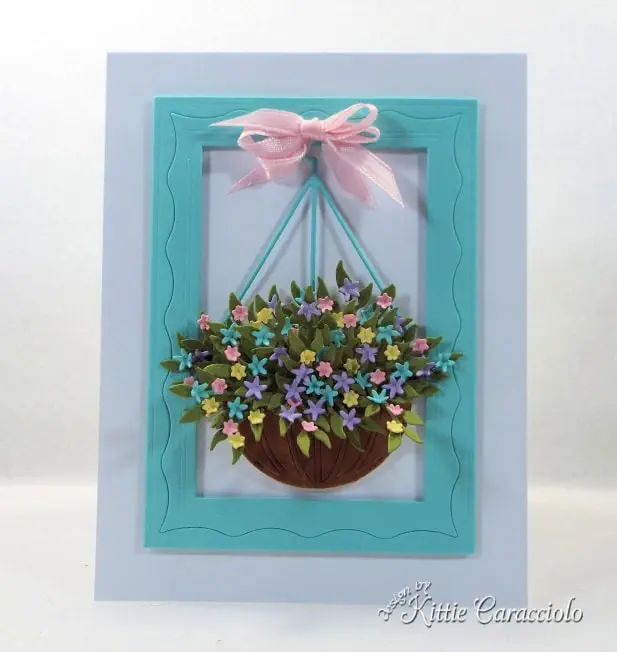 Attaching the Frame and Basket
I cut the frame, attached the two sections together using double stick tape and then attached the frame to the card base using mounting tape.  I used mounting tape to attached the basket to the card base.  I tucked the ends of the hanger in behind the flowers and attached it to the frame and and card base using glossy accents.  I created a small pink multi loop bow for the finishing touch and attached it in place using glue dots.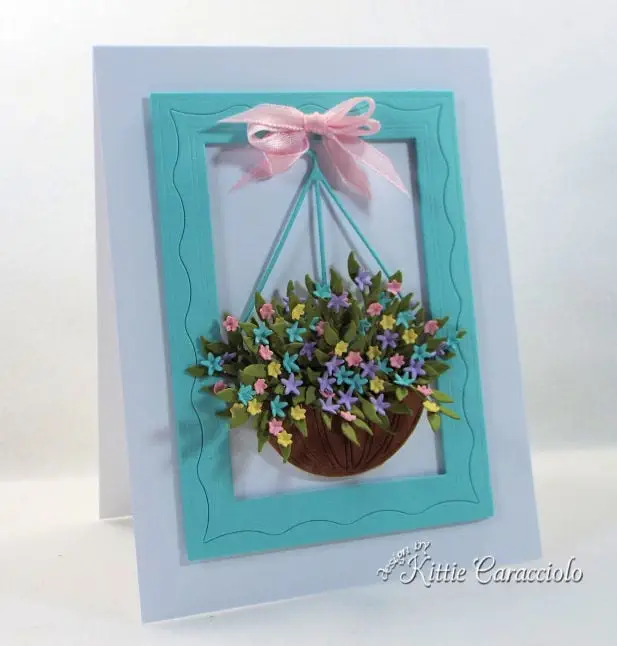 Thanks for coming by today and I hope you have been inspired to get out your dies to create your own flower basket die cuts project.  I hope you have a great Sunday and a good week.
Impression Obsession Dies, Rectangle…

Impression Obsession Dies, Hanging…

Impression Obsession Dies, Tiny 5 Petals

Impression Obsession Dies, Tiny 6 Petals

Impression Obsession Dies, Foliage

Ranger Distress Mini Ink Pad, Vintage…

Neenah Cardstock, Neenah Heavyweight,…

Bazzill Card Shoppe Cardstock, Sour…

Bazzill Card Shoppe Cardstock, Sour…

EH Woodgrain Embossed #110 Cardstock,…

Bazzill Card Shoppe Cardstock, Easter…

Bazzill Card Shoppe Cardstock,…

Bazzill Card Shoppe Heavyweight…

Susan's Garden 4pcs. all metal tool set

Large Molding Pad (6.5″ X 12″/16.5mm…

My Sweet Petunia MISTI Laser Etched…

My Sweet Petunia Mini MISTI Laser…

Be Creative Tape, 7mm (3/10″)

Be Creative Tape, 15mm (3/5″)

Be Creative Tape, 25mm (1″)

Be Creative Tape, 5mm (1/4″)

Be Creative Tape, 3mm (1/8″)

EK Tools, Precision 5 Inch Scissors…

Ranger Non-Stick Craft Sheet

Glue Dots, 3/8″ (4029)

Glue Dots, Mini (3/16″)

Glue Dots, Micro (1/8″)

Scotch Foam Mounting Tape

ATG Double-Sided Refill Tape, 2 pk, 1/4″

ATG Kit, Advanced Tape Glider

Ranger Accents, Mini Glossy Accents

Ranger Accents, Glossy Accents

Creative Expressions Cosmic Shimmer…

Crafter's Pick The Ultimate Glue, 4 oz.

PanPastel Sofft Mini Applicators, 12 pk

Hero Arts Embossing Gun (Wagner)

Tonic Maxi 12 Inch Guillotine Paper…

Teflon Bone Folder

Tonic Comfort 8.5 Inch Guillotine…

Scor-Pal Measuring & Scoring Board 12×12

Scor-Pal Glitter Clean-Up Cloth

Memory Box Dies, Metal Adaptor Plate

Sizzix Accessory – Standard Magnetic…

Sizzix Accessory – Precision Base…

Sizzix Big Shot White & Gray

Dremel 7700-1/15 MultiPro 7.2-Volt…