My project today is a die cut fence and bucket scene card made using the new Rubbernecker Stamps Garden and Frame dies.  The old-fashioned Wide Bucket that I used comes in two different sizes and I used the larger one for this scene.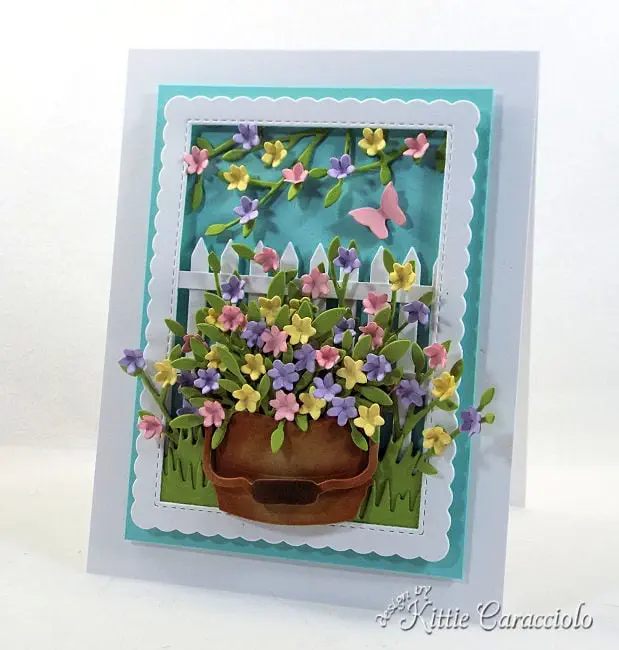 The Bucket of Flowers
I cut the bucket and handle using Alpaca cardstock and colored using mini applicators to apply Wild Honey, Rusty Hinge and Vintage Photo inks. The gray cardstock allowed me to have some of the tin bucket show through all the rust.  The bucket handle was attached using glossy accents.  I cut several branches of the Leaf Group apart and began attaching them to the back of the bucket using glossy accents.I started by adding the shortest branches first and worked my way back adding larger and larger branches until the arrangement was complete.  I cut Flower Buds in four colors, formed them with my stylus and molding pad and attached them to the branches using glossy accents.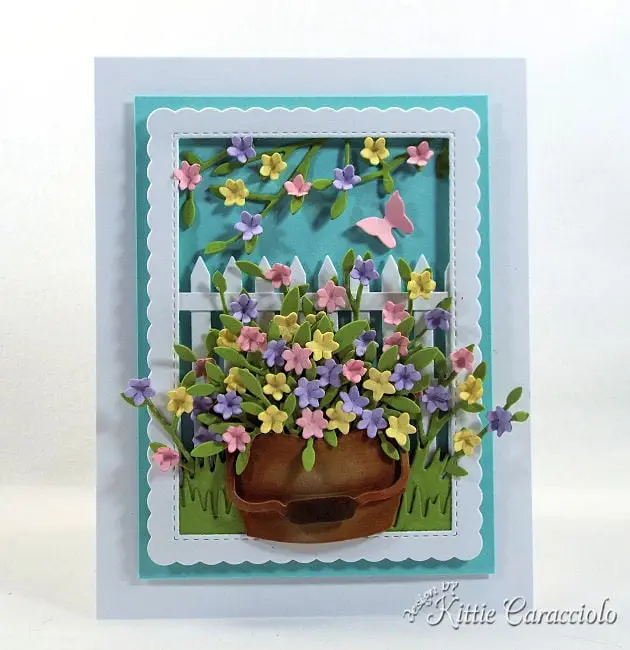 Die Cut Fence and Bucket Scene
I attached the grass sections and attached to the back of the frame using double stick tape. I cut the fence twice and layered one on top of the other to create a taller fence.  I cut white strips of cardstock to attach across the fence in two places to cover where the two fences were joined and attached them in place with double stick page. I attached the fence to the back of the frame with double stick tape. Next I attached thin strips of mounting tape all the way around the back of the frame and then attached one branch section from the tree panel to the top of the frame.  I added a piece of double stick tape over the tree branch section and then attached the whole frame to the card base. The bucket of flowers was attached to the scene using mounting tape.  I added several flowers to the branch and added one tiny butterfly to the scene for the finishing touch.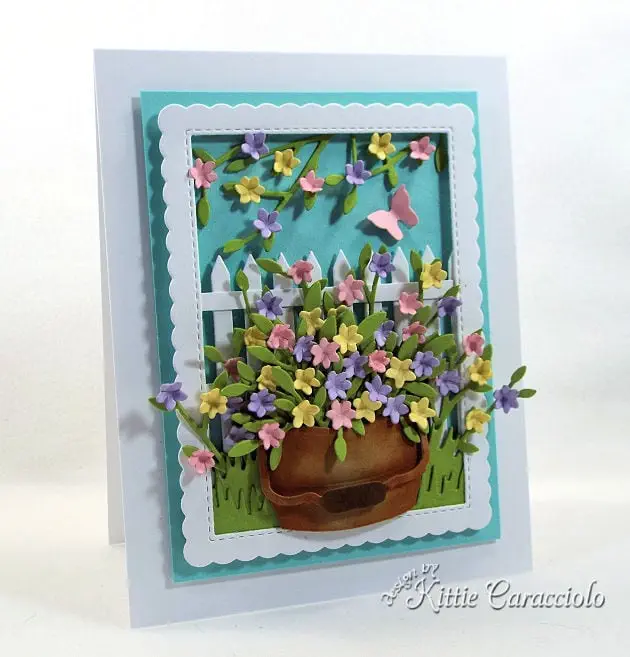 I love this old fashioned bucket full of flowers along the fence line with the pretty flower branch across the top.  I hope I have inspired you to get out your stash of toys to create your own die cut fence and bucket scene.
Rectangle Combo #2 OPC Die 5132D

Tree Panel #2 5128D

Wide Buckets Die Cut 5147-14D

Flower Buds Die Cut 5147-09D

Leaf Group die 5118D

Flower Stems Die 5147-05D

Small Butterflies Die 5147-08D

Picket Fence Die Cut 5152-01D

Tabed Grass Set Die Cut 5152-03D

Kittie Kraft basics #1

Ranger Distress Ink Pad, Wild Honey

Ranger Distress Ink Pad, Vintage Photo

Ranger Distress Ink Pad, Rusty Hinge

Bazzill Card Shoppe Cardstock, Easter…

Bazzill Card Shoppe Cardstock, Sour…

Bazzill Card Shoppe Cardstock,…

Bazzill Card Shoppe Cardstock, Sour…

Bazzill Card Shoppe Cardstock,…

Bazzill Card Shoppe Heavyweight…

Neenah Cardstock, Neenah Heavyweight,…

PanPastel Sofft Mini Applicators, 12 pk

Susan's Garden 4pcs. all metal tool set

Large Molding Pad (6.5″ X 12″/16.5mm…

My Sweet Petunia MISTI Laser Etched…

My Sweet Petunia Mini MISTI Laser…

Be Creative Tape, 7mm (3/10″)

Be Creative Tape, 15mm (3/5″)

Be Creative Tape, 25mm (1″)

Be Creative Tape, 5mm (1/4″)

Be Creative Tape, 3mm (1/8″)

EK Tools, Precision 5 Inch Scissors…

Ranger Non-Stick Craft Sheet

Glue Dots, 3/8″ (4029)

Glue Dots, Mini (3/16″)

Glue Dots, Micro (1/8″)

Scotch Foam Mounting Tape

ATG Double-Sided Refill Tape, 2 pk, 1/4″

ATG Kit, Advanced Tape Glider

Ranger Accents, Mini Glossy Accents

Ranger Accents, Glossy Accents

Creative Expressions Cosmic Shimmer…

Crafter's Pick The Ultimate Glue, 4 oz.

Hero Arts Embossing Gun (Wagner)

Tonic Maxi 12 Inch Guillotine Paper…

Teflon Bone Folder

Tonic Comfort 8.5 Inch Guillotine…

Scor-Pal Measuring & Scoring Board 12×12

Scor-Pal Glitter Clean-Up Cloth

Memory Box Dies, Metal Adaptor Plate

Sizzix Accessory – Standard Magnetic…

Sizzix Accessory – Precision Base…

Sizzix Big Shot White & Gray

Dremel 7700-1/15 MultiPro 7.2-Volt…