My project today is a funny Santa stuck in the chimney box.  I've had this idea running around in my head since I got the Santa Stuck die set from Rubbernecker.   I tried like crazy to figure out how to add it to a card that opens but I wasn't smart enough for that.  My husband loves Godiva Cherry Cordials so I thought I would hide a few inside the box every couple of days during the holidays.  I paired the Stuck Santa with the Deckle Hills, Greenery #1, Globe Tree #1 (lights) and the Enjoy the Magic sentiment.  Oh….if you are wondering how come my sentiment is so small,  I stamped the it on a piece of white  Shrinky Dink Srhinkable Plastic.  I hadn't thought of this product in years and was inspired to use it again by my friend, Julie Warner.  It's a perfect way to decrease the size of your favorite sentiment when you would like it to fit in a smaller space.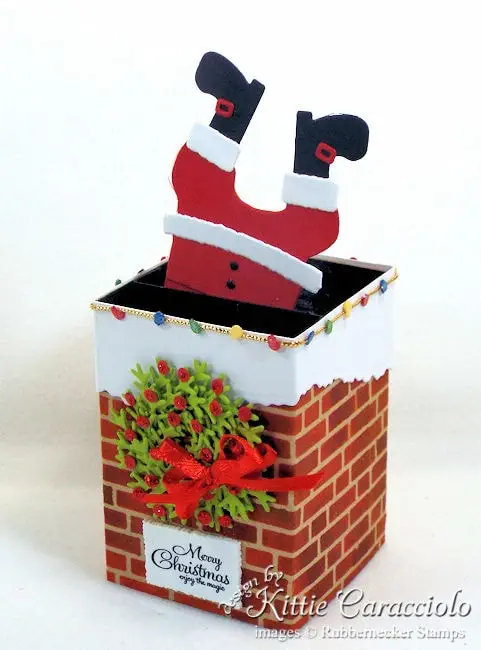 The Box
Cut a piece of Kraft cardstock 8.50″ x 3.00″ and a piece of black cardstock 2.75″ x 1.00″. Note:  if I make this again I will cut the size of the box down to 1.50″ square to be a better fit for this Santa.
Secure a brick stencil in place over your cardstock using Eclipse or painter's tape.
Apply Antique Linen, Fired Brick, Rusty Hinge, Pumice Stone and Vintage Photo inks to the cardstock using blender brushes and mini applicators.  Note:  I used the large blender brush to apply the Antique Linen and Fired Brick and then went in with the mini applicators to add the touches of different color shading with Rusty Hinge, Pumice Stone and Vintage Photo.
Remove stencil, line it up on the rest of the cardstock, secure in place and repeat the steps above.
Score the cardstock at 2:00″, 4.00″, 6.00″ and 8:00″ and then use bone folder to sharpen the folds.
Score the black cardstock at .50″ from each end.
Apply double stick tape to both ends of the box and secure it in place in the middle of the box opening.
The Snow, Wreath and Lights
Cut the Deckle Hills layer, score each section just a tad wider than 2.00″ for each section.
Attach the snow layer to the box using double stick tape.
Cut a small 1.00″ circle using green cardstock, cut the inside center out using scissors to create the wreath base and attach the two ends together using glossy accents. See the picture below but add another .25″ to create a wreath base large enough for the chimney.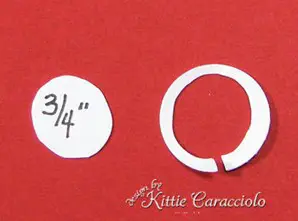 Cut several greenery branches using green cardstock and cut the individual branch sections off to use for the wreath.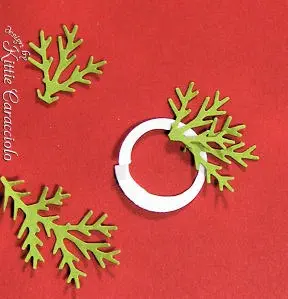 Use glossy accents to attach the branches to the wreath base.  Continue adding branches all the way around the wreath.
Punch out red 1/8″ circles and attach them to the wreath using glossy accents.
Tie a red multi loop bow and attach it the wreath using glue dots.
Finish the wreath by applying touches of red stickles to the red berries.
Cut the tiny lights using red, blue, green and yellow cardstock and attach them to gold metallic string using glossy accents.
Apply sparkle to the lights using Nuvo shimmer pens.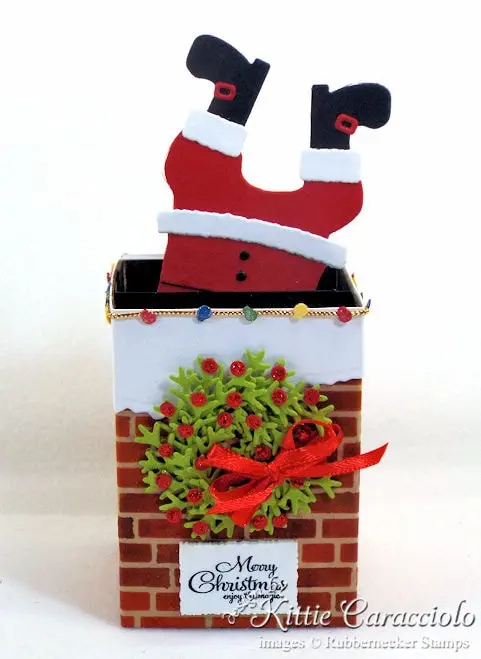 The Sentiment
Cut a piece of Shrinky Dink plastic to fit the sentiment.  I used my deckle scissors to cut the plastic out so it would have a textured edge.  
Stamp the sentiment using black ink and set aside to dry.
Preheat your oven to 325 degrees.
Place the Shrinky Dink sentiment layer on a piece of parchment paper in a baking pan.
Bake the Shrinky Dink for one to three minutes until it shrinks and finishes to a perfectly flat stage.  The process only took mine about 1 1/2 minute but the directions say times may vary with different ovens. They also state it is best to use toaster oven if you have one.
The Santa
Cut the Santa pieces using red, white and black cardstock.
Assemble the pieces and attach them together using glossy accents.
Cut an additional piece of red cardstock to fit the Santa and attach it to the waist using glossy accents.  Note: This piece will allow the whole Santa image to stick up out of the chimney and yet be secured in place to the black inside.
Finish the Box
Attach the light string to the chimney using touches of glossy accents.
Use glossy accents to attach the wreath and sentiment to the chimney.
Finish by applying glossy accents to the Santa and attach it to the black insert piece.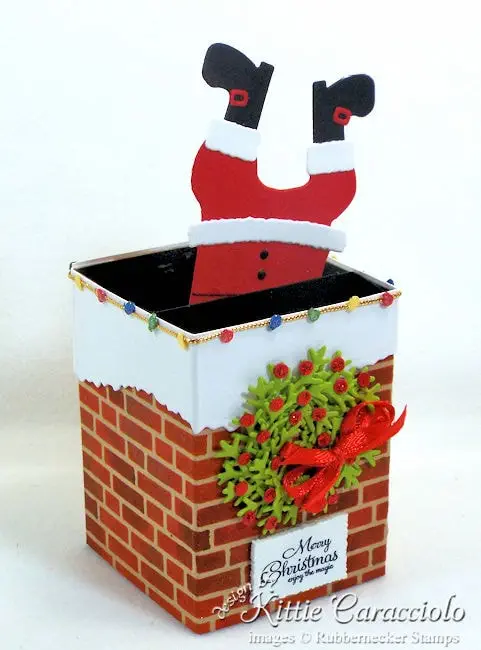 Here are the dies and sentiment used for my Santa box.
5217-07D Santa Stuck Die

5173-02D Deckle Hills Die Cut

Greenery #1 Die Cut 5162-09D

5177-03D Globe Tree #1 Die Cut

Enjoy the Magic 980-10
Here the tools and supplied used.
| | | |
| --- | --- | --- |
| Shrinky Dinks Shrinkable Plastic | Bazzill Card Shoppe Cardstock,… | Bazzill Card Shoppe Cardstock,… |
| Bazzill Card Shoppe Cardstock, Sour… | Bazzill Card Shoppe Cardstock,… | Bazzill Card Shoppe Cardstock,… |
| Bazzill Card Shoppe Cardstock, Easter… | Neenah Cardstock, Neenah Heavyweight,… | My Colors Cardstock – My Minds Eye -… |
| VersaFine Clair Ink Pad, Nocturne | Rusty Hinge, Ranger Distress Ink Pad | Fired Brick, Ranger Distress Ink Pad |
| Antique Linen, Ranger Distress Ink Pad | Pumice Stone, Ranger Distress Ink Pad | Vintage Photo, Ranger Distress Ink Pad |
| English Brick Wall Stencil | Life Changing Blender Brush – 2 Pack,… | Mini Applicators, 12 pk, PanPastel Sofft |
| Teflon Bone Folder, Essentials by Ellen | Twins, Judikins Eclipse | Ranger Stickles, Christmas Red |
| Fiskars – Hole Punch – One Eighth… | Tonic Nuvo Aqua Shimmer Pen 2 pk | String by the Spool – Metallic Gold,… |
| Offray Double Face Satin Craft… | Mini Glossy Accents, Ranger Accents | Scotch Foam Mounting Tape |
| 12mm (1/2″), Be Creative Tape | Fiskars Recycled 12-Inch Bypass… | Crossover II Fabric & Paper Cutting… |
| Scor-Pal Measuring & Scoring Board 12×12 | MISTI Laser Etched Stamping Tool… | ATG Kit, Advanced Tape Glider |
I hope you enjoyed seeing my crazy Santa stuck in the chimney box.  My husband will enjoy finding his little chocolate treats inside the bottom.  Here is a link to lots of Santa stuck in chimney box inspiration on Pinterest.