Cute Halloween Cards with Owls IN COSTUME!
Oh my gosh – when I saw this new set of die cuts I just knew I was going to make some cute Halloween cards that would make us ALL crack up! Each of these adorable owls were made using the new Rubbernecker Build an Owl set and sports one of the complete owl costumes available in the Owl Halloween add-ons set. Now, I DID make this as a slimline Halloween card using the new Slimline Squares Frame so you could see all three owls at once, but imagine the possibilities of popping just ONE of these cuties on a regular card! They are so cute and they don't need a whole lot more with them and everyone from the smallest Halloween fan to someone who is glad they don't have to get up every ten seconds to hand out candy will be tickled!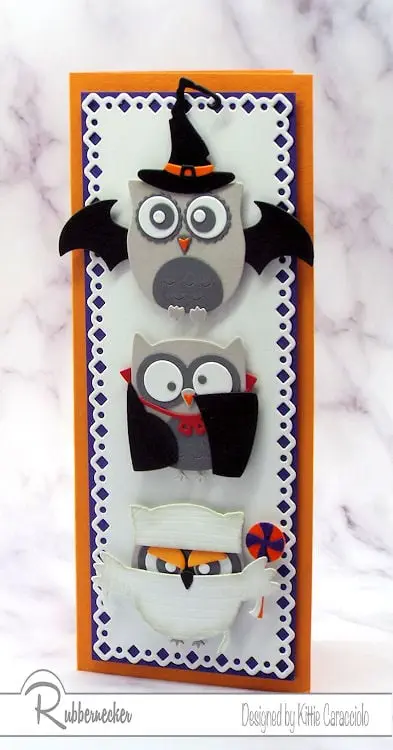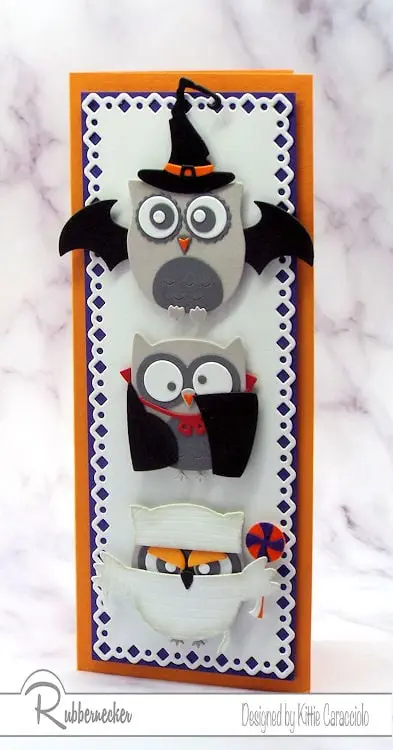 The Slimline Base
Cut a 7.00″ x 8.50 orange card base and sore down the center.
Use purple cardstock to cut a 3.25″ x 8.25″ layer and attach to the card base using ATG adhesive.  Note:  I ended up trimming off a little of the purple so plenty of the orange would show.
Cut the slimline layer using white cardstock.
Apply ATG adhesive to the back of the white slimline layer and attach it to the purple layer.
Apply strips of mounting tape to the back of the layers and attach them to the orange card base.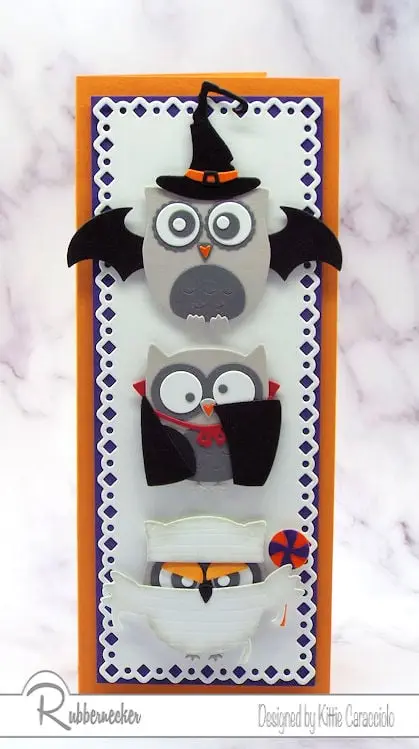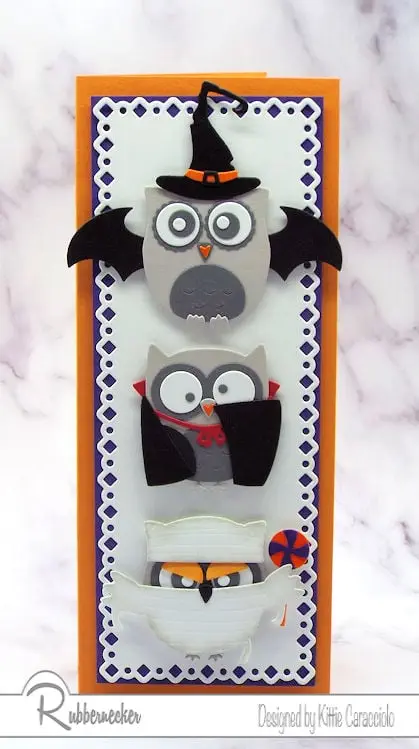 The Owls and Costumes
Cut the owl bodies using light gray cardstock and the body parts using white and dark gray cardstock.
Mix and match the body parts and attach them to the owls using glossy accents.
Cut the witch hat, bat wings and Dracula cape using black cardstock .
Cut the the hat border using orange cardstock and the cape collar and ties using red cardstock.
Attach the pieces to the owls using glossy accents.
Use white cardstock to cut the mummy costume. 
Use red and purple cardstock to cut the lollipop.
Apply touches of light gray ink to the edges of the mummy using a mini applicator.
Attach the mummy costume to the owl using pieces of mounting tape.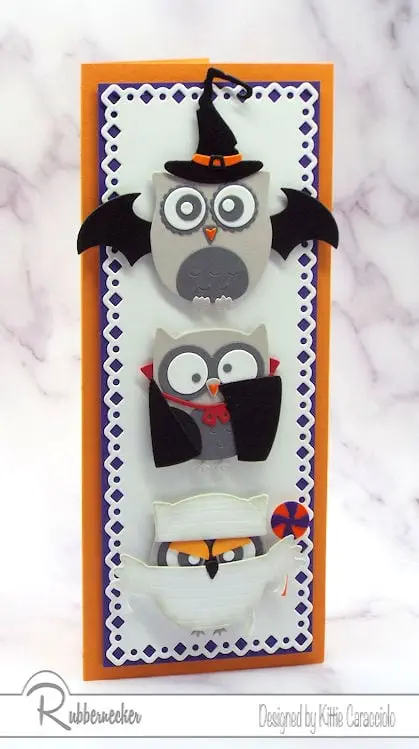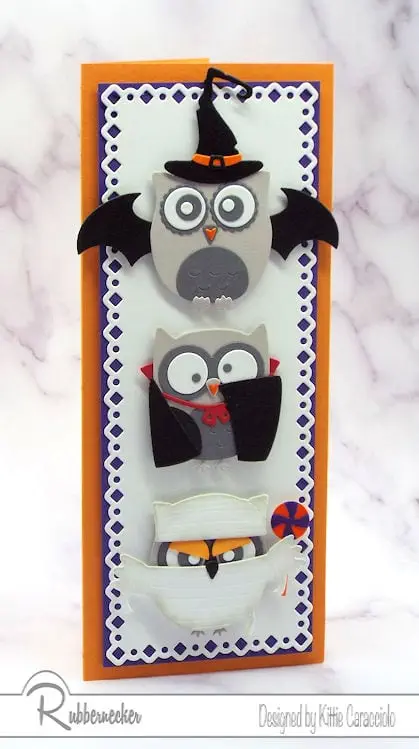 5330-02D Slimline Squares Frame Die

5335-01D Build an Owl Die

5335-02D Owl Halloween add on's Die

5335-03D Owl Christmas add on's Die

Color Fuse Set #12
So, are you a fan of CUTE Halloween cards or the spookier type like my Owl and Halloween Tree card.  Either way, don't these little fellas just crack you up? I'd love to hear what you think when you get your hands on these new dies and try them out for yourself! Oh, by the way, if you love the Halloween costumes then you will want to check out the Owl Christmas add-ons as well. You can find all the new dies in the What's New category.