Check out this video tutorial for how to use a window die cut to make an adorable card!
I am sure you've seen people use a window die cut to make some cute cards – I decided to take the whole thing up a notch and show you a fun and fairly easy way to make a realistic and detail loaded card with a die cut window and flower box.  To make this card I used the Rubbernecker Window 4 Pane, Borders #2, Branches and Leaves, Tiny Flower Buds and Cats.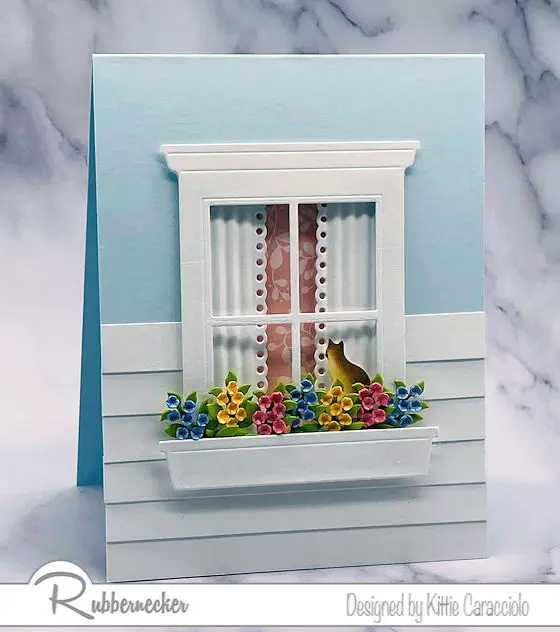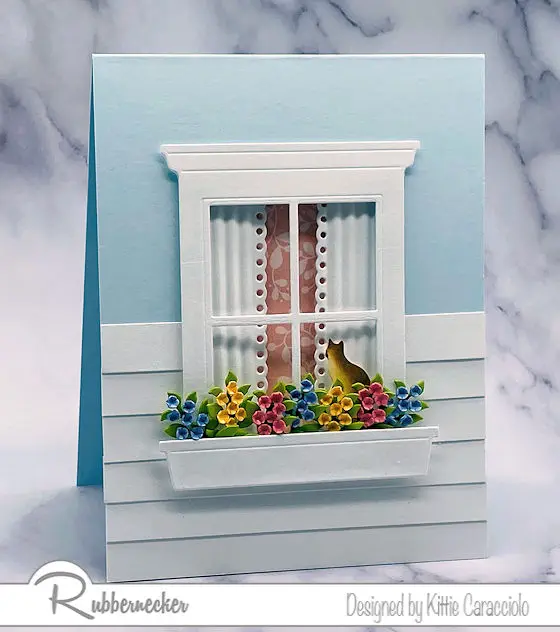 Here are some highlights from the video:
 – I like to add strips of "siding" to my cards that feature a house. Adding these little details goes a long way to creating a card with lots of visual texture. This siding is nothing more than little strips of card stock with adhesive tape – a great way to use up scraps!
– I hand cut the rectangle out from behind where the window die cut will go – it's low tech and fast. You can use a die if you have one the right size but know that it might be a little tough to cut through all that siding.
– The curtains are simply strips of card stock cut using the Borders #2  die to create the eyelet edge and then ran the strips through a crimper for the pleats. Of course you can use any material for your drapes; patterned paper, decorated cardstock, whatever you like!
– I use a lot of foam tape for these kinds of cards! Adding layers with some space between them adds a ton of depth and dimension and creates more realistic looking scenes. I used foam tape to apply the window die cut to the front, to add the "wallpaper" background to the inside of the card and then to add the flower box OVER the bottom of the window sill. This way, the flowers and the kitty tuck in nicely and the whole things looks so sweet.
– Always shape your flowers using the simple technique of pressing down the centers of the little blooms with a shaping tool. This adds SO much texture to your flowers and the effort and time it takes to do this one tiny step is FAR outweighed by the results!
– If you like seeing step by step photos instead of a video take a look at my Window Card  tutorial post.
I hope you have found my video helpful to create your own see thru window die cut card.  
5157D window 4 pane

5160-02D Borders #2

5404D Branches and Leaves Die

Cats Die Cut 5142-09D

Tiny Flower Buds Die Cut 5147-10D

Paper Blossom Tool Kit 4/Pkg

Paper Blossoms Molding Mat

Glossy Accents .5oz

Scotch Advanced Tape Glider & Tape

Scor-Tape .125″X27yd

Crossover II Fabric & Paper Cutting…