Who knew a simple leaf stencil could create such an gorgeous card background?
When I first saw this leaf stencil, one of the many in the new collection from Rubbernecker, I thought it was cute and knew that I would probably at some point use it on a project. When I saw how beautiful a pattern it creates, I knew I had to design a project where more of it showed through than if it were a typical "background". It's stunning! What makes this leaf stencil different from so many others is that when you use it, you are stenciling the background, NOT the leaves. This gives you SO many extra options!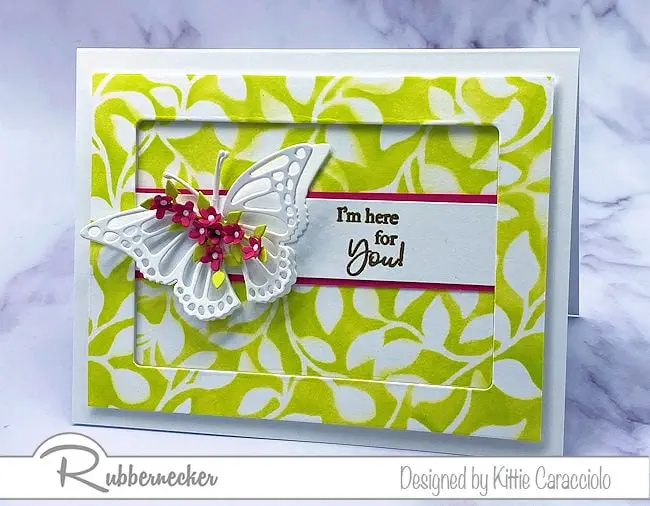 The Leaf Stencil and Frame
Cut an A2 sized card base using white cardstock.
Secure a 6″ x 6″ piece of white cardstock on the Make Art magnetic base using the magnets and magnet ruler.
Apply Fern ink over the stencil and cardstock using a blender brush.
Remove the stencil and do a quick heat set with the heat gun.
Place the stenciled paper and the A2 Shadowbox die on the cutting platform on and run through the machine.
Cut the folding flaps off all sides of the shadowbox frame.  Note:  It wasn't my original intension to cut the flaps off the shadowbox for my design but as we all know sometimes our plans change.  LOL! 
Apply strips of mounting tape around the back of the frame and attach it to the white card base.
Apply ATG adhesive to the center leaf cut out, line it up inside the frame and attach to the card base. 
The Sentiment 
Cut the sentiment strips using white and bright pink cardstock.  
Dust the white strip with an embossing magic bag to remove static from the cardstock.
Stamp the sentiment on the white layer using using VersaMark, apply gold embossing powder and heat with the heat gun.  
Attach the white sentiment strip to the pink strip using ATG adhesive.
Trim the sentiment layer to fit across the card front, apply ATG adhesive to the layer and tuck it under both sides of the frame.  Pro Tip:  The sentiment layer was not a part of my original design or I would have attached it to the stenciled leaf center before attaching it to the card base.  It just goes to show there are always work arounds when we are designing our cards..  
The Floral Butterfly
Cut the two butterfly sections using white cardstock.
Apply a touch of glossy accents on the back center body section of the decorative butterfly, line it up over the solid butterfly and attach the two together.
Cut small flowers using bright pink cardstock and foliage stems using green cardstock.
Place the flowers face up on the molding pad and push down in the center of each flower using a small tipped stylus to form them.
Trim the bottom section off of three stems and arrange and attach them to the body of the butterfly using glossy accents.  Note:  I placed one stem facing up on the butterfly and two facing down.  The three stem ends are joined and attached together on the center body of the butterfly.
Attach the tiny flowers to the stems using glossy accents.
Apply a generous amount of glossy accents to the back center section of the butterfly and attach it to the sentiment layer.
Finish by gently folding the top butterfly wings up away from the base.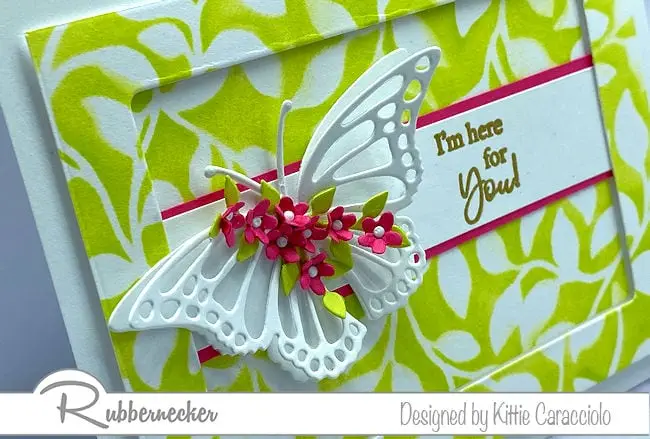 I love this two part butterfly and have used it on my projects many times and I always decorate it with flowers and foliage.  I think it looks so elegant on a card front.  Check out this link to see lots of others projects.  You may want to check out my Using Stencils for WOW Cards to see another of my cards using stencils.
And one more thing!  I have to admit that I am a white cardstock snob and  I have used the same white cardstock for years but it is pricy.  I checked out a white cardstock on Amazon linked by Jennifer McGuire in one of her YouTube posts and had to give it a try.  WOW!  It is offered by the Accent Store, and is a 120 LB bright white cardstock and is half the price for the same amount of sheets that I have been purchasing.  I don't link to items in my posts unless I love to use them.  I thought I would make a special note about this cardstock for you to check out.  
| | | |
| --- | --- | --- |
| 4111 Leaf Stencil | 5315D A2 Shadow Box Frame Die | 5102D 2 Part Butterfly #3 |
| 5309-09D Small Flowers #3 | Flower Stems Die 5147-05D | 3327 Kittie Says Friends |
| Paper Blossom Tool Kit 4/Pkg | Paper Blossoms Molding Mat | Color Fuse Set #11 |
| VersaMark Watermark Stamp Pad | Mirror Gold Embossing Powder | Scor-Tape .25″X27yd |
| Glossy Accents .5oz | Scotch Advanced Tape Glider & Tape | Crossover II Fabric & Paper Cutting… |
| | | |
| --- | --- | --- |
| The Color Catalog by Sarah Renae Clark | Ranger Ink – Wendy Vecchi – Make Art… | Picket Fence Studios – Tools – Life… |
| Embossing Gun (Wagner), Hero Arts | Embossing Magic Bag, Inkadinkado | Amazon.com: Mini Foam Dots… |
| Amazon.com: Scotch 1/2-Inch by… | Fiskars 01-005452 Recycled Bypass… | Teflon Bone Folder, Essentials by Ellen |
| Scor-Pal Measuring & Scoring Board 12×12 | Glue Dots, Mini (3/16″) | Amazon.com : Accent Opaque White 8.5"… |
If you haven't tried out any of these new card making stencils because you weren't sure if you would really use them or if they offered enough bang for their buck, this project sure shows that the leaf stencil is a winner! And remember, because you are stenciling the background and not the leaves, you get a TON more mileage from this inexpensive tool!