Use this pretty white on white handmade floral card idea with ANY of your flower die cuts!
I was playing around with some leftover elements from another project and I ended up with this pretty white on white handmade floral card idea and I just had to share it! The pretty white on white background allows the flowers to really pop and this card idea is a great way to use up LOTS of leftover bits and pieces.  You can see the original Use Small Flowers to Make Bouquets post to see the step by step photos of how I color and form the flowers.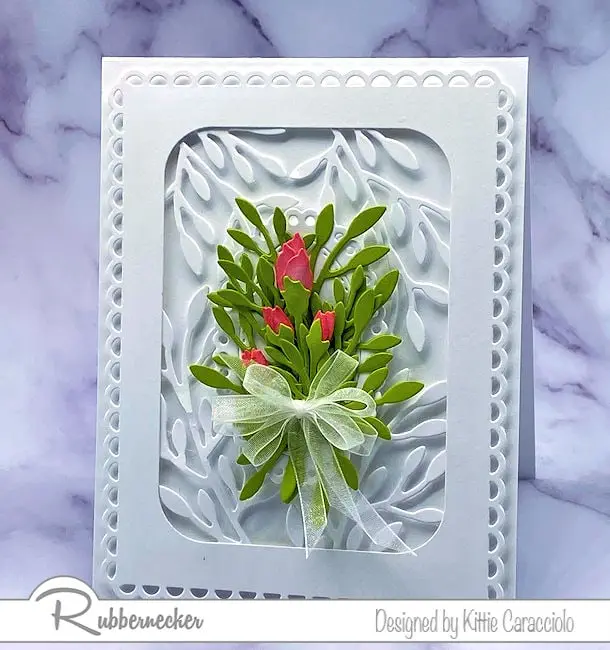 The Card Base and Foliage Frame
Use white cardstock to cut an A2 sized card base and scallop frame layer.
Place the scallop layer on the cutting platform, line up the rounded oval die in the center, secure in place with masking tape and run through the machine.
Cut several pieces of the foliage branches using white cardstock.
Apply double stick tape to the back of the frame and attach the foliage branches all the way around to fill in the open frame area.
Apply strips of mounting tape all the way around the back of the frame and small pop dots to several key leaves and attach to the card base.  Pro Tip:  Placing mounting tape to the back of the frame and pop dots on the back of the leaves will hold them away from the card base to create dimension.
Use white cardstock to cut the scalloped oval background  for the bouquet, attach the sections together using double stick tape and attach to the card base with mounting tape.
The Flower Buds, Stem and Foliage
Cut the flower buds using pink cardstock and stem sections using green cardstock.
Use green cardstock to cut sections of the leaf group die.
Use a mini applicator to apply soft touches of pink ink to each bud.
Pick up each bud with tweezers and lightly apply a touch of ink around the edges of each bud to create a darker shade of pink.
Use needle nose pliers to hold each petal and use your fingers to curl and form the petals .  Pro Tip:  You can use your tweezers for this step but I find the needle nose pliers hold the petal more securely.  Pliers are a great tool to keep in your tool box.  
Use tweezers to pick up each petal and attach them together using glossy accents  Note:  I used three petals for the larger  buds and two petals for the small buds.
Use a large round stylus to form each bud on the end of the stems.  
Pick up the flower buds with tweezers and attach them to the flower stems using glossy accents.
The Small Bouquet 
Attach the flower stem and two sections of foliage together using glossy accents.
Cut the small branches off of a couple of other branches.
Tuck the small branch sections in between the stem and branches and attach using glossy accents.
Apply a generous amount of glossy accents to the back of the bouquet and attach it to the oval base.
Create a small multi loop bow using white organza ribbon and attach it to the bouquet using glue dots.
Tuck a couple more small branch sections under the bow facing down to create a nice finishing touch and attach using glossy accents..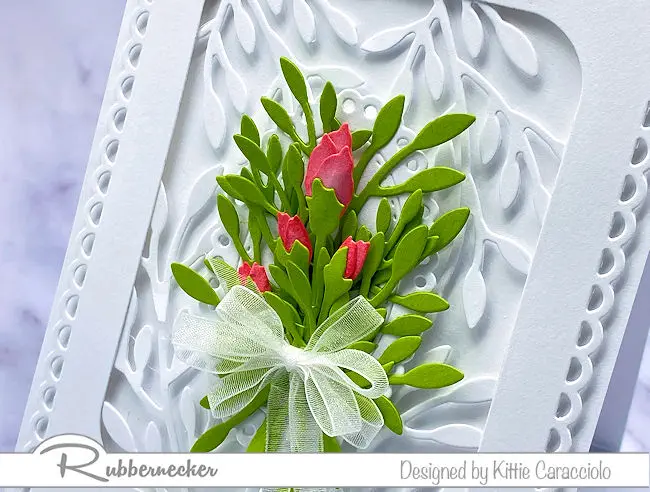 Using the foliage to create a frame is something different that I've never done before but I really like how it turned out.  
5320D Nested Scallop w/ Half Holes

Nested Rounded Corner Rectangle Die…

5218D Rectangle Combo OPC #3 Die Cut

5301-02D Organic Shapable Posy Die

Leaf Group die 5118D

Color Fuse Set #5

PanPastel Sofft Applicators 12/Pkg

Paper Blossom Tool Kit 4/Pkg

Paper Blossoms Molding Mat

Glossy Accents .5oz

Scotch Advanced Tape Glider & Tape

Scor-Tape .125″X27yd

Crossover II Fabric & Paper Cutting…
The Color Catalog by Sarah Renae Clark

Amazon.com: Mini Foam Dots…

Amazon.com: Scotch 1/2-Inch by…

Fiskars 01-005452 Recycled Bypass…

Teflon Bone Folder, Essentials by Ellen

Scor-Pal Measuring & Scoring Board 12×12

Amazon.com: Ben Collection 1/4″ X 50…

Glue Dots, Mini (3/16″)
Save the basic idea for this white on white handmade floral card idea and whenever you have any leftover flower die cuts, try this out! This makes a perfect wedding card, sympathy card, birthday card – now that I think about it, there aren't many occasions for which this kind of card would be perfect!