Check out one of the smartest Christmas tree dies!
There are loads and loads of Christmas tree dies out there and I am sure you've spent many a moment searching for one that fits your card. What about if you were able to have ONE die that could make a Christmas tree that could fit on any card? I present to you the new Slimline Christmas Tree die from Kittie Kraft by Rubbernecker. 
What makes this die so smart is that it cuts several – seven, to be exact – different layers of greenery meaning you can add and take away layers as you need to create a tree that will fit on any card. Need a tall tree for a slimline card? Covered. Need one for a vertical standard card. All set. How about one to fit on a landscape card? No sweat. And shrubbery? Easy-peasy.  This is the same tree in this Funny Christmas Card Ideas with Dogs post and you can see that by using only three of the smallest layers, I was able to build a Christmas tree that fit perfectly on this card!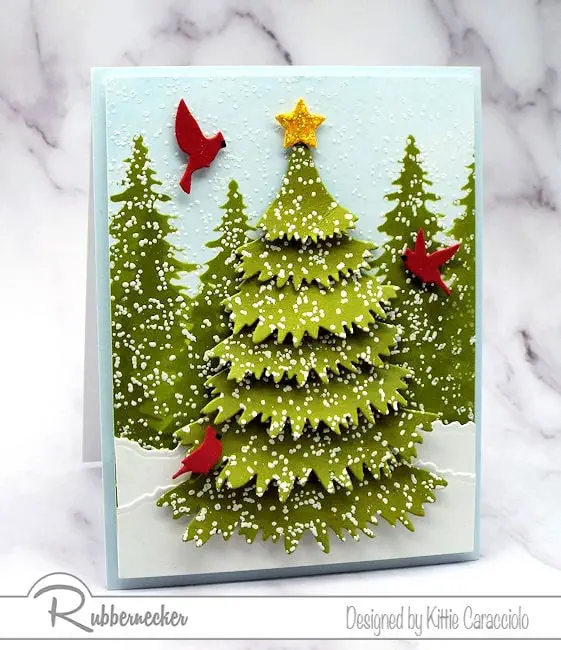 Stenciled Tree and Snow Background
Create a stenciled tree background on a light blue 5.25″ x 4.00″ cardstock layer using the largest tree die in the Evergreen Tree set, Juniper ink and a blender brush.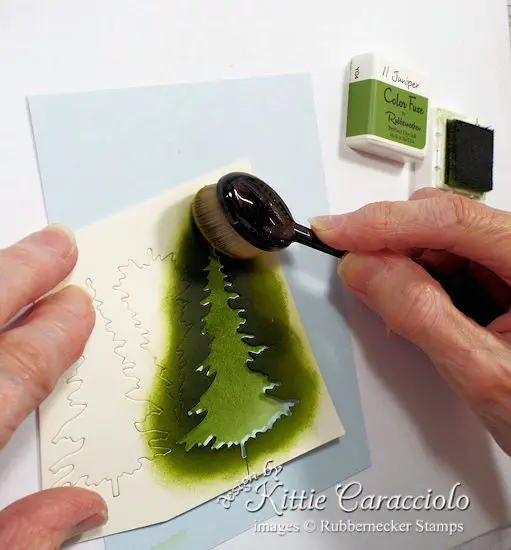 Pro Tip:  You can create a stencil out of almost any evergreen tree die. The Evergreen Tree die is a sold plate die and cuts all three trees at one time.  I cut all three out of a larger piece of cardstock and taped the two smaller trees back in place using double stick tape.
Heat set the ink using a heat gun to make sure the ink is totally dry for the embossing step.  Pro Tip:  It is really important to make sure your ink is very dry when applying embossing powder so the powder doesn't stick to the image.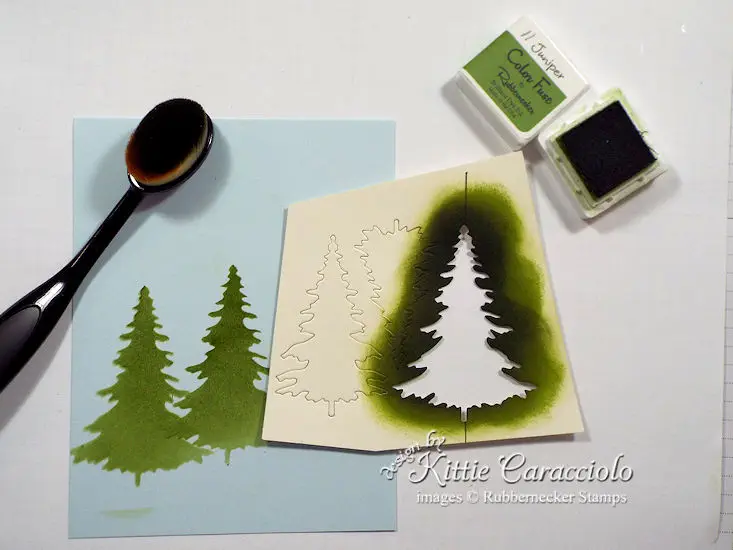 Gently pat the blue tree layer using an embossing magic bag.  The light powder removes static cling so the powder sticks only to the stamped image.
Apply white pigment ink to the Splatter Background stamp and stamp to cover the blue layer.
Apply white embossing powder and heat with your heat gun.
Use strips of mounting tape on the back of the blue tree layer and attach to the card base.
Cut two Deckle Hill sections and attach to the scene base using ATG adhesive.
Christmas Tree
Cut all seven of the Slimline Christmas Tree using green cardstock.
Apply embossing magic bag to all  of the tree sections.
Use white pigment ink to stamp the Splatter Background on all of the tree sections.
Apply white embossing powder to all the tree sections and heat with your heat gun.
Use your fingers to gently bend the bottom of each section out to create a more fluffy looking tree.
 Starting with the largest tree section begin attaching the sections together using pieces of mounting tape.
Apply a generous amount of glossy accents to the back of the whole tree and attach to the card base.
Star and Bird Embellishments
Use red cardstock to cut three cardinals.
Color the beaks using a black marker.
Apply small pieces of mounting tape to the back of the birds and attach them to the scene.
Use yellow cardstock to cut the star and attach it to the top of the tree using a piece of mounting tape.
Add a touch of sparkle to the star using yellow stickles for the finishing touch.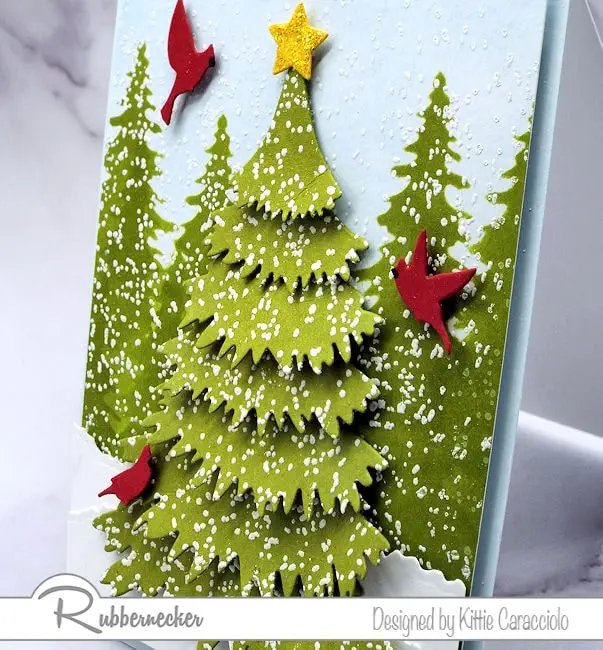 Do I think you should throw away all your other Christmas tree dies? No, for sure not. Do I think you will end up using this one over and over? Absolutely. There is no end to how you can adapt this fabulous set of Christmas tree dies to your projects and I am pretty sure it will prove to be so useful you won't just be reaching for it around the holidays!
5416-01D Slimline Christmas Tree Die

5173-02D Deckle Hills Die Cut

5217-02D Cardinals Die

1231 Splatter Background

Glacier White Embossing Powder

Scor-Tape .25″X27yd

Crossover II Fabric & Paper Cutting…
The Color Catalog by Sarah Renae Clark

Hero Arts – Hero Hues – Pigment Ink…

Amazon.com: Scotch CAT 085 Advanced…

Sizzix Making Tool – Paper Sculpting Kit

Mini Glossy Accents, Ranger Accents

Amazon.com: Mini Foam Dots…

Amazon.com: Scotch 1/2-Inch by…

Fiskars 01-005452 Recycled Bypass…

Teflon Bone Folder, Essentials by Ellen

Scor-Pal Measuring & Scoring Board 12×12

Glue Dots, Mini (3/16″)

Amazon.com : Accent Opaque White 8.5"…

Ranger Ink – Stickles Glitter Glue -…

New & Improved MISTI Laser Etched…

Embossing Magic Bag, Inkadinkado

Dual Speed Heat Tool, WOW
I lovemaking holiday cards with Christmas tree dies.