One mini slimline die + tiny die cut flowers = an adorable card!
I spotted this new mini slimline die in Rubbernecker's new mini slimline die release and knew that it was going to be a for-sure LBD – little black dress – die in every card maker's stash. This die, like its full size counterpart, adds so much texture, visual movement and detail to any card. What I didn't expect was that it could make card making so easy! Pop it onto a card front, add your favorite little elements in the little windows and you've got a darling card!
For this card I used the Rubbernecker Mini Slimline Diamond Cover, Small Flowers #3, Branches and Leaves and the tiny negative circles cut from the Nested Scallop with Holes.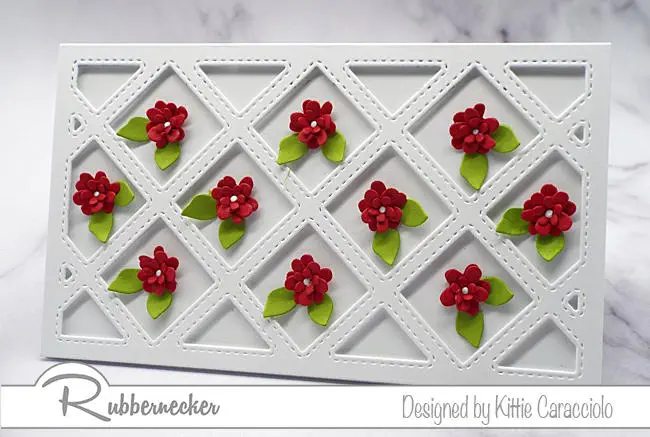 Mini Slimline Card Base and Mini Slimline Cover Die
Use white cardstock to cut a 6.00″ x 7.00″ layer and score down the center to create a 6.00″ x 3.50″ card base.
Cut the Mini Slimline Diamond Cover using white cardstock.
Turn the cover face down, apply thin strips of mounting tape around the border and a few small pieces on the inner cross strips and attach it to the card base.  Pro Tip:  Adding pieces of mounting tape to several key spots on the inner strips will keep the center of the cover from collapsing.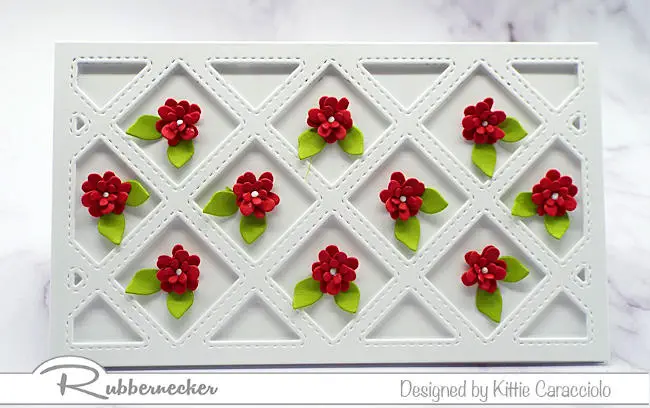 The Flowers and Leaves
Cut ten of the largest and smallest flowers from the Small Flowers #3 set using red cardstock and place them face down on the molding pad.
Roll over the back of each flower with a round stylus to curl the petals up.
Turn the flowers face up on the molding pad and push down in the centers using a tiny tipped stylus . 
Attach the two sized flowers together using glossy accents.
Cut ten sets of the double leaf pieces from the Branches and Leaves set.
Form the leaves with your fingers to add dimension and attach to the bottom of the flowers using glossy accents.
Attach the flower and leaf sections inside the diamond openings using glossy accents.
Place a tiny white circle in the center of each flower and attach using glossy accents.  Pro Tip: I save all the tiny die cut circles from the eyelet scallop with holes dies to use for flower centers, falling snow, etc.  The ones I used here are from the Nested Scallop with Holes set.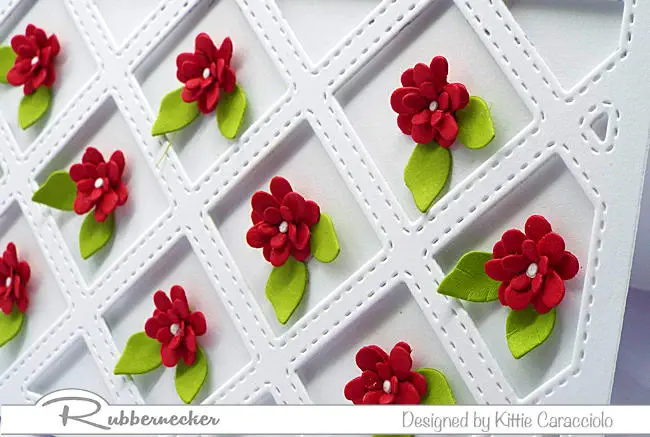 Have you seen the new Mini Slimline Dies by Rubbernecker?  Head over to my New Mini Slimline Dies post to see several cards that I made with several of the dies and the complete list of new dies.
5431D Mini Slimline Diamond Cover

5309-09D Small Flowers #3

5404D Branches and Leaves Die

5300D Nested Scallop with Holes
The Color Catalog by Sarah Renae Clark

Sizzix – Paper Sculpting Kit

Paper Blossom Tool Kit 4/Pkg

Paper Blossoms Molding Mat

Scotch Advanced Tape Glider & Tape

Amazon.com : Dahle 550 Professional…

Crossover II Fabric & Paper Cutting…

Mini Glossy Accents, Ranger Accents

Amazon.com: Mini Foam Dots…

Amazon.com: Scotch 1/2-Inch by…

Teflon Bone Folder, Essentials by Ellen

Scor-Pal Measuring & Scoring Board 12×12

Glue Dots, Mini (3/16″)

Amazon.com : Accent Opaque White 8.5"…
So I guess if you have to choose only ONE mini slimline die, this one is worth high consideration! And do you know what one of the best things about mini slimline cards is? They are the PERFECT size for a check or cash! Think of all the times you've had to fold a check or money up to tuck into a card….. Right? Plus they are just so cute! Let me know what mini slimline dies you snap up and how YOU plan to use them – I'd love to hear!