Check out the NEW mini slimline dies from Rubbernecker!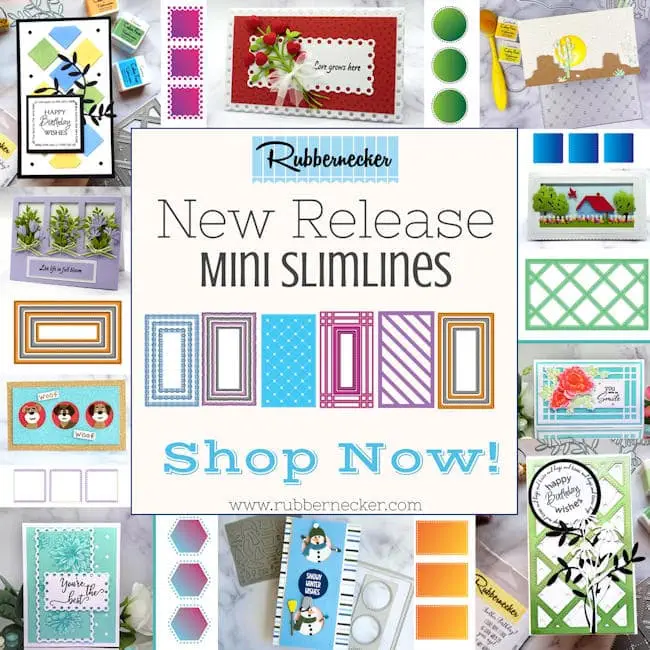 I am beyond excited to share with you something brand new and oh-so-fun – new mini slimline dies from Rubbernecker! Just like their larger counterparts, these new mini slimline dies have just as much detail and versatility and I had so much fun making some cards with them to show you. I will feature some of these in their own posts – maybe all – but I simply could not WAIT to show you how fabulous these new mini slimline dies are! Mini slimline dies are scaled down to work on 6.00″ x 3.50″ card base. 
First, is this pretty pink and white card – I am loving how the smaller flowers in smaller arrangements are just perfectly scaled for this size card! I just love the hint of the peekaboo afforded by the Mini Slimline Quilted Cover die.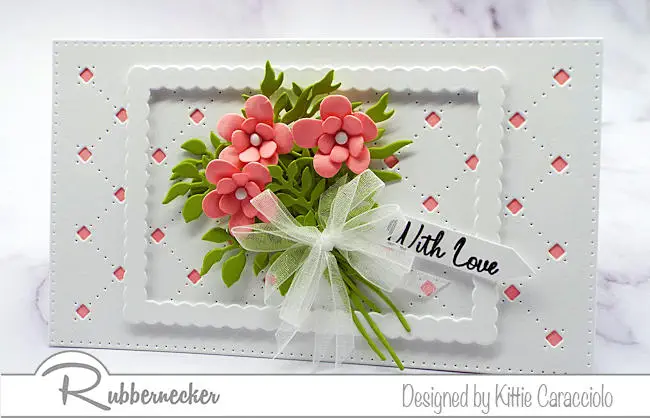 Here's another example of how even the smallest, single bloom can take on a ton of impact when repeated, especially in the pattern created with this absolutely adorable Mini Slimline Diamond Cover die.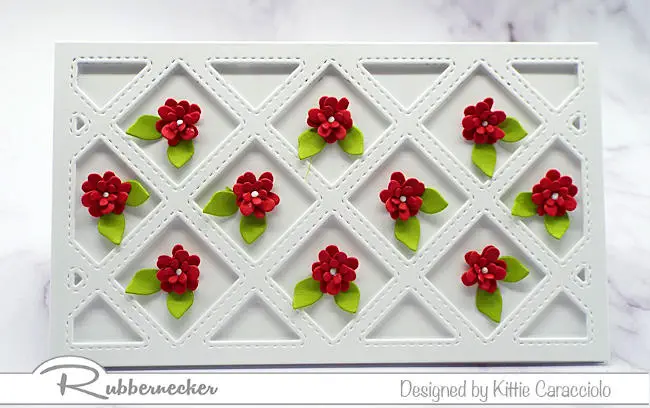 One of the things that I think sets Rubbernecker dies apart from other companies' is their attention to those details that add so much design to a die, like this Mini Slimline Tab Scallop Holes. The addition of the little holes within each scallop adds tons of visual movement and lets you use just the die cut alone for loads of impact.
Mini Slimline Tab Scallop Holes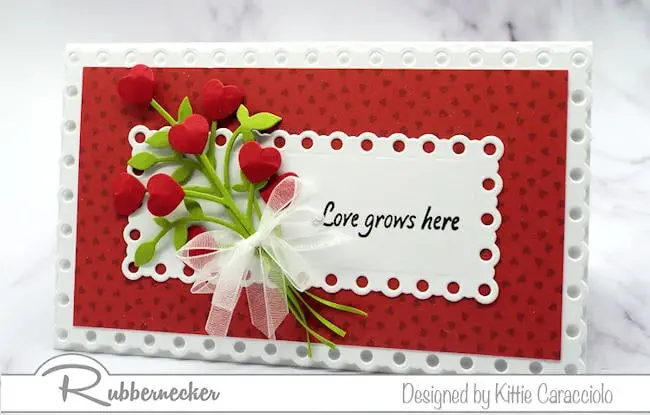 This Mini Slimline Rectangle Stitch adds the most versatile little rectangle peekaboo windows, giving you loads of opportunities to create beautiful scenes like this.  I love that it works well on an A2 sized card like you see here but also on a mini slimline.
Mini Slimline Rectangle Stitch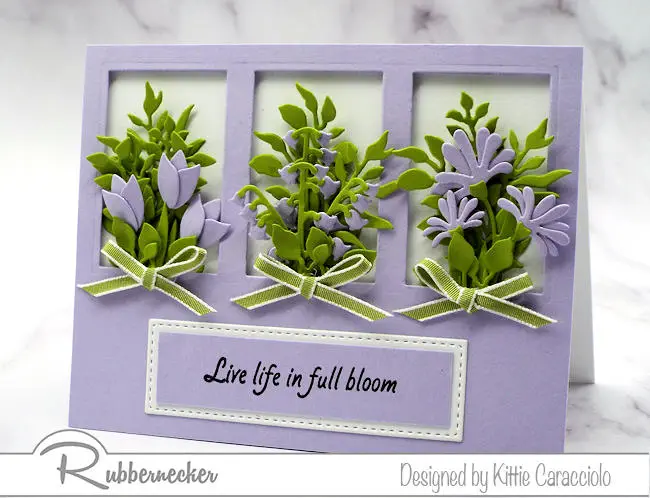 I was over the moon when I saw the Mini Slimline Nested With Stitch die set – not just can you cut perfectly nested panels but you can make frames so easily that are perfectly sized for these snack sized slimline cards. And note that the largest die in the Mini Slimline Tabbed Deckle set cuts a panel that is card front sized – what a great and easy way to add lots of texture!
Mini Slimline Tabbed Deckle and Mini Slimline Nested With Stitch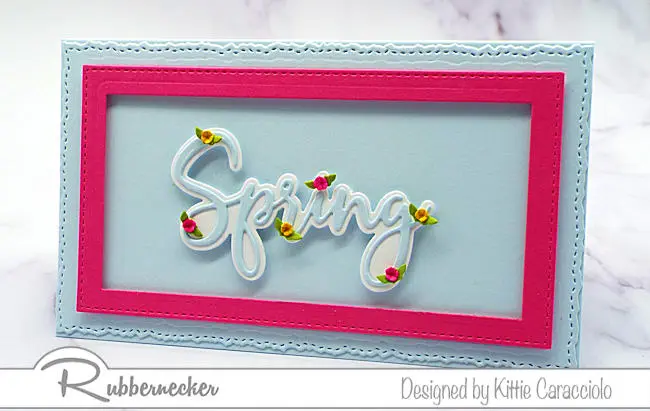 Speaking of frames, you all knew I would have to make a card with a precious little scene on it. Notice the Mini Slimline Tabbed Scallop Stitch die also cuts close to card front size – I just love that extra little detail without all the extra lining up and hoping it comes out straight!
Mini Slimline Tabbed Scallop Stitch and Mini Slimline Nested With Stitch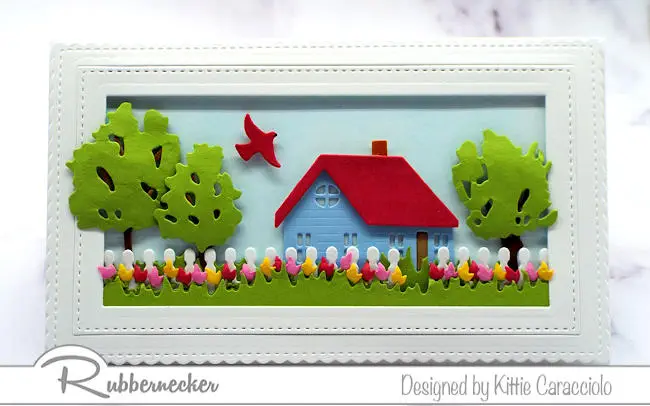 Here is a handy table for you with all the new mini slimline dies from Rubbernecker so you can add the ones you know you just can't live without. PRO TIP 1: Make SURE you are logged in to your Rubbernecker account because the new Gold Status membership rewards sets are STUNNING and every penny you spend counts toward your rewards. PRO TIP 2: if you see something you love, I would order it now. New product releases sell out FAST for Rubbernecker and there's nothing worse than missing out on something you really want!
5425D Mini Slimline Nested with stitch

5426D Mini Slimline Tabbed Deckle

5427D Mini Slimline Tabbed Scallop…

5428D Mini Slimline Tab Scallop Holes

5429D Mini Slimline Window Cover

5430D Mini Slimline Quilted Cover

5431D Mini Slimline Diamond Cover

5432D Mini Slimline Diagonal Cover

5433-01D MSLI Peek-a-boo Classic

5433-02D MSLI Square Scallop Hole

5433-03D MSLI Rectangle stitch

5433-04D MSLI Hexagon Hole

5433-05D MSLI Scallop Square

5433-06D MSLI Circles Stitch
Come back often because I will be sharing my step by step instructions on how to create my projects using these new mini slimline dies from Rubbernecker along with all my tips and tricks that will help you recreate the cards you want to make. Happy shopping!