This pretty mini slimline floral card uses BRAND NEW DIES from Rubbernecker!
I am so over the moon with all the new Mini Slimline dies from Rubbernecker and one of the first things I envisioned was this mini slimline floral card made to look like adorable little mini window boxes. You all know I love my flower dies and I just love how perfectly the ones in my own collection of flower dies fit so perfectly on mini slimline cards. For this card I used the Mini Slimline Rectangle Stitch insert die on a regular A2 sized card to show how it can be used on both sized cards.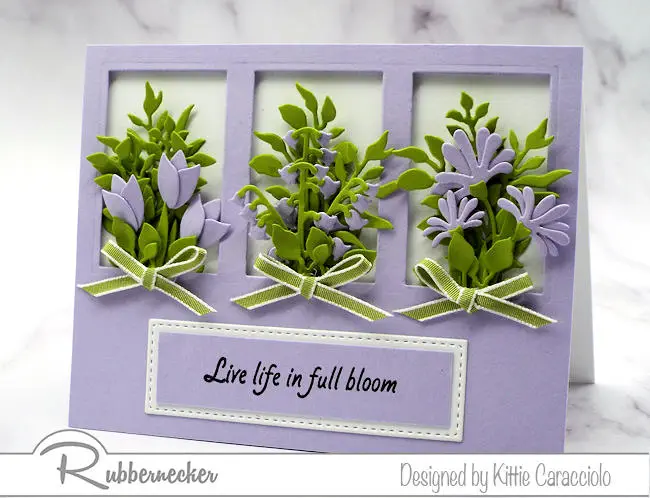 Card Base and Frame For This Mini Slimline Floral Card
Use white cardstock to cut an A2 sized card base and purple cardstock to cut a 5.50″ x 4.25″ layer.
Place the purple layer on the cutting platform, line up the Mini Slimline Rectangle Stitch die on the layer and secure it in place using masking tape.
Run the layer and die through the machine to cut the rectangle frame openings.
Apply thin strips of mounting tape to the back borders of the frame layer and in between the frame openings.
Use the smallest die from the Mini Slimline Nested with Stitch to a white layer to layer behind the sentiment.
Cut a 3.25″ x .75″ strip of white cardstock and stamp the sentiment from the Kittie Says Spring Time set using Nocturne ink. 
Sprinkle the sentiment with Clear Embossing Powder and heat with heat gun.  
Attach the sentiment layer to the white rectangle using ATG adhesive. 
The Floral Bouquets
If you follow my blog you know how much I love playing with paper flowers.  If you are new to my blog you may want to check out my How to Make Paper Flowers Step by Step post with two videos showing how to assemble the flowers and how to create a paper flower bouquet.
Use purple and green cardstock to cut the Tulips and Stems, Canterbury Bells and Stems, Buchnera and Stems and Branches and Leaves.
Assemble the flower sections and attach them to the stems using glossy accents.
Begin creating the bouquets by attaching the flower stems together using glossy accents. 
Attach greenery sections to the back of the flower bouquets using glossy accents to fill in the back of the bouquets.
Attach smaller leaf sections to the front of each bouquet using glossy accents to fill in and soften the front of the bouquets
Apply a generous amount of glossy accents to the back of each bouquet, tuck the stems in behind the frame window and attach.
Finish by adding a single loop bow to each window and attach using glue dots.  Pro Tip:  Check out my Bow Tying Video in my tutorial section to see how I make my bows.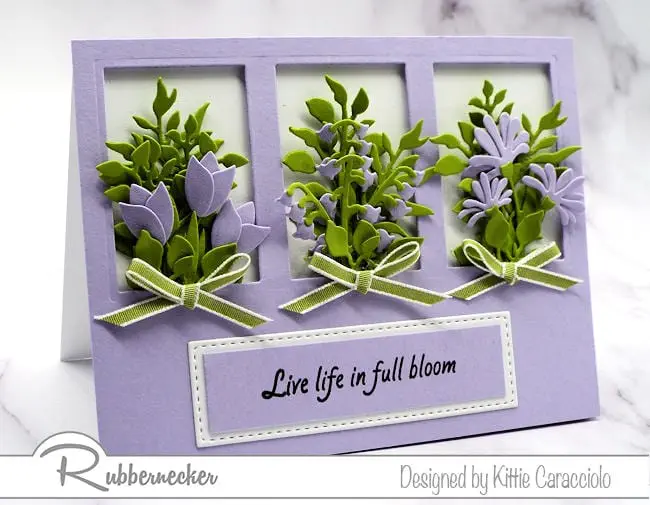 5433-03D MSLI Rectangle stitch

5425D Mini Slimline Nested with stitch

5402-01D Tulips and Stems Die

5402-05D Canterbury Bells and Stems

5402-03D Buchnera and Stems Die

5404D Branches and Leaves Die

3411 Kittie Says Spring time

Versafine Clair Nocturne Pad

Clear High Gloss Embossing Powder

Crossover II Fabric & Paper Cutting…
5425D Mini Slimline Nested with stitch

5426D Mini Slimline Tabbed Deckle

5427D Mini Slimline Tabbed Scallop…

5428D Mini Slimline Tab Scallop Holes

5429D Mini Slimline Window Cover

5430D Mini Slimline Quilted Cover

5431D Mini Slimline Diamond Cover

5432D Mini Slimline Diagonal Cover

5433-01D MSLI Peek-a-boo Classic

5433-02D MSLI Square Scallop Hole

5433-03D MSLI Rectangle stitch

5433-04D MSLI Hexagon Hole

5433-05D MSLI Scallop Square

5433-06D MSLI Circles Stitch
This won't be the last Mini Slimline floral card I make – in my experimenting I came up with so many more designs and I can't wait to share them with you! Check back often and see what other darling little cards we can make with these fantastic new dies!