See how layering die cut frames from different die sets can give you gorgeous – but easy – custom looks!
I often use the technique of layering die cut frames together – like here and here –  to create the perfect settings for more intricate die cut focal elements, like this single, beautiful purple flower. I wanted to spend a little time today showing you exactly how to do this layering/combining since it really is very easy and once you have the basics down, you can let your creativity really run free and come up with endless ideas.
In this example, I layered two nesting dies that were adhered together over a cover die to create a floating framework to show off that singular showstopper of a die cut blossom. I will tell you that nothing in this project is difficult – I promise! There's a LOT of detail, for sure, but it's all easily done and I want you to have all the details so you can have the confidence to try this out. Are you ready to give it a try?
Before we begin, I want to share that I do exclusively use dies from Rubbernecker. They are the best quality I have found and they are very attentive to details such as making sure that all the dies in their Inside Scallop Frames and Outside Scallop Frames could work together to exponentially increase your creative possibilities. Your mileage may vary with what dies you use; just test them out to find ones that fit together as well as the ones from Rubbernecker do.
Here we go!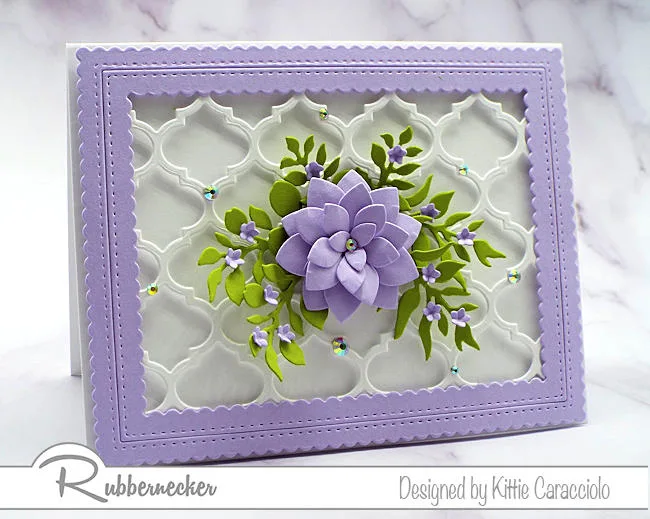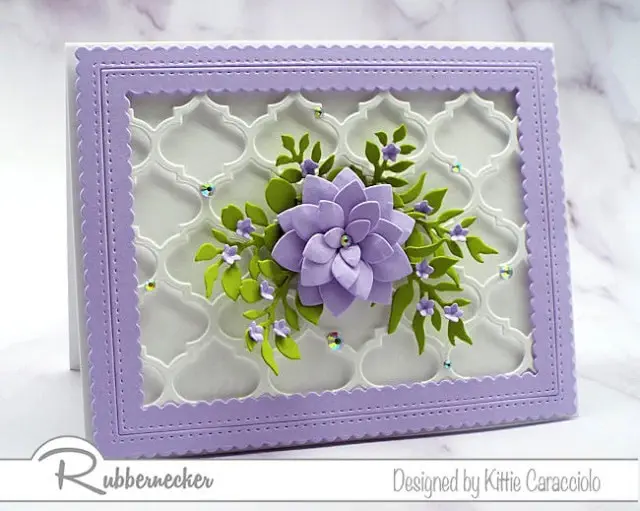 Frame Layers and Lattice Cover
Use purple cardstock to cut the Outside Scallop Frame and Inside Scallop Frame.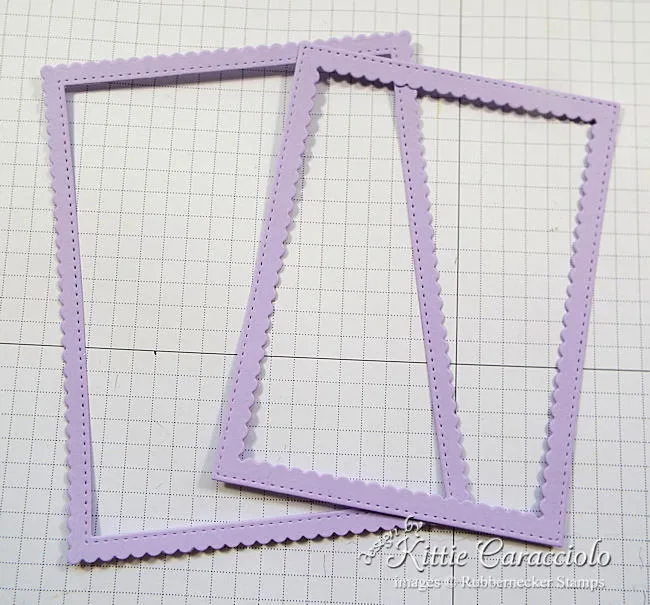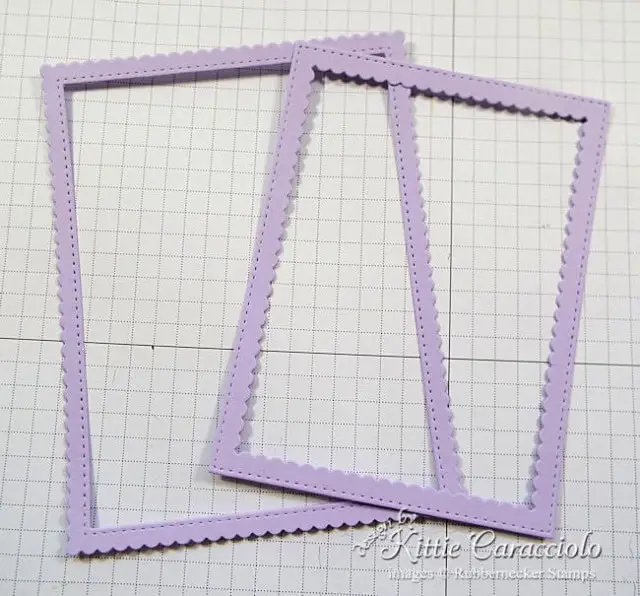 Place the largest outside frame face down on your work table and then insert the second largest die from the inside frame.
Secure the frames together in a couple places with masking tape.  Pro Tip:  Securing the two frames with the masking tape helps hold the two frames together so they don't move out of place when you attach the double stick tape.  This is not a step you want to skip!  Take my word for it. 😒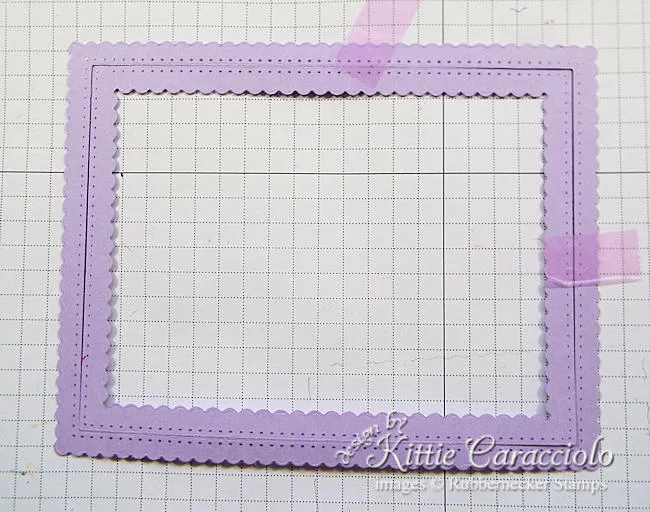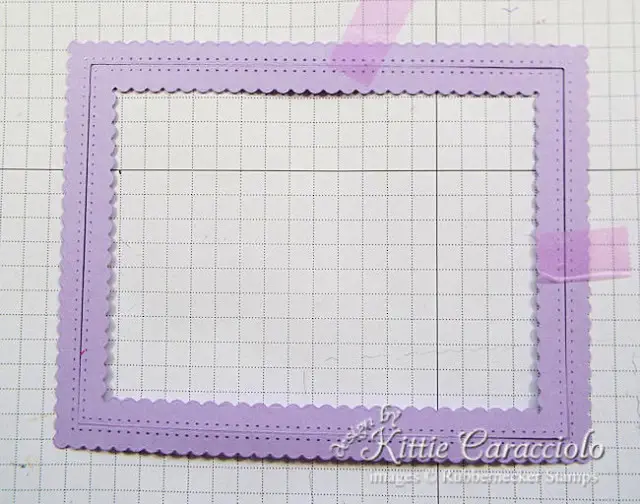 Apply 1/8″ double stick tape around all four sides of the frame.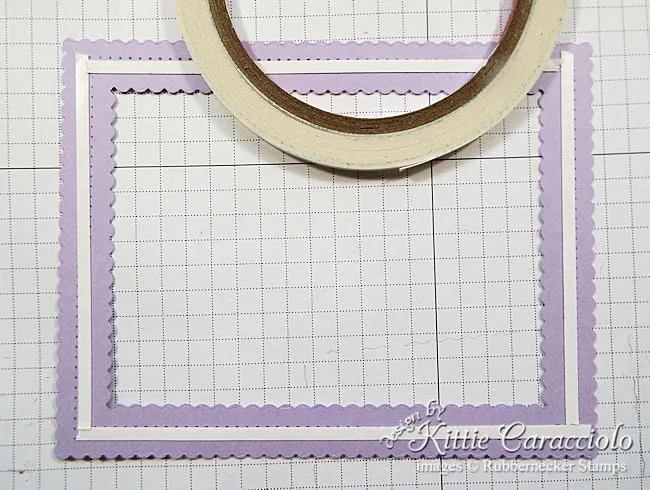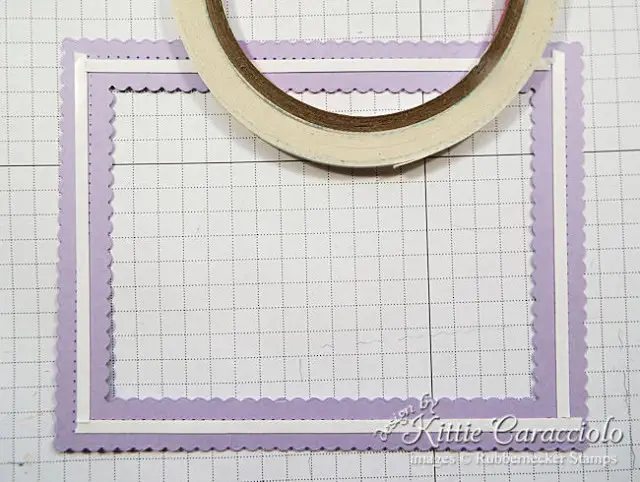 Cut the Lattice Cover using white cardstock.
Trim the lattice layer to fit behind the frame.
Remove the double stick backing and attach the white lattice layer.
Apply strips of mounting tape to the back borders of the frame and attach it to the card base.

Flowers and Foliage
Use purple and green cardstock to cut the Stackable Flowers and Leaves and Tiny Flowers #2 and green cardstock to cut the Branches and Leaves.
Place the large flower sections face down on the molding pad and form the petals by pressing down with a large round stylus.  
Turn the flower sections face up and push down in the center with a small tipped stylus.
Attach the flower sections together using glossy accents.  Pro Tip:  Offset each layer to create a more natural looking flower.
Place the tiny flowers face up on the molding pad and push down in the center of each with a small tipped stylus.
The Arrangement
Attach the large flower to the card base using a generous amount glossy accents.
Tuck the foliage branches under the flower, arrange them around three sides of the flower and attach them to the card base using glossy accents.
Apply glossy accents to the back of the tiny flowers and randomly attach them to the branches.  Pro Tip:  Adding the tiny flowers softens the arrangement. 
Add a large crystal gem in the center of the large flower and a few to the lattice cover for the finishing touch.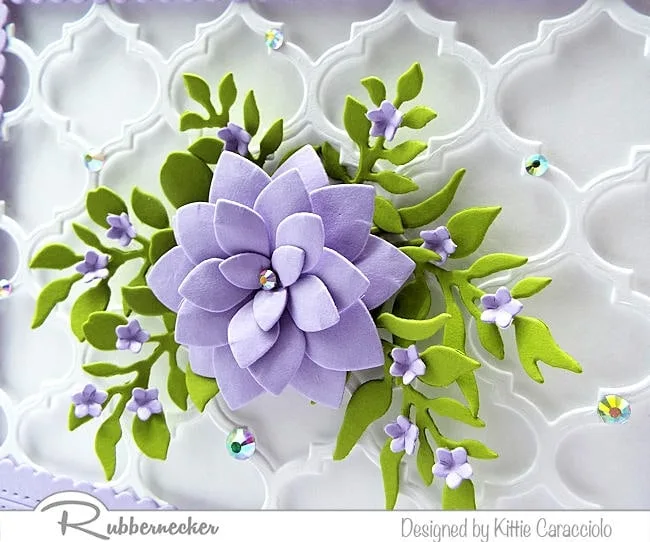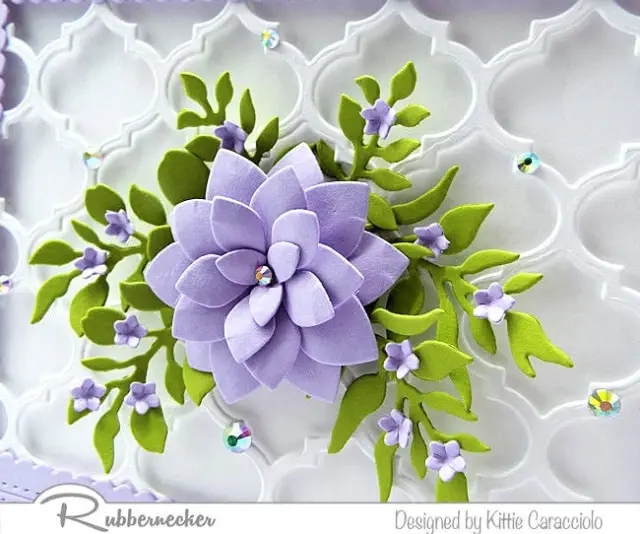 I love creating dimensional cards using frames.  Check out my Frame Card Category for more inspiration.
| | | |
| --- | --- | --- |
| 5500-02D outside scallop frame Die | 5500-01D Inside scallop frame Die | 5420D Lattice Cover Die |
| 5508-01D stackable flowers/leaves die | 5404D Branches and Leaves Die | 5422-03D Tinny Flowers #2 Die |
The Color Catalog by Sarah Renae Clark

Spellbinders – Self Adhesive Gems -…

Sizzix – Paper Sculpting Kit

McGill – Paper Blossoms Collection -…

Amazon.com: McGill Paper Blossoms…

PanPastel Sofft Applicators 12/Pkg

Scrapbook.com – Magic Mat – Standard…

Scrapbook.com – Magic Mat – Standard…

Crossover II Fabric & Paper Cutting…

Amazon.com : Dahle 550 Professional…

Scotch Advanced Tape Glider & Tape

Mini Glossy Accents, Ranger Accents

Amazon.com: 1000 Pieces Foam Sticky…

Amazon.com: Mini Foam Dots…

Amazon.com: Scotch 1/2-Inch by…

Teflon Bone Folder, Essentials by Ellen

Scor-Pal Measuring & Scoring Board 12×12

Glue Dots, Mini (3/16″)

Amazon.com : Accent Opaque White 8.5"…
I very much encourage you to experiment with layering die cut frames to see how many custom looks you can create. I especially love it when my stash gets that extra value boost, too, when I can combine things to make new things that no one else has!