Get my PRO HACK to adhere intricate die cuts to your cards with zero fuss and no mess!
I recently learned that there are people who avoid some of the more ornate dies because they struggle to find the right adhesive that doesn't show and isn't a pain to apply. Today I am sharing one of my favorite adhesive tips that will help you adhere intricate die cuts to your cards so easily and with the best results. 
Take a look at this gorgeous lattice cover on this card: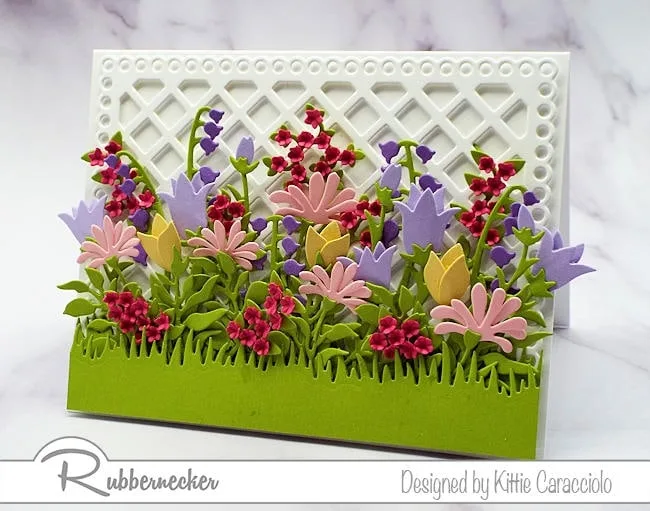 You can see how it is popped up, yes? And, like you, I have ZERO interest in cutting whisper thin slivers of foam tape to get this on my card. And liquid glue, while fine if you want a flat layer, can still leak out and around those fine lines. Well, read on and get the tip I use a LOT to adhere narrow items including the more intricate die cuts to give you dimension and invisible adhesion!
Start With the Card Base, Intricate Cover and Grass
Use white cardstock to cut the A2 sized card base and the new Lattice with Scallop Cover.
Here's the hack: Using double stick tape, apply some lengths of adhesive tape to a craft sheet or non-stick work surface. Using your finger tip, roll the adhesive tape over itself on the long sides, moving your finger down the length to create little "ropes" of tape. Now you can use these around the outside edge of this ornate cover die cut as well as on some of the strips in the center. This tip is also fabulous when you want to add branches, trim pieces or borders when you want that lift that dimensional adhesive gives you.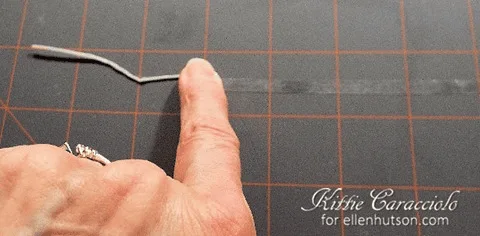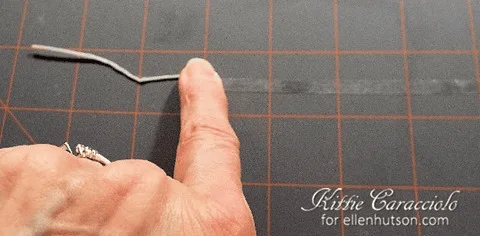 Pro Tip in a tip!:  Placing a few strips of the rolled up tape to several spots on the back of lattice will keep it from collapsing in on the card base.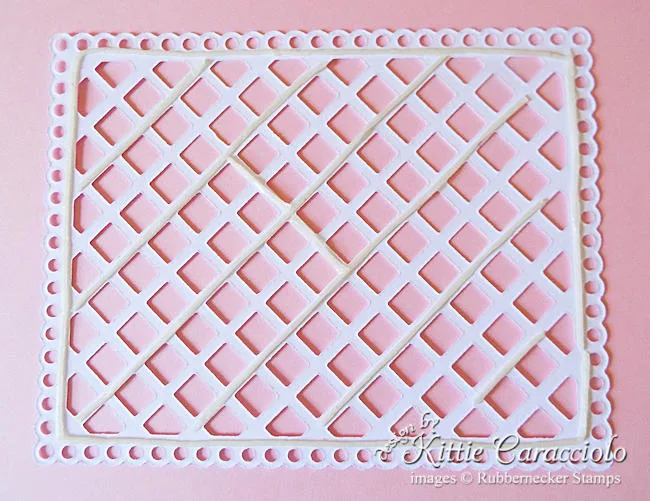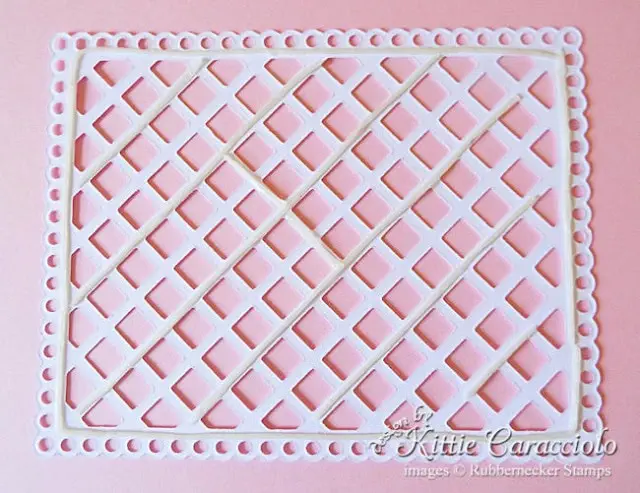 Cut two sections of the Tabbed Grass.
Attach the back grass layer to the lattice cover using ATG adhesive.
Use a strip of mounting tape to attach the front grass section to the back grass layer.
Die Cut Flowers and Foliage
Cut a few sections each of the Tulips and Stems, Buchnera and Stems, Canterbury and Stems, Gentian and Stems and Tiny Flowers #2 using multiple colors of cardstock for the flowers and green cardstock for the stems.
Gently form the flower sections and attach them together using glossy accents.
Pro Tip:  Check out my How to Make Paper Flowers Step by Step and Video Tutorial post showing how I form and assemble these flowers.   
Attach the stems to the flowers using glossy accents.  
Cut several sections of the Branches and Leaves and Leaves and Greenery foliage using green cardstock.
Form the tiny flowers using a molding pad and small tipped stylus and attach them to foliage sections using glossy accents.
Assemble the Garden
Tuck the four larger flower sections in behind the grass layer and attach using glossy accents.  Pro Tip:  I trimmed some of the stems so I could create different levels of flowers.
Tuck foliage sections in behind the grass, some in front and some behind the flowers to fill in the arrangement.
Finish by tucking the brightly colored tiny flower branches around the arrangement.  Pro Tip:  I felt the four pastel colors of the arrangement looked a little pale.  I added the brightly colored flowers to add another element of interest and bring the arrangement to life.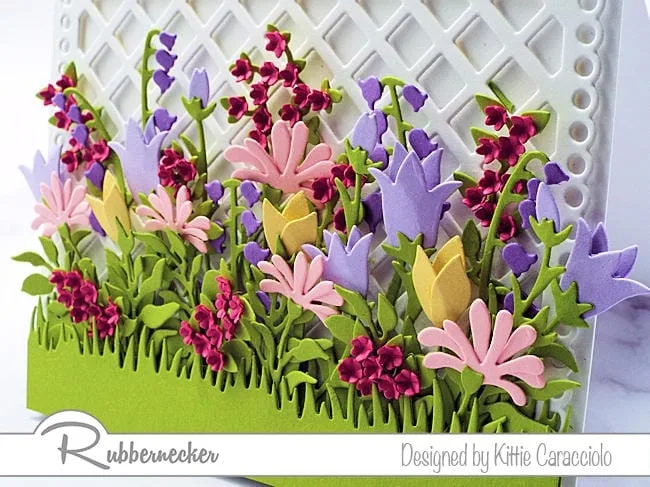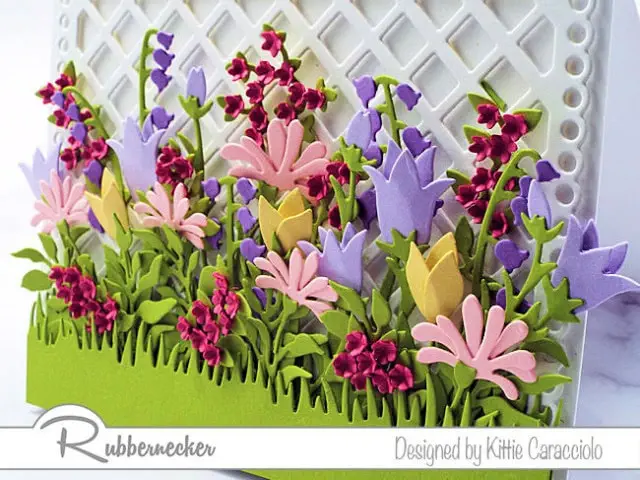 I know you may look at this project and think it is way too hard or time consuming to try. But it is only a matter of adding items step by step and allowing yourself to use your own creative eye. There is no right or wrong when making flower cards! I'd love to hear if you have given projects like this a try. And if so please send me a picture and I will share it on a blog post!
| | | |
| --- | --- | --- |
| 5512-03D Lattice with Scallop Cover | 5402-05D Canterbury Bells and Stems | 5402-03D Buchnera and Stems Die |
| 5402-02D Gentian and Stems Die | 5402-01D Tulips and Stems Die | 5422-03D Tinny Flowers #2 Die |
| 5309-04D Leaves and Greenery Die | 5404D Branches and Leaves Die | Tabed Grass Set Die Cut 5152-03D |
The Color Catalog by Sarah Renae Clark

Susan's Garden Ultimate Tool Kit

Sizzix – Paper Sculpting Kit

McGill – Paper Blossoms Collection -…

Amazon.com: McGill Paper Blossoms…

PanPastel Sofft Applicators 12/Pkg

Scrapbook.com – Magic Mat – Standard…

Scrapbook.com – Magic Mat – Standard…

Crossover II Fabric & Paper Cutting…

Amazon.com : Dahle 550 Professional…

Scotch Advanced Tape Glider & Tape

Mini Glossy Accents, Ranger Accents

Amazon.com: 1000 Pieces Foam Sticky…

Amazon.com: Mini Foam Dots…

Amazon.com: Scotch 1/2-Inch by…

Teflon Bone Folder, Essentials by Ellen

Scor-Pal Measuring & Scoring Board 12×12

Glue Dots, Mini (3/16″)

Amazon.com : Accent Opaque White 8.5"…
How psyched are you to have this cool hack to adhere intricate die cuts and skinny pieces to your cards with dimension? Doesn't it make SUCH a difference? And will you ever look at your tape the same way? Let me know if you try this out and if you aren't as excited as I was when I first tried it!