You will want to save handmade all occasion friend card idea to use over and over!
Sometimes I just play around with products, wisps of inspiration and whatever is laying around on my work table to see what happens. Well, tis handmade all occasion friend card idea is one of those results. And I just absolutely LOVE the pop of color from the flowers against all that crisp white with its touches of texture. And doesn't that die cut sentiment just seem to float over the card? This is one project I am putting out where I can see it because I know I will use this idea over and over.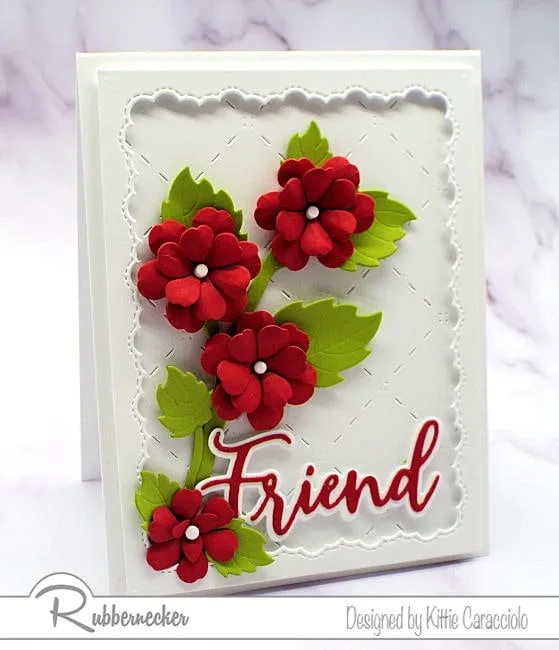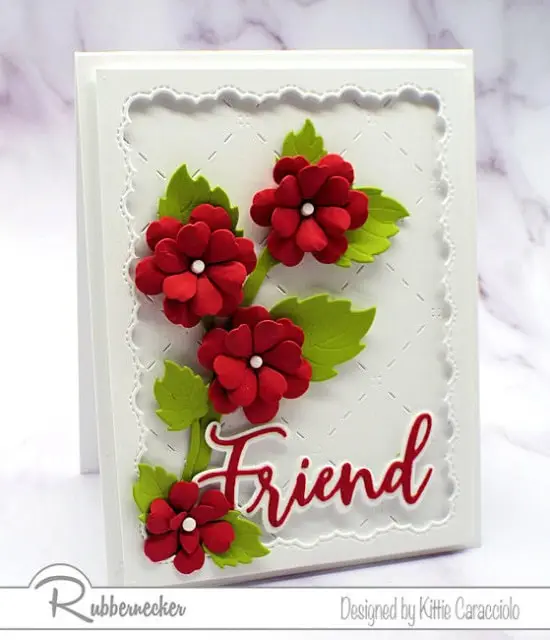 Would you like to see how to make one? Let's go!
Card Base and Frame
Cut a 5.50″ x 4.25″ card base using white cardstock.  
Use white cardstock to cut the Quilted Stitch Pierced Cover die and the Nested Scallop with Holes frame.
Attach the quilted cover to the card base using ATG adhesive.
Apply strips of mounting tape to the back of the frame and attach it to the card base.
Flowers, Leaves and Branch
Use red and green cardstock to cut several flowers sets and leaves using the Stackable Flowers and Leaves #3.  Pro Tip:  I use a Magic Mat cutting pad when cutting dies like these leaves with score lines.  The mat helps to create good crisp lines.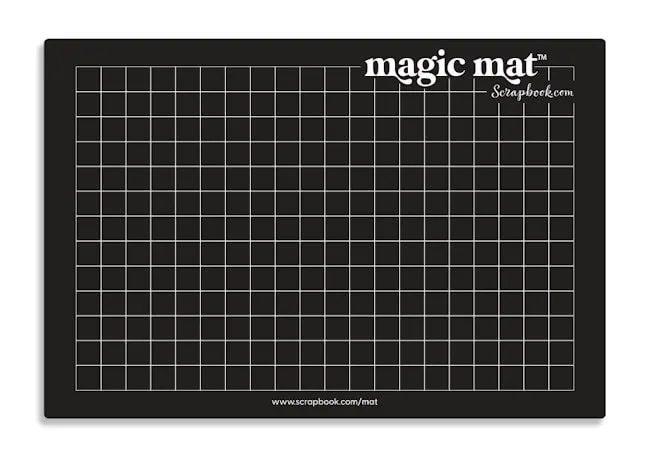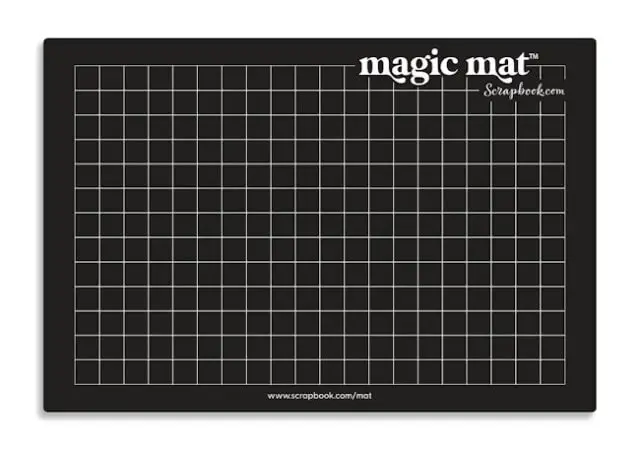 Cut the Branch stems using green cardstock.
Place all the flower sections face down on the molding pad and form the petals by pushing down and rolling with a large round stylus.
Use glossy accents to attach the flower sections together and make sure to offset the petals for natural balanced flowers,
Gently form the leaves with your fingers to add a touch of dimension.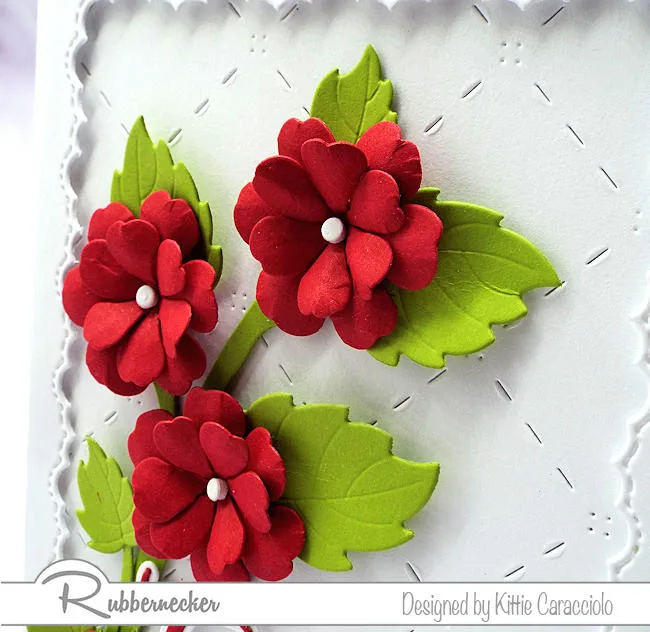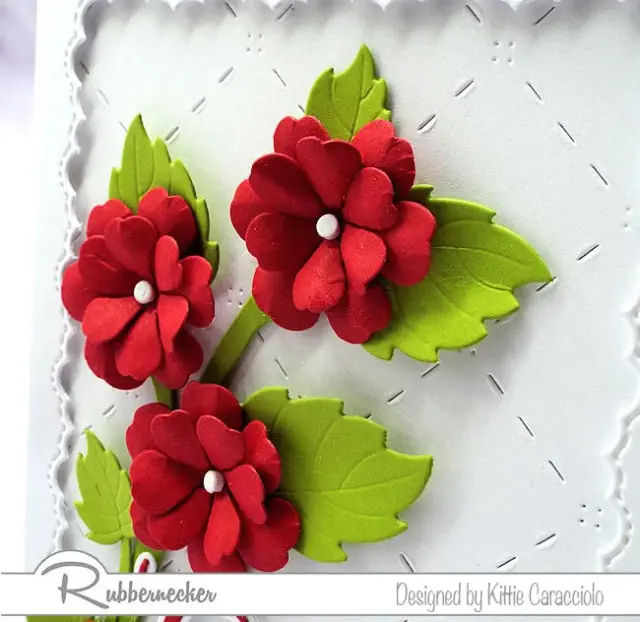 Attach the Flowers, Leaves and Branch
Use thin strips of mounting tape to attach the branch to the card base.
Attach the flowers to the branch using glossy accents.
Tuck the leaves under the flowers and attach them to the card base using glossy accents.
Use tiny pop dots to attach white 1/8″ white circles to the flower centers. Pro Tip:  I save the negative circles that are left over when cutting eyelet dies.  I like the way they look on the flower and I love the price! 🙂
Friend Sentiment
Cut the Friend Script with Shadow using red cardstock for the friend word and white cardstock for the shadow.
Apply Connect Glue to the back of the word and attach it to the white shadow.  Pro Tip:  I love to use Connect Glue when attaching thin die cuts because it dries totally clear.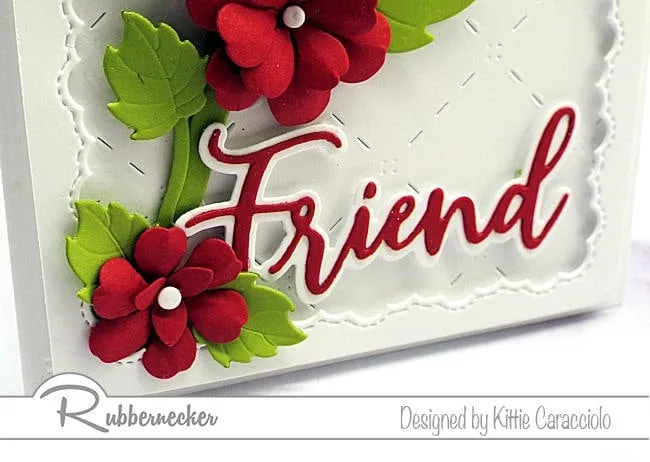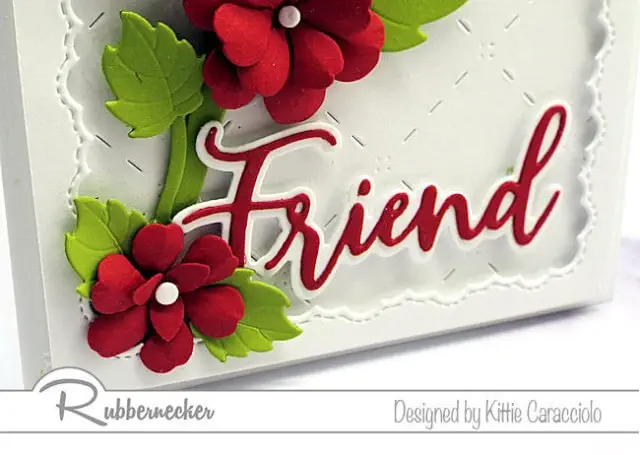 I really love adding texture or interesting designer paper to a card base when creating paper flower arrangements.  The quilted pattern adds just the perfect touch of interest to highlight the beautiful flowers.  Check out my Flower Category to see more interesting ways to add interest to your floral projects.
Here are the items I used today to come up with this idea for cards for friends that you can send for any reason at all:
5300D Nested Scallop with Holes

5512-05D Quilted Stitch Pierced Cover

5508-03D stackable flowers/leaves #3 Die

5406-04D Friend script w/ Shadow Die
The Color Catalog by Sarah Renae Clark

Susan's Garden Ultimate Tool Kit

Sizzix – Paper Sculpting Kit

McGill – Paper Blossoms Collection -…

Amazon.com: McGill Paper Blossoms…

PanPastel Sofft Applicators 12/Pkg

Scrapbook.com – Magic Mat – Standard…

Scrapbook.com – Magic Mat – Standard…

Crossover II Fabric & Paper Cutting…

Amazon.com : Dahle 550 Professional…

Scotch Advanced Tape Glider & Tape

Mini Glossy Accents, Ranger Accents

Amazon.com: 1000 Pieces Foam Sticky…

Amazon.com: Mini Foam Dots…

Amazon.com: Scotch 1/2-Inch by…

Teflon Bone Folder, Essentials by Ellen

Scor-Pal Measuring & Scoring Board 12×12

Glue Dots, Mini (3/16″)

Amazon.com : Accent Opaque White 8.5"…

Here's another look at this gorgeous (if I may say so myself) card. Picture this in a beautiful cornflower blue or a deep purple. Or, for the fall, a glorious gold!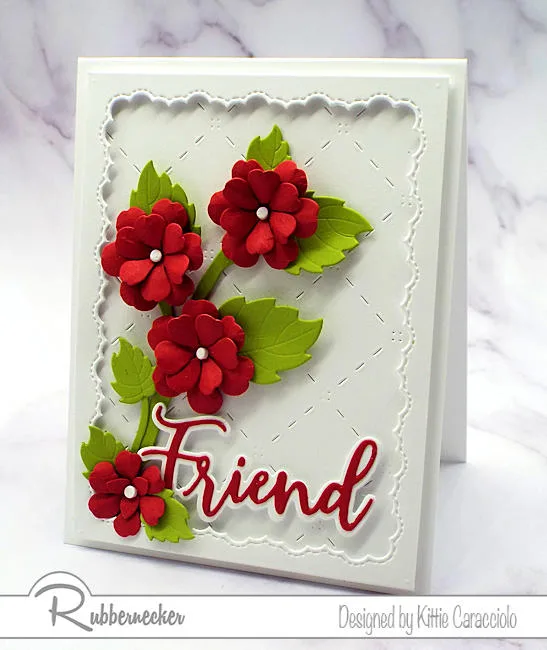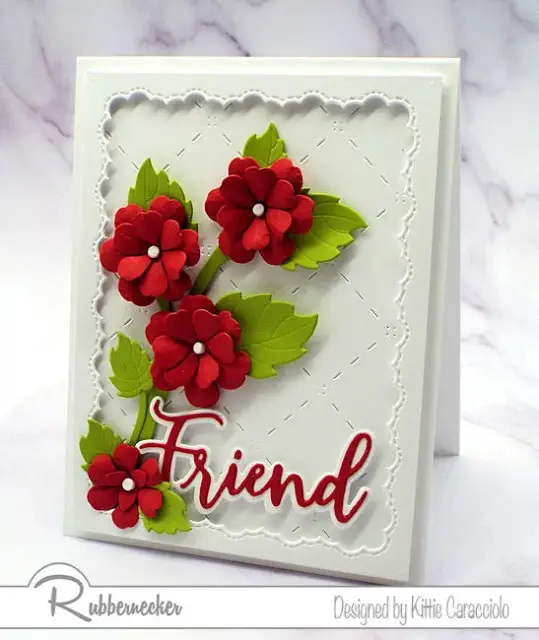 I encourage you to bookmark this handmade all occasion friend card idea because along with the accent colors, you can use any other style of flower and extend the usefulness of this idea even more. Think of all the flower dies you have – give them all a chance to be the star of the show!