This die cut slimline western card idea is quick and pretty and easy!
I've said before that I really like this size card and this die cut slimline western card, for me, is a keeper because it was SO easy to make and I can swap out those central die cut elements for just about anything and end up with a super cute card. I love it when I come up with an idea I can use over and over and now that I say this I am thinking I can even swap out any of the slimline insert dies from Rubbernecker and have even MORE designs.
To make this card I used Rubbernecker's newly released Cowboy Boots and Hat and Harvest Time paper pad paired with the Cowgirl and Cowboys, Slimline OPC Squares and Mini Simple Sayings.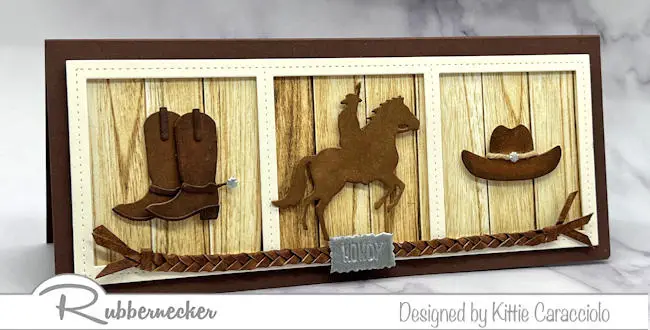 Slimline Card Base
Use brown cardstock to cut an 8.50″ x 7.00″ card base and score it down the middle with the 7.00″ side along the top of your Scor-Pal. 
Cut the slimline frame using vanilla cardstock.
Apply mounting tape around the frame borders and center borders.
Cut three 2.35″ x 2.35″ pieces of designer paper and attach them to the mounting tape on the back of the frame openings.
Apply double stick tape to the back of the frame and attach it to the card base.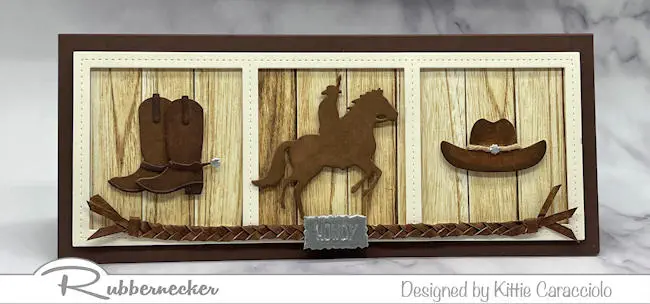 Western Die Cut Images
Cut two boot sections with both going in the same direction, the cowboy and hat using Kraft cardstock.
Apply Cinnamon ink to the pieces using a wet baby wipe and heat dry.
Use a mini applicator to apply Pecan ink around the edges of the boots and hat to add touches of dimension.
Apply the boot straps and spur sections to the boots using Connect glue. 
Cut a piece of twine and attach across the middle of the hat using glossy accents.
Cut the tiny spurs using white cardstock, apply Versa and silver embossing powder and heat.
Attach the embossed spur to the boot and hat using glossy accents.
Apply pieces of mounting tape to the back of the boots, cowboy silhouette and hat and attach them to the card base.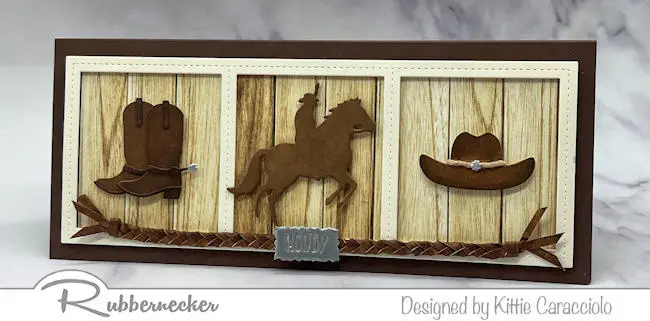 Making the Faux Leather Paper Braid 
Cut an 11.00″ x 4.00″ piece of Kraft cardstock and apply Cinnamon ink on both sides of the paper using a wet baby wipe and heat dry.
Cut three .125″ x 11.00″ strips.  Pro tip: My Dahl 550 Professional Rotary Trimmer makes easy work of cutting thin strips of cardstock.  If you have been looking for a new trimmer you may want to check this one out.
Run your fingers lightly up and down over each strip to make them more pliable.
Tape the end of the thin strips together and tape to the base of your work area to secure for braiding. 
Braid the three strips carefully until you have a long enough tassel for your embellishment.
Secure the end of your tassels with an additional strip of cardstock using glossy accents.  You should leave about 1" of the braided strips left loose and trim to the desired length when finished.
Attach the leather braid to the frame using glossy accents.
Silver Sentiment
Attach sentiment stamp to a small acrylic block, apply Versa and set aside.  
Cut a small rectangle using white cardstock and deckle scissors. Note:  I'm sorry!  I looked and looked for deckle scissors to list below but couldn't find them.  I used the ones I purchased from Stampin' Up! years ago. for this project.
Apply Versa and silver embossing powder and heat. 
Repeat this step three or four times to build up the layers and on the last time stamp the sentiment in the hot embossed layer while the powder is still hot.  Pro Tip:  Applying Versa to the sentiment will keep it from sticking in the hot embossing powder.  This technique works a little better with red rubber stamps.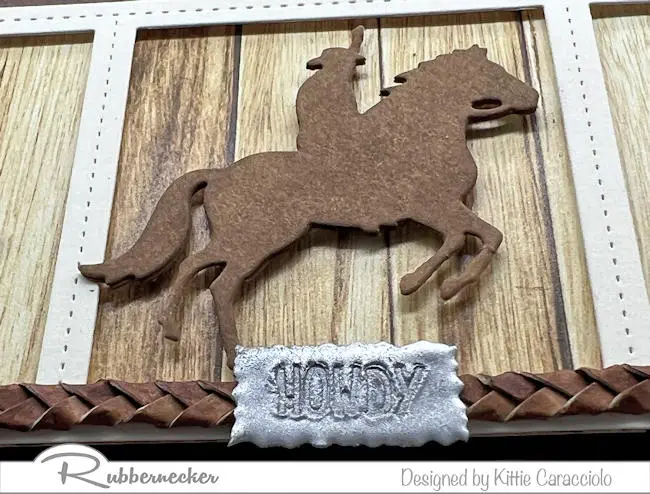 | | | |
| --- | --- | --- |
| 5424-06D Cowboy boots and Hat Die | 5424-03D Cowgirl and Cowboys Die | 5325-03D Slimline OPC squares Die |
| 3497-03 Mini Simple Sayings | 2005 Havest Time 6×6 Paperpack | Color Fuse Set #3 |
The Color Catalog by Sarah Renae Clark

We R Memory Keepers – Heat Gun – Lilac

VersaMark Watermark Stamp Pad

Ranger Ink – Basics Embossing Powder…

PanPastel Sofft Tools – Mini…

Scrapbook.com – Magic Mat – Standard…

Scrapbook.com – Magic Mat – Standard…

Crossover II Fabric & Paper Cutting…

Amazon.com : Dahle 550 Professional…

Susan's Garden Ultimate Tool Kit

Sizzix – Paper Sculpting Kit

Scotch Advanced Tape Glider & Tape

Mini Glossy Accents, Ranger Accents

Amazon.com: 1000 Pieces Foam Sticky…

Amazon.com: Mini Foam Dots…

Amazon.com: Scotch 1/2-Inch by…

Teflon Bone Folder, Essentials by Ellen

Scor-Pal Measuring & Scoring Board 12×12

Glue Dots, Mini (3/16″)

Amazon.com : Accent Opaque White 8.5"…
These western dies made fast work for making this die cut western card.  I loved making the faux leather braid and silver embossed sentiment to add interest to this fun card.  This is the perfect card to send to any cowboy or cowgirl on your family and friends list.