Check out one of the cards I made using my holiday card sketch – easy, cute and super quick!
In this post, I shared a holiday card sketch idea and shared four cards I made using it as inspiration. Today I am going to give you every little detail on how to make this card and really hope you try it out! It's just so cute and easy and an excellent project for batch card making!}
Now, some of you may be reading this and thinking "if it's so quick and easy, why are there so many steps in this post?". I get it! It's like when you see a recipe that says "quick and easy" and there are about 100 ingredients…….  But something I am committed to is helping everyone learn all the little details it's taken me years to figure out so they too can make adorable cards NOW. So I include, in every post, every detail so if someone brand new comes across this site, they can instantly feel like they are in good hands and can pick up those things that make the difference in card making.
OK – ready? Let's get started!
For this card I used the Rubbernecker Ho Ho Ho 6×6 Paper Pad, Slimline Christmas Tree, Christmas Minis and Christmas Cheer Clear Set.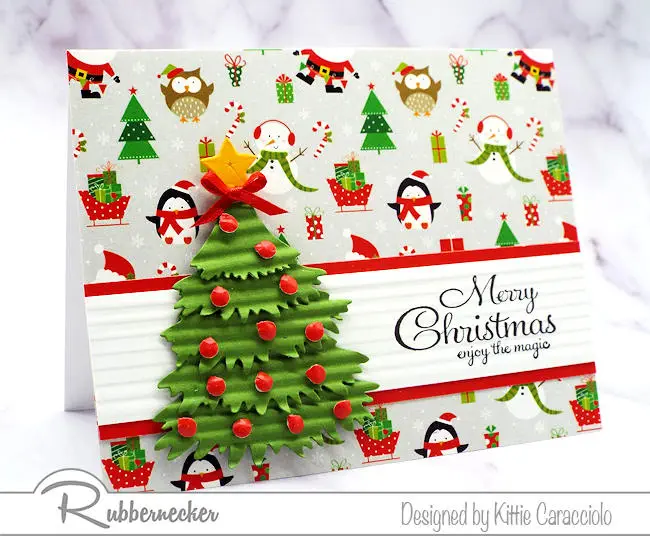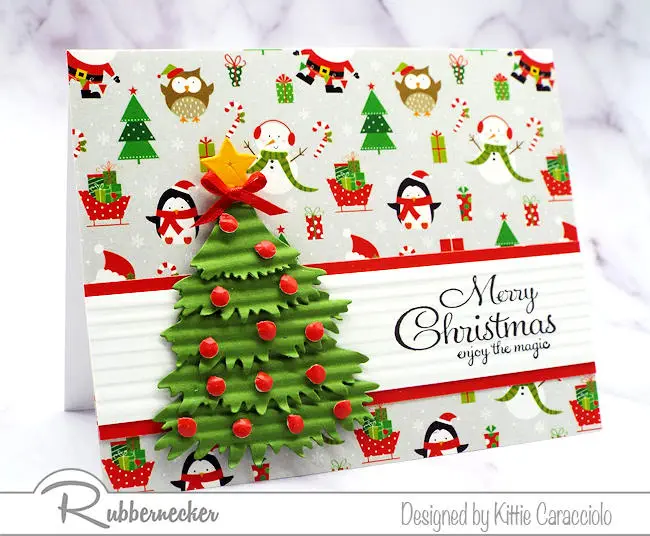 Card Base
 Use white cardstock to cut an A2 sized card base. 
Cut a 5.50″ x 4.25″ piece of Ho Ho Ho designer paper and attach it to the card base using ATG adhesive.
Cut a 1.75″ x 5.50″ white layer and a 2.00″ red layer.
Secure the white layer and stamp in the MISTI and stamp the sentiment using Nocturne ink.
Run the sentiment layer thru a straight crimper for a touch of dimension.
Attach the sentiment layer to the red layer using ATG adhesive.
Apply ATG adhesive to the back of the sentiment layers and attach it to the card base.
The Tree and Ornaments
Cut the Slimline Christmas Tree sections using green cardstock and the star using bright yellow cardstock.
Run each tree section thru the straight crimper to add dimension.
Start at the bottom to attach the tree sections together using glossy accents and a small piece of mounting tape.   
Attach the star to the top of the tree using glossy accents.  
Use solid red paper from the paper pad and the holly berries from the minis set to cut the round ornaments.
Lay the circles face down on the molding pad and push down in the centers to round a bit.
Apply tiny pop dots to the back of the ornaments and attach them to the tree.
Apply mounting tape to the back of the tree and attach it to the card base.
Finish by attach a tiny red bow to the tree top and star.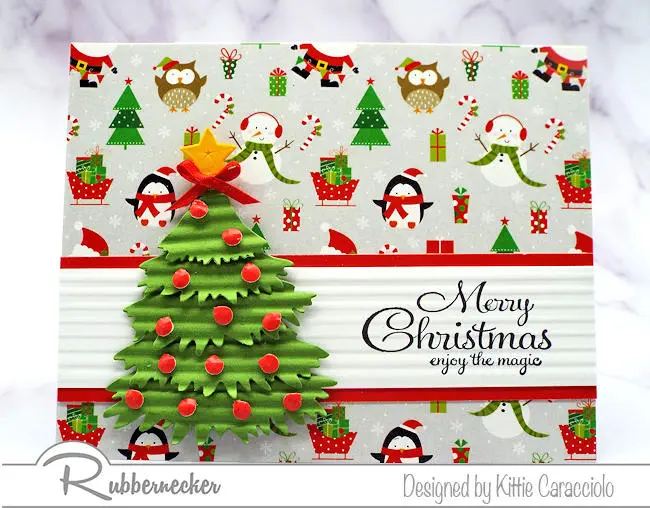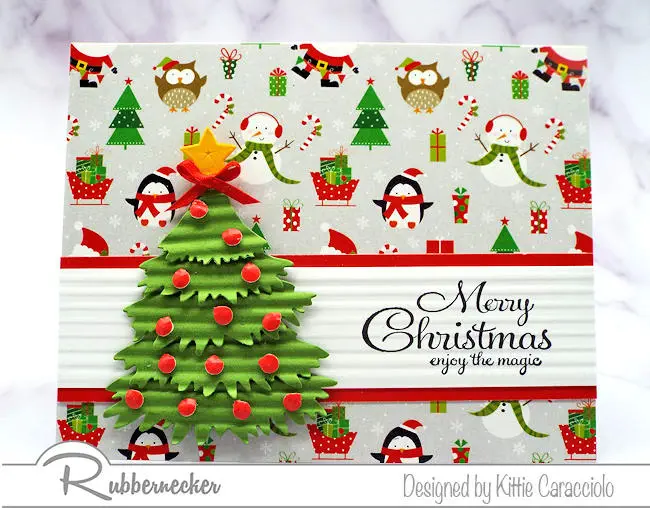 My big tree was inspired by all the cute colorful images on the designer paper.  This was pretty fast and easy to make and as I said, absolutely could be massed produced for your holiday card list! Here's what I used on this card:
2002 HO HO HO 6×6 Paperpack

5416-01D Slimline Christmas Tree Die

5338-02D Christmas Mini Die

3424 Christmas Cheer set
| | | |
| --- | --- | --- |
| The Color Catalog by Sarah Renae Clark | Tsukineko – VersaFine Clair – Ink Pad… | New MISTI Stamping Tool – The Most… |
| Scrapbook.com – Magic Mat – Standard… | Scrapbook.com – Magic Mat – Standard… | Crossover II Fabric & Paper Cutting… |
| Amazon.com : Dahle 550 Professional… | Susan's Garden Ultimate Tool Kit | Sizzix – Paper Sculpting Kit |
| Scotch Advanced Tape Glider & Tape | Mini Glossy Accents, Ranger Accents | Amazon.com: 1000 Pieces Foam Sticky… |
| Amazon.com: Mini Foam Dots… | Amazon.com: Scotch 1/2-Inch by… | Teflon Bone Folder, Bonefolder |
| Scor-Pal Measuring & Scoring Board 12×12 | Glue Dots, Mini (3/16″) | Amazon.com : Accent Opaque White 8.5"… |
As a reminder, here's the original template I used for my holiday card sketch inspiration:
If you haven't already checked out the other three cards I created using this as my holiday card sketch inspiration, pop on over and see it here. Then make sure you come back to see all the juicy details of the other projects!