Today I am sharing six ways to use handmade holiday tags and two ideas for superbly detailed tags that will take their breath away!
We all know that you can really dress up a package with a gift tag. But today I am sharing six other ways to use handmade holiday tags to really elevate your holiday gifting and décor. Every year I look forward to making tags – today I am sharing just two of the many I have already made – and I LOVE these mini projects for lots of reasons.
One is that because of their smaller size, you can really add tons of detail because you are putting everything into a smaller area. Even the littlest detail has big impact so you get a lot more bang for your "buck". 
Another is that you use less supplies while still creating something truly unique, gorgeous and special. I LOVE using up all my little scraps for the tinier details on these projects and it's always a great end-of-the-year cleanout for me!
And another is these projects are so well suited to mass production. You can cut all the little pieces in batches and then just plop down with one design at a time and make a stack while you soak up the latest binge-worthy program on TV.
Now, let's get into the ways to use handmade holiday tags that you might not have thought of!
1. Make a holiday tag garland. This is one of my favorite things to do with tags that aren't necessarily complete – missing a little detail here and there – or ones that are leftover one-offs from how I use them. Simply tie a few onto a length of ribbon, heavier twine or even in between bulbs on a string of lights and you have the cutest, most charming little decoration!
2. Use holiday tags as ornaments. Decorate your tree, your mantle, your windows, your door – these delightful little works of art are so decorative they make the perfect adornments around the house!
3. Use to identify gift recipients. Choose one specific holiday tag design per person and tie the same tag on each gift or gift bag. This is particularly beautiful if you wrap all your gifts in plain white or kraft paper and gift bags are easy to find in these two colors, too. People will figure out that the reindeer tag is for Bob, the Santa tag is for Mickey, the Elf tag is for Cody, etc. It's a fun way to identify the gifts and makes them SUPER special!
4. Make an instant card! Simply pop one of these onto a piece of folded card stock and you have a card in literally seconds. If you want to take it up a notch, coordinate your design with a pattern from the Ho Ho Ho Paper Pad for some extra detail.
5. Use as place cards. Even though not many people assign seating any more, place cards are still a fun – and FAST – way to decorate a holiday table. You could even set a place for the person whose gifts you tied up with the tags and see if people figured it out!
6. Turn a tag into a gift card holder. Add a little pocket on the back, tuck in a gift card and either add to a gift, hand out as thank yous or pop on the tree for people to find.
OK – now you've got these creative ways to use handmade holiday tags, let's make some!  I am sharing some tips and tricks just for these two designs. You should feel free to experiment, play and customize your designs to your creative heart's content!
Tag Base and Frames
Use white cardstock to cut the tag bases. 
Emboss one of the white tag bases using a snowfall embossing folder.  Note: I left one plain for a different look. 
Cut the second set of tags using red and green cardstock.
Place the red tag up on the cutting plate, line up and secure the rectangle die in place with mounting tape and run through the machine to cut the frame opening. Repeat this step with the green tag and oval die.
Use white cardstock to cut deckle hill sections for the ground snow layers.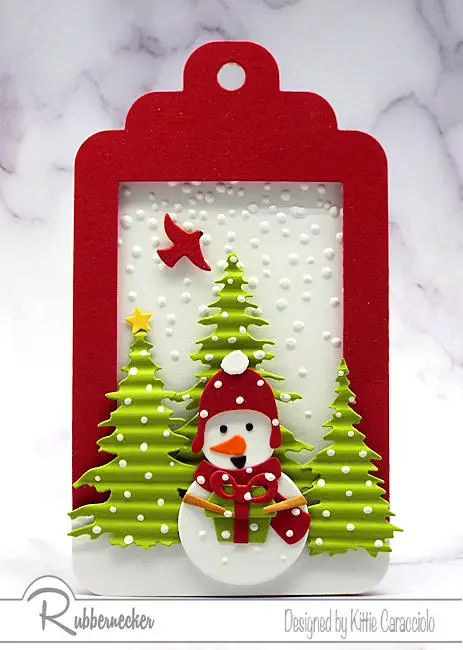 Snowman Tag
For this tag I used the Holiday Tags, Winter Snowmen, Evergreen Trees, Deckle Hills, Nested Rectangle, Wreath Set and Small Birds.
Apply strips of mounting tape to the back of the red frame and attach it to the embossed tag base.
Use the tag die cut cut the snow layer to make it match the bottom of the tag and attach it to using mounting tape.
Cut the snowman parts using white, red, green, black and orange cardstock and assemble and attach the pieces together using glossy accents.
Use green cardstock to cut the evergreen trees and run them through the straight line crimper.  Note:  Sadly I can't find any store that carries crimpers to link for you.  They might have just stopped making them as they are old school.  But I love mine and the dimension it adds to my projects to I will keep using it as long as it works. LOL!  
Apply dots of falling snow to the trees and snowman using a tiny tipped brush and white acrylic paint.
Place the tallest tree inside the frame and attach it to the tag base using a piece of mounting tape.
Attach the smaller trees and snowman to the snow base and frame using pieces of mounting tape. 
Finish by cutting one small red bird and attaching it to the sky using a small piece of mounting tape.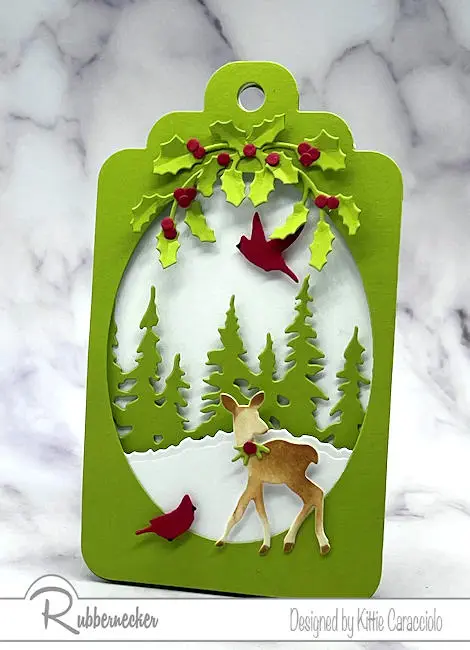 Deer Tag
For this tag I used the Holiday Tags, 5004d, Deer Family #2, Evergreen Forest, Deckle Hills and Cardinals.
Use green cardstock to cut the evergreen forest.
Apply tiny pop dots to the top back of each evergreen tree and double stick tape along the bottoms and attach them to the tag base.
Trim the snow layer and attach it to the tag base using ATG adhesive.
Apply strips of mounting tape to the back of the frame and attach it to the tag base.
Use cream cardstock to cut the deer and apply a light shade of brown ink using a mini applicator.
Attach tiny pieces of greenery and a red punched circle to the deer neck using glossy accents.
Use a piece of mounting tape to attach the deer to the tag front. 
Use green cardstock to cut several holly branches and red cardstock to punch out circles for berries.
Attach the circles to the holly and then attach the holly branches to the top of the tag.
Finish by cutting two cardinals using red cardstock and attaching them tot he sky area and snow layer.
Do you love to make holiday tags as much as I do but may need a little inspiration?  You can check out my All the Tags I've made over the years if you need an extra boost for ideas. 
I just thought of a seventh way to use these! I have always enjoyed creating tag gift sets with three or four in a set to have on hand for when I needed a little something to give a friend. Gather a few in a little box or paper packet and you've got something giftable that you KNOW they need!
Here are the things I used to make today's two tags:
5514-02D Holiday Tags Die

5337-03D Winter Snowmen Die

5217-01D Evergreen Tree Die

Nested Rectangle Die Cut Set 5003D

5173-02D Deckle Hills Die Cut

Small Birds Die 5147-06D

Nested Oval Die Cut Set 5004D

5514-08D Deer Family #2 Die

5514-05D Evergreen Forest Die

5217-02D Cardinals Die
The Color Catalog by Sarah Renae Clark

Sizzix – Tim Holtz – Alterations…

Da Vinci Nova Brush – Round, Short…

Liquitex Acrylic Gesso – White, 8 oz…

Scrapbook.com – Magic Mat – Standard…

Scrapbook.com – Magic Mat – Standard…

Crossover II Fabric & Paper Cutting…

Amazon.com : Dahle 550 Professional…

Susan's Garden Ultimate Tool Kit

Sizzix – Paper Sculpting Kit

Scotch Advanced Tape Glider & Tape

Mini Glossy Accents, Ranger Accents

Amazon.com: 1000 Pieces Foam Sticky…

Amazon.com: Mini Foam Dots…

Amazon.com: Scotch 1/2-Inch by…

Teflon Bone Folder, Bonefolder

Scor-Pal Measuring & Scoring Board 12×12

Glue Dots, Mini (3/16″)

Amazon.com : Accent Opaque White 8.5"…
Now you've got size ways to use handmade holiday tags, ideas for two different tags and hopefully a brain popping with ideas! So get crafting and have fun!