Make a precious card with these die cut paper pieced dresses – easy and fast!
I was playing around with some of my paper scraps from my Welcome Spring 6×6 Paper Pad and found some that were the perfect size for the dies in the Rubbernecker Derby Day Dresses set. A little more playing around and I came up with this card that came together so fast I almost couldn't believe it! I just love using up my scraps to make cards – I love the feeling of getting every good thing out of my stash!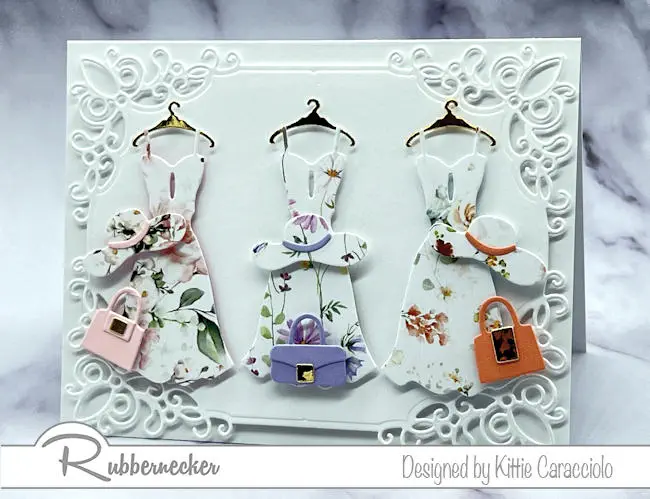 Let me show you just how easy this is to make!
Card Base
Use white cardstock to cut an A2 sized card base and the Decorative Rectangle You can use any layer die you have but I especially liked the way these decorative corners fancied everything up in a sweet way.
Apply strips of mounting tape to the back of the rectangle and attach it to the card base. I do so love using white on white to create a rich textural look!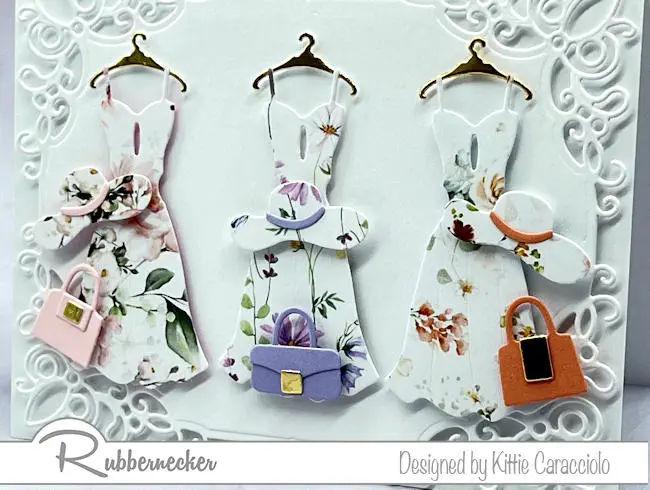 Derby Dresses and Accessories
Use three different patterns of the Welcome Spring paper to cut three dress and matching hats. As I said, I mined my scrap stash and now that I see how pretty these cards turn out, I sure will be doing this again!
Cut the purses and hat trim using pink, purple and apricot cardstock.
Cut the hangers and purse clasp pieces using gold metallic cardstock.
Apply connect glue to the hat trim pieces and attach them to the hats.
Use connect glue to attach the gold purse sections to the purse fronts and the dresses to the hangers. 
Apply pieces of mounting tape to the back of the dresses, line them up evenly and attach them to the rectangle base.
Finish by attach the hats and purses using pieces of mounting tape.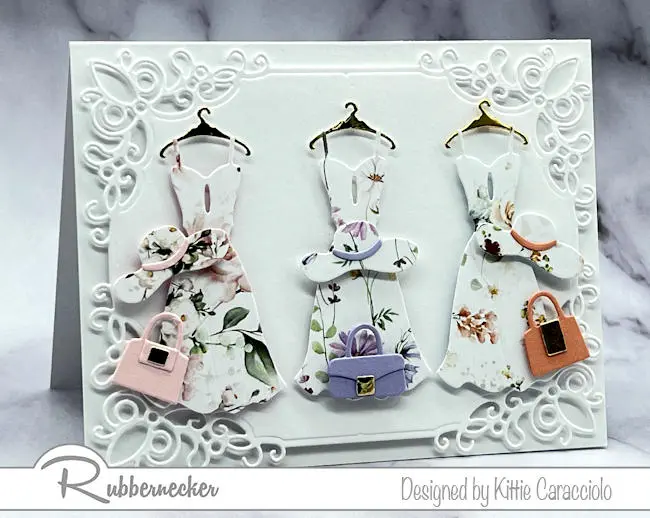 Can you believe how easy this was? Here are the Rubbernecker items I used today:
| | | |
| --- | --- | --- |
| 5600-02D Decorative Rectangle Die | 5608D Derby Day Dresses | 2016 Welcome Spring Paper Pad |
And here are the other things I used from my stash:
My Favorite Crafting Tools
I love how feminine and delicate these die cut paper pieced dresses look on this card and I've already put aside MORE pieces of patterned paper – scraps included – to make more of these in different designs. Give it a try!