Today's Inspiration Challenge on Splitcoaststampers is a white bird and tree limb over an aqua circle.
I love the concept but didn't want to waste my time making a non holiday card as I still have several to make to send out to my friends. I used this inspiration to go to lovely holiday swag and bird images from an old retired SU set called Feathered Hope. I created a brocade blue reverse masked circle with a sponge on pure white cardstock and then stamped the images with white craft ink and embossed with white craft ink. I love the simplicity of the white image on the blue. I felt "Peace" was the perfect sentiment to attach to this simple yet meaningful setting. I am an stamping artist that many times goes way over the top. It is soothing to find such satisfaction out of such a simple card.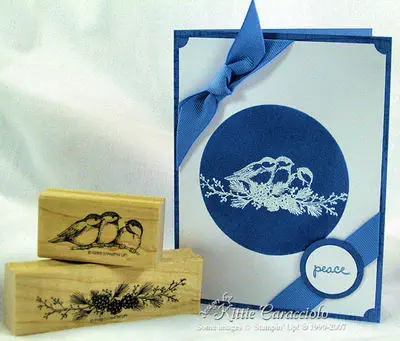 Stamps: Feathered Hope
Paper: Brocade Blue, White
Ink: White Craft, Brocade Classic and Craft
Accessories: Circle Mask, Sponge, White Embossing Powder, Grosgrain, Circle Punches-1 and 1 1/4"