It's the 20th of the month and that means it's time for the Dirty Dozen/Dirty Dozen Alumni monthly challenge on SCS. Valerie Stangle is hosting this month and has challenged us to create a card with the Dog Days of Summer theme. 
Required Element: Dog images or sentiments and heat of summer color scheme (so think orange, red, mustard, etc.)
Restricted Element: Flock, or any fuzzy type embellishment
I love  this challenge as I have several dog images and accessories in my stamping stash.  I settled on using  Bow Wow, a retired Stampin' Up! set released  in 1997 and one of my all time favorite SU sets that I will never part with.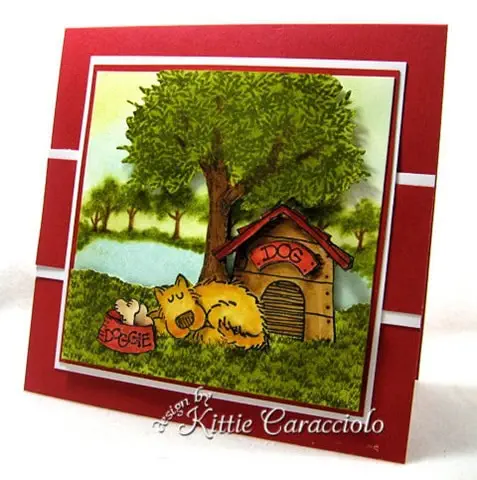 The dog, dog house and tree are all one piece that have been cut out and popped up in front of the lake scene.  It didn't start out that way but it turned into what I call a happy mistake. I stamped the images, sketched in the big tree with my artist pen and painted.  The leaves and grass texture was added with two little images in my Kittie Kits Outdoor Master. I had originally sponged the lake on the main scene but it got lost in the scene and looked like a brownish dirt patch around the grassy scene. It wasn't good.  I decided to cut out the whole front portion to save all my work and created the lake and tree scene in the background on a separate piece of watercolor paper. The lake was sponged with blue and I used a mini tip sponge applicator to apply the green land strip on the backside of the lake. I hand painted in the little trees and used the mini sponge to apply the little tree tops. I wish you could see the dimension of this project with the front layer popped up. I am not a great photographer so it is hard for me to capture all the details.  I added more dimension by popping up two additional roof lines, an additional dog head, an additional tail and two dog bowls with cut out bones placed between them.  I created this project over the weekend so I had lots of free time to play (play is code for fix my mistakes) and get it just the way I want it.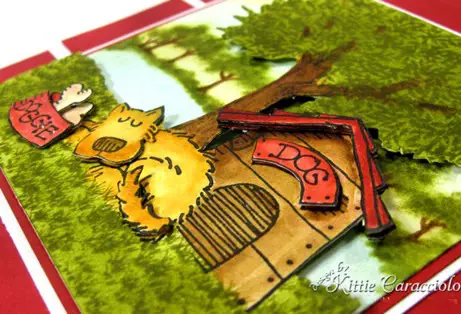 Check out the whole DD/DDA gallery on SCS to see all the fun doggy projects.
Stamps: Bow Wow retired SU 1997 set
Paper: Watercolor, White, Red
Ink: Distress Peeled Paint, Vintage Photo, Fired Brick, More Mustard, Aqua,
Accessories: Brushes, Sponges, Mini Tip Applicators, Snips, Craft Knife