Good Sunday morning.  The March Craft a Scene theme is moonlight. My first project at the beginning of the month was a snowy winter night scene. My project today was made with a big moon shining through evergreens.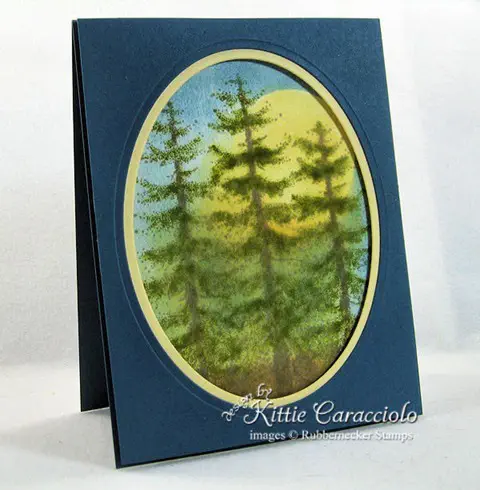 I cut a circle out of a post it note and used it as a mask to create the moon in the sky.  I placed the mask in the sky area and then sponged blue around the moon to create the night sky.  I removed the mask and placed the negative of the circle over the moon area to protect the blue ink and then sponged in in the circle of the moon with yellow.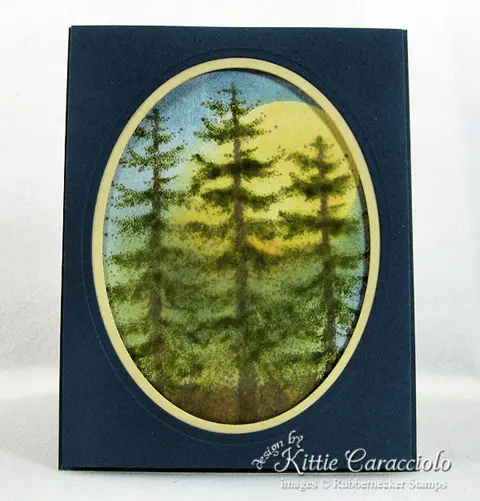 I brushed a dry paint brush across the green pad to lightly gather ink.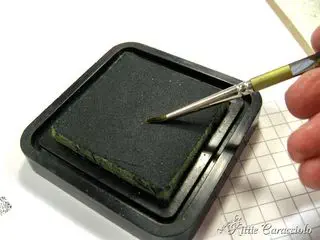 Using a stipple motion I started applying ink to the trees. This technique allows the ink to look more like it has been sponged rather than the look of full watercoloring. You will continuously need to go back to the ink pad to gather more ink on the brush. Fill in all the green areas of the tree, heat dry well.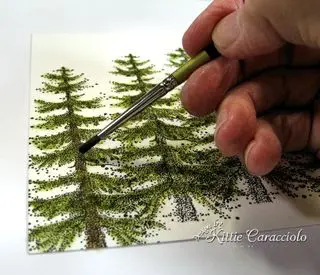 Go back and lightly fill in the tree trunks with brown. Heat dry again so ink does not smudge in later steps. I borrowed a couple of pictures from my Winter Snow Scene tutorial to show how I paint the evergreen trees.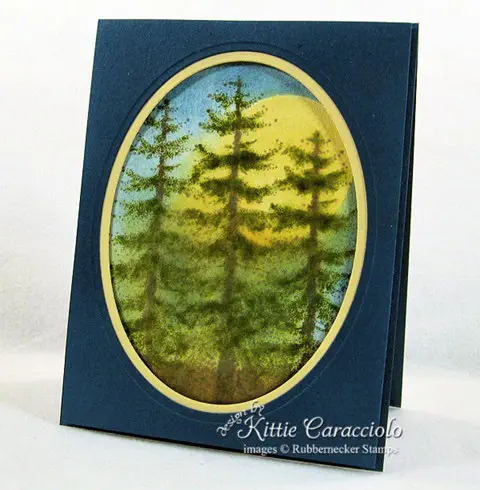 I sponged in a little more yellow ink around the moon and trees to create the appearance of light coming through the trees. I finished by creating a double matted frame in blue and yellow.
Thanks for stopping in today.  I hope you have a great week.
Stamps:  Rubbernecker Evergreen Tree Set 689 690 694 SO
Paper:  Not Quite Navy, Barely Banana, Watercolor
Ink:  Broken China, Lemonade, Peeled Paint, Vintage Photo
Accessories:  Brush, Sponge, Nestabilities Oval Dies, Circle Punch, Post It for Mask, Mounting Tape