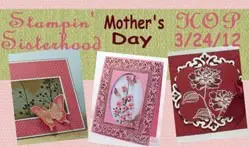 Good Saturday morning.  Welcome to the Rubbernecker Design Team Happy Mother's Day hop.  Rubbernecker has a wide variety of stamps for your Mother's Day projects! The Stampin' Sisterhood has created wonderful projects to share with you today and give you a glimpse at some of the beautiful  images.
I have listed the hop route below my project for you to follow. You will find it listed at every stop along the way. As always you will want to leave a comment at every blog post and then return to the Stampin' Sisterhood Blog and comment that you have completed the hop. You will have a chance to win any Rubbernecker stamp set of your choice. The winner will be announced on the Stampin' Sisterhood Blog Friday, March 30th.
An EXTRA winner winner will be chosen to win a stamp set of their choice for sharing our Team Hop on your Facebook Page or Blog. After you have SHARED, just go back to the Stampin' Sisterhood Blog and let us know where you have SHARED our HOP.
For my project today I combined the lovely Rose Silhouette image with punched and die cut roses and foliage.  I loved how the paper rose mimics the silhouette image.
I used a Regal Rose and Old Olive marker to apply color directly on the stamp, spritzed with a little water and stamped on white cardstock. I used a small wet brush to go over each section of flower and leaf to smooth out and fill in the color of the image.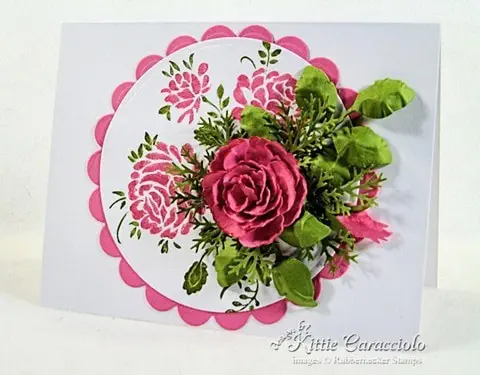 I used a round Nestabilities die to cut the image layer into a circle and mounted over a round scalloped layer. I attached this to an all white base layer because I wanted the image, flower and foliage to be the main focus.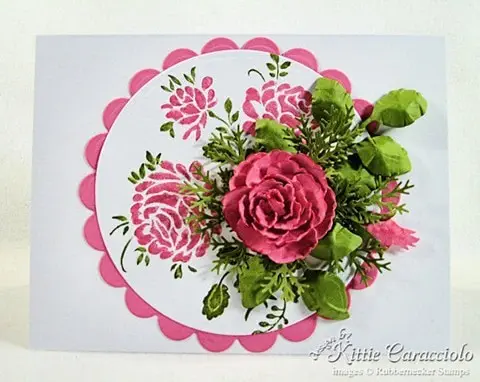 I used the McGill rose punches and Spellbinder foliage dies to create the flower spray.  I added sprigs of Martha Stewart Branch punch to fill in and soften the spray.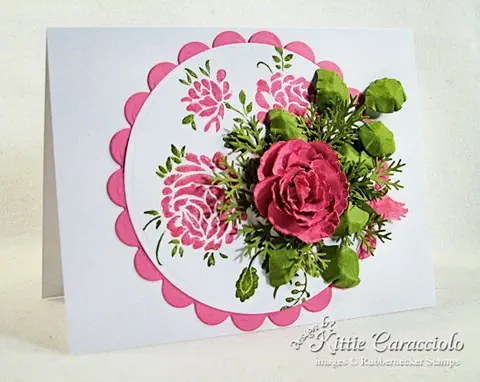 I like how pretty the image and dimensional flower look together.  I hope to create more projects like this in the future.
My mother was a florist so when I think of Mother's Day I think of flowers. Check on the links below if you would like to see more of the floral images Rubbernecker has available.
Florals, Florals 2, Florals 2010, Garden, Wildflowers 2010, Floral Sets, Bold Florals, Brush Florals, Flourishes, Panels, Ornaments and Frames, Wild Garden
Hop Path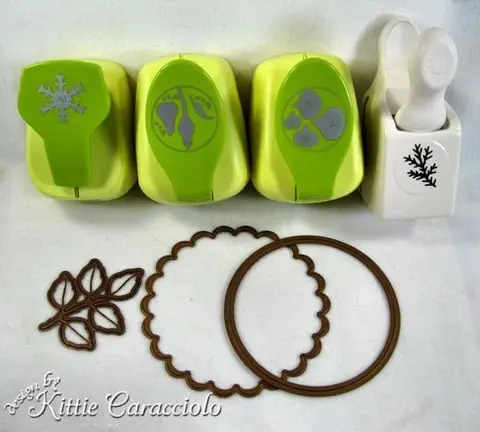 Stamps: Rubbernecker Rose Silhouette 537-01
Paper: White, Regal Rose
Ink: Regal Rose, Peeled Paint
Accessories: McGill Garden Rose Punches, Martha Stewart Branch Punch, Spellbinders Foliage, Circle and Scalloped Circle Punches, Stylus, Mat, Glossy Accents, SU Regal Rose and Old Olive Markers