I am not swinging full force into Christmas cards yet but I have had this idea rolling around in my head since I received the Eyelet Stocking die.  My husband told me it was way, way too out of proportion with the great big stocking and little mantle but I didn't care.  I had fun making it and that is really all that counts.  LOL! I actually had the whole mantle and fireplace and attached to different paper with a embossed brick wall inside the fireplace but it was way too dull.  I yanked it all off and mounted it on the all green.  I thought the white popped off the green beautifully and the tiny red flowers and evergreen gave it more Christmas color.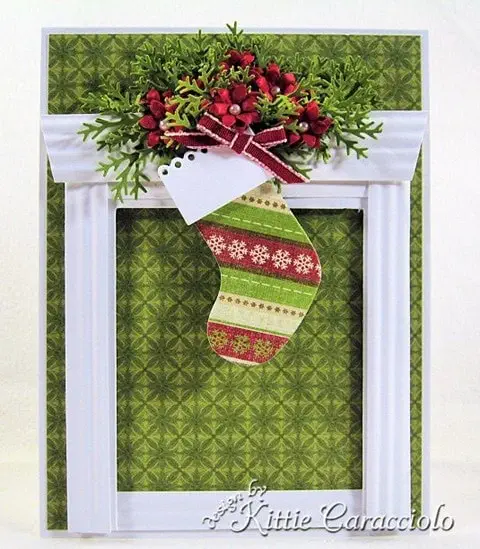 I started creating the fireplace by cutting a piece of cardstock to the size I wanted and used a rectangle spellbinders die to cut the center out. I layered over the base with cut and crimped white cardstock to create the appearance of a wooden fireplace and mantle. I attached all the pieces with mounting tape to create dimension.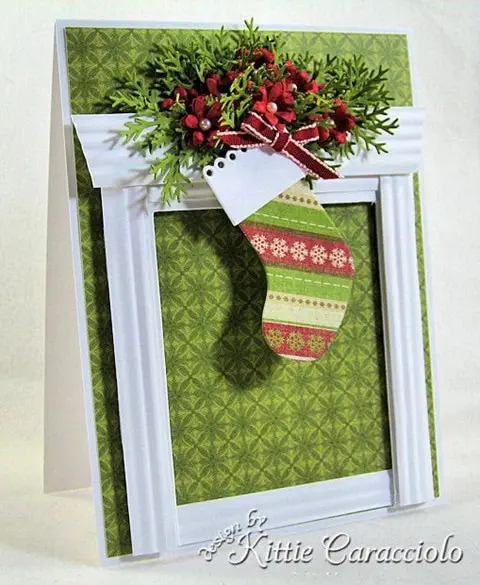 I cut the stocking out of paper that would coordinate with the background and a crisp white eyelet topper. I punched lots of cedar sprigs and created an arrangement of evergreen and tiny poinsettias. (we can pretend those mini daisies are poinsettias…..right??) I attached the stocking to the mantle and finished with a tiny red bow.  The tiny white pearls added to the center of each flower was the finishing touch.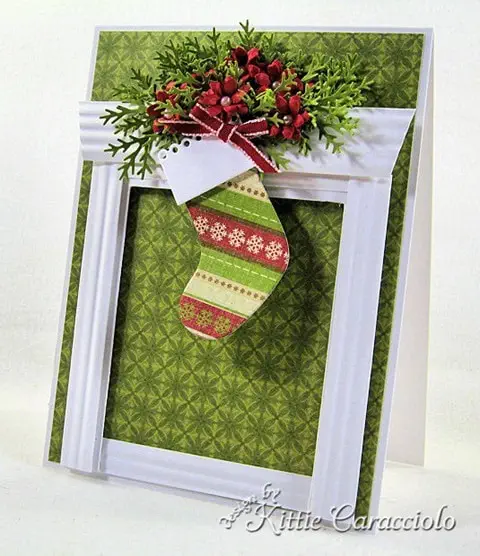 I would sure love to hear if anyone has a good suggestion for what I could have done with the bottom of the card where the hearth should be.  It looks empty. Leave me a comment by Wednesday, August 22 at noon and you will have a chance to win this fun and brand new Memory Box Ribbon Candy Border.
Thanks for stopping in today.  I am off work today and am going to enjoy a three day weekend with my husband.  I hope you have a wonderful weekend as well.
Paper:  White, Red, Old Olive, Designer Paper   Accessories:  Memory Box Eyelet Stocking, Punch Bunch Large Cedar Sprig, EK Success Mini Daisy Punch,  Crimper, Pearls, Grosgrain, Glossy Accents, Mounting Tape, Stylus, ATG,