Good Saturday morning.  Wheee!  It's the weekend.  I don't know about you but this was a really long work week.  I guess it seemed that way after being off for four days straight for Thanksgiving.  We can sure get spoiled fast. 

  My project today was made using the Memory Box Cottage in the Woods and Evergreen Landscape. I love the snowy nighttime village scene designer paper.  It is from the Webster's Pages A Christmas Story Collection.  I just couldn't resist creating another snowy scene with it.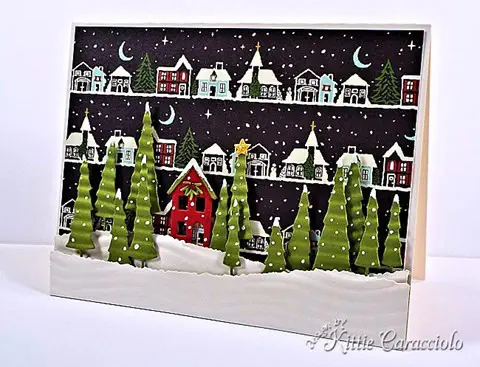 I cut the tree landscape and cottage layer in green and cut the little house out in red.  I used both sections as templates to draw my cutting lines for the snow layers and cut them with my deckle scissors.  I always like having the deckle edges on the snow for a more natural look.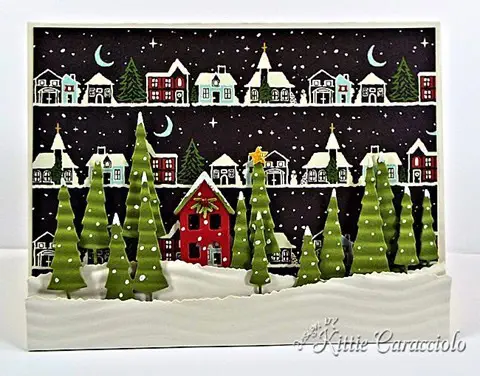 I carefully ran both sections through my straight line crimper to give all the trees a touch of dimension and attached the red house over the green house. I ran the snow layers through my wave crimper to create the snow drift appearance and attached them over the green tree layers. I had to cut a few trees off so the house would not be covered by the front layer of trees but I attached them in other places so they weren't wasted.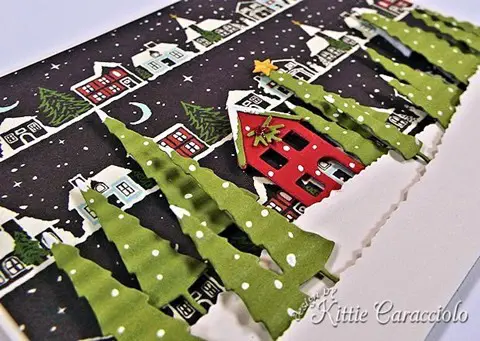 I attached pieces of mounting tape to the trees and house, applied ATG adhesive to the ground section and attached to the card base.  I attached double layers of mounting tape to some of the trees on the front layer to keep them level in the scene and attached to the base. I added falling snow with a brush and white watercolor paint, a sparkly star to one of the trees and a little evergreen decoration to the house for the final finishing touch.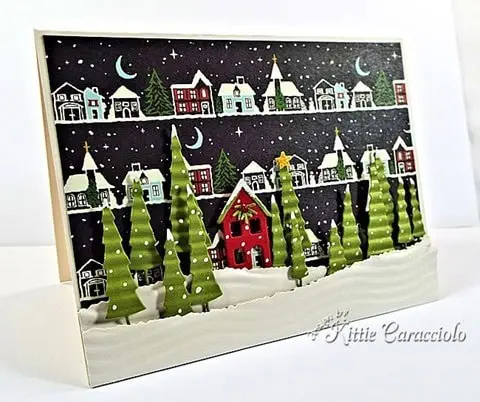 Thanks for stopping by today and I hope you have a run and relaxing weekend.
Card Size 5.5" x 4.25"
Paper:  Papertrey Vanilla, Stampin' Up! Real Red, Old Olive