Good Wednesday morning.  My project today is a cheery  and colorful scene with lots of spring flowers, butterflies, birds and a sweet birdhouse. This is my way of reminding those of you who are covered up with snow that spring is just around the corner.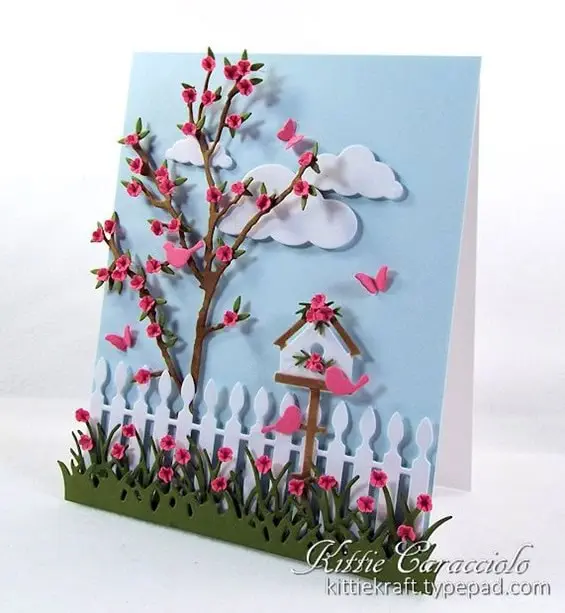 I started by cutting the Bare Branch from kraft paper and applying brown ink using my Color Box stylus and foam tip. I used the Leaf Canopy to cut the tiny leaves in green and picked them up with my QuickStik and applied them to the branches using glossy accents. I cut the pink flowers using the Flower Mound, formed them with my tiny tipped stylus and molding pad and attached them to the branch and leaves.
I cut the Picket Fence in white and both the Grass Border and Small Grass Border in green.  I attached flowers to the tall grass with glossy accents and then attached it to the front of the fence with ATG adhesive. I applied thin strips of mounting tape to the back of the small grass border and attached to the fence.
I cut the Birdhouse in white and colored the roof and post with a brown Copic marker.  I attached tiny springs of foliage and tiny flowers to the roof and door opening.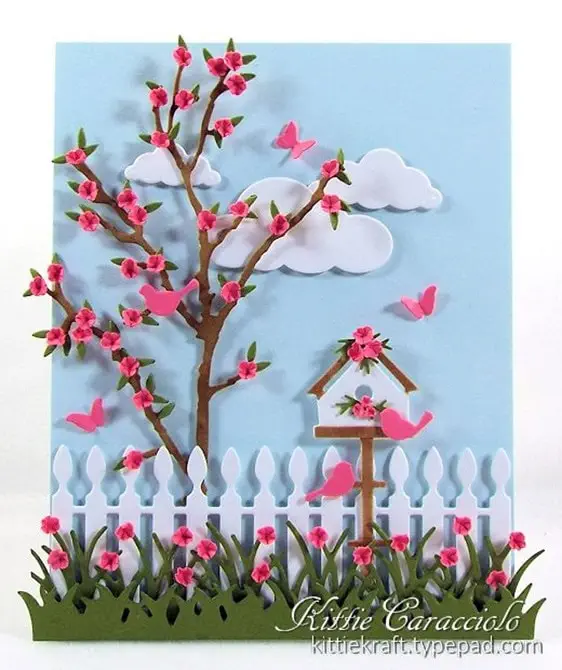 Now that I had all of the different parts assembled I began creating the scene.  I applied mounting tape along the bottom of the fence and a few tiny strips on a few of the pickets and attached to the card base.  I tucked the tree in behind the fence and attached at the trunk with tiny strips of mounting tape. I attached the Puffy Clouds behind the tree branches and then attached the top branches to the clouds and card base with rolled glue dots. I attached the birdhouse in front of the fence with mounting tape and added a few birds and butterflies for the finishing touch. I really love how sweet this scene is. Has anyone ever seen bright pink birds?  LOL! Let's just say anything can happen in a whimsical scene.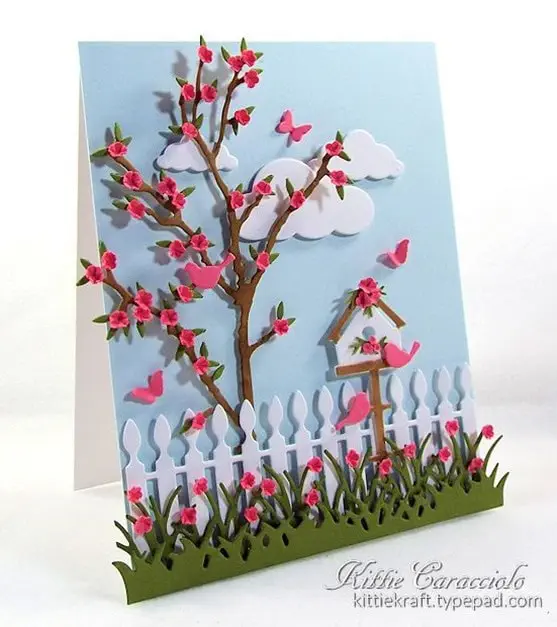 Be sure and check back tomorrow for out Impression Obsession challenge.  I have another whimsical scene to share with you.  Thanks for stopping by and I hope you have a great day.
Card size:  5.5" x 4.25"