Good Saturday morning.  I hope you had a wonderful Fourth of July holiday.  Before I start my post I want to congratulate Laura C for making the 29th comment on my birthday Dancing Butterflies blog candy post.  Laura please send your mailing address  to me at kittie747@cfl.rr.com and I will get your gift right out in the mail to you.
 29 
   Laura C. said…
A Very Happy Birthday To You Ms. Kitty And Many Happy Returns Of The Day!
I'm pretty sure that I'm not the only one who adores your garden scenes, as well as your 3D floral arrangements and your woodland scenes. Keep them coming!
Big Hugs, 
Laura C.    ReplyJuly 01, 2014 at 12:09 PM
True Random Number Generator Min: 1 Max: 81 Result: 29 Powered by RANDOM.ORG
My post today was made for the Splitcoaststampers Inspiration challenge and the inspiration site was Button Craft Pinterest site.  I've had a large supply of tiny red buttons in my stash since I first began paper crafting but have rarely used them.  I decided I would put them to good use today as the flowers on my tree and fence line flower garden. Here's what I came up with.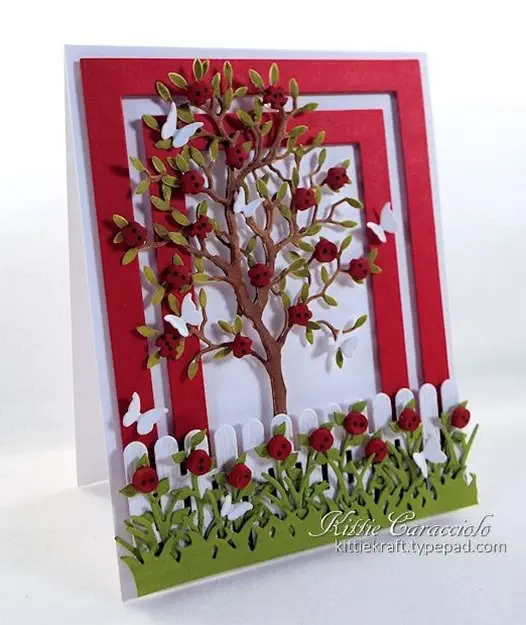 I started by cutting two Rectangle Frames and attaching them to the card base with mounting tape. I cut out the Grand Alder Tree and Small Alder Tree using white cardstock and colored them with Copic markers.  I attached the two trees together with mounting tape and rolled glue dots.  I attached the buttons to the tree branches with glossy accents and then attached the tree to the frames and card base with mounting tape and rolled glue dots.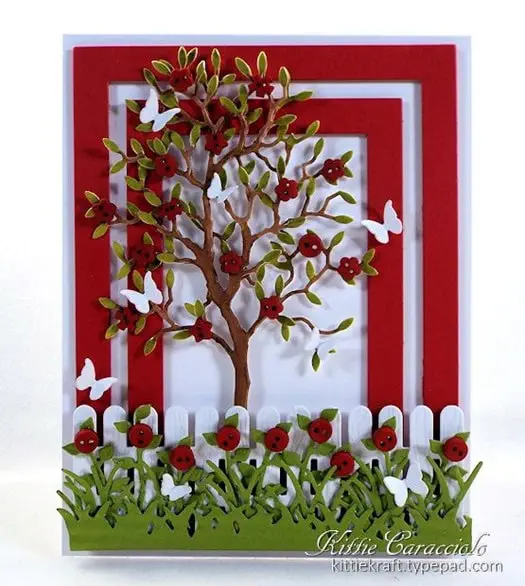 I attached the Woodgrain Fence to the frames with mounting tape and attached the Grass Border and Small Grass Border to the fence with glossy accents.  I attached buttons to pieces of the Leaves and Stems with glossy accents and tucked them in behind the grass borders.  I finished by adding a few white butterflies from the Memory Box Butterfly Delights set to soften the scene.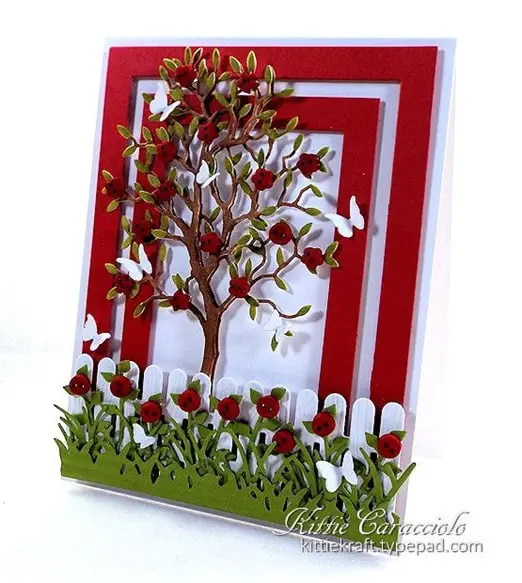 Thanks for coming by and I hope you have a nice Saturday.
Card size:  5.50" x 4.25"