Today is the beginning of the Splitcoaststampers Dare To Get Dirty week long challenge event. This event is a special thank you to all of the fan club members who support the site all year long. Have you had a desire to be on the Dirty Dozen design team? This special week of challenges will give you tons of opportunity to be inspired and to show off your wonderful and creative projects right along with the current Dirty Dozen team as well as the team alumni members.  Are you a member of the Splitcoaststampers Fan Club? If not go here to check out all the benefits of being a member. If you are a member hop right on over the special challenge forum here.
My project today is one I made for the challenge I am hosting  today. I will give you all the details of how I made my card but you will have to go over to my forum post to see what my challenge is.
I have fallen in love with several of the new Creative Expressions  dies.  My project today was made with the gorgeous Granada die paired with the Poppystamps Small Gothic Arch, Small Gothic Window, Memory Box Holly Branch, Impression Obsession Bunch of Blossoms, Tiny Flowers and Pine Sprig Cluster.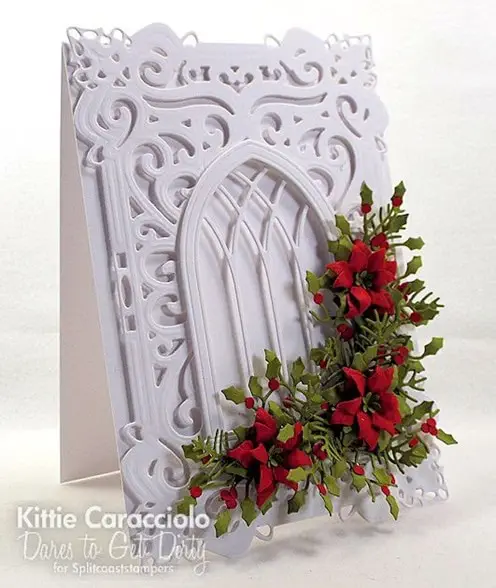 I cut the Granada, Gothic Window and Arch in all white.  I wanted my flowers and foliage to pop against the all white decorative background.  I used the window as a template and drew lines marking where I wanted to cut the opening for the window in the Granada die cut and cut the opening with my craft knife. I attached the gothic arch inside the window, applied mounting tape to the back of the window and then attached to the opening in the Granada die cut.  I attached several small pieces of mounting tape to the back of the decorative window layer and attached to the card base.  I wanted all of the decorative elements to stand away from the base to create dimension and interest.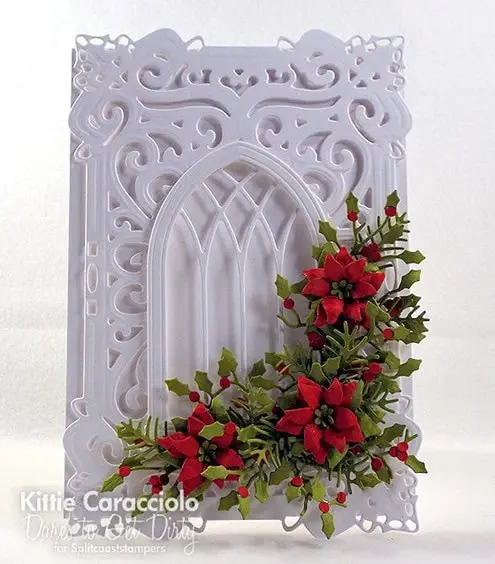 I cut several pieces of the holly branch and attached 1/8" punched circles to form little patches of holly berries.  I cut the branches apart to make it easier to create the foliage background for my flowers. I lightly formed the holly branches with my stylus and molding pad to add dimension and bring them to life.  I cut several flowers, formed them with the stylus and molding pad, attached two sections together for each poinsettia and finished by adding a tiny green flower to the center of each. I attached the poinsettias to the foliage base with glossy accents.  I filled in the floral spray by added several pieces of pine sprigs.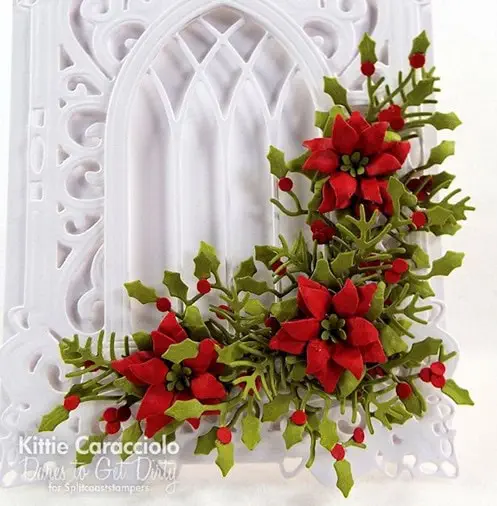 Here's a closer view.  I love how festive the flowers and foliage look against the white.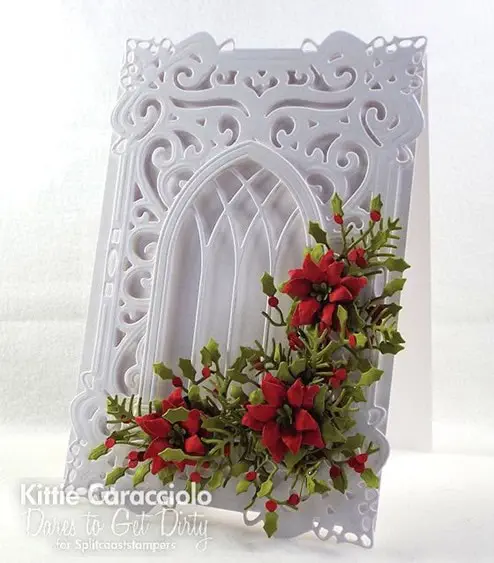 I hope you will check out the Dare To Get Dirty challenges over at Splitcoaststampers.  Have a wonderful weekend and thanks so much for stopping by.
Card size:  5.75" x 4.00"