Good Tuesday morning.  I have another Christmas scene to share with you today using the Poppystamps Elegant Stair Frame, Pine Garland,  Impression Obsession Bare Christmas Tree, Pine Sprig Cluster, Fir Sprigs, Cat set, the daisy from the EK Success Daisy and Petunia mini set and tiny flowers made using the Fiskars 1/4" Flower Punch.  I have to admit I went a little over the top with pink  and evergreen but I just couldn't help myself.  For some reason I had a hard time getting the true colors to show in all the pictures.  I think it was the fault of the person using the camera rather than the camera.  LOL!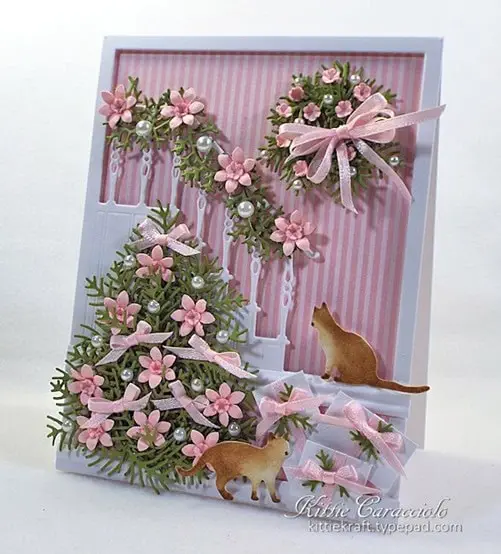 I started by attaching the staircase frame to the card base with mounting tape.  I wanted it to be standing away from the base to add dimension.  I added two layers of the pine garland to the stair rail attaching with glossy accents.  I added the tiny pink flowers and pearls to embellish the pine.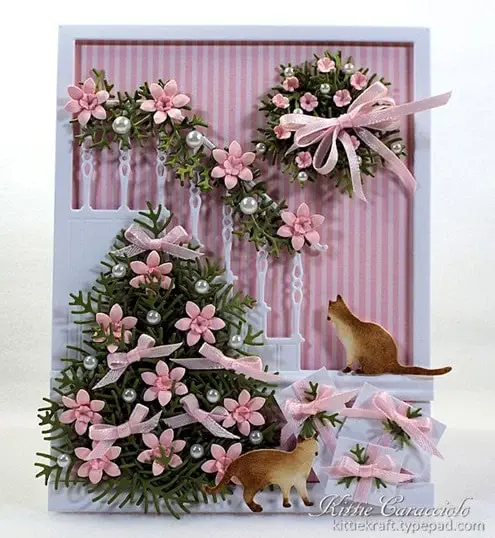 I cut the bare Christmas tree and about 50 pine sprigs.  I started at the top of the tree adding sprigs with glossy accents and working my way down to the bottom.  I didn't use the full size of the tree as it would have been too tall and would cover up the railing.  I attached flowers and pearls to the tree with glossy accents.  I always add a touch of glossy accents to the pearls just as a precaution.
I cut three small white pieces of cardstock for packages, added ribbon, evergreen and a blow and attached them by the tree with mounting tape.  I colored the cats with mini applicators using Antique Linen and Gathered Twigs distress ink.  I attached them to the scene with mounting tape.
Here's a closer view of the trees, packages and cats.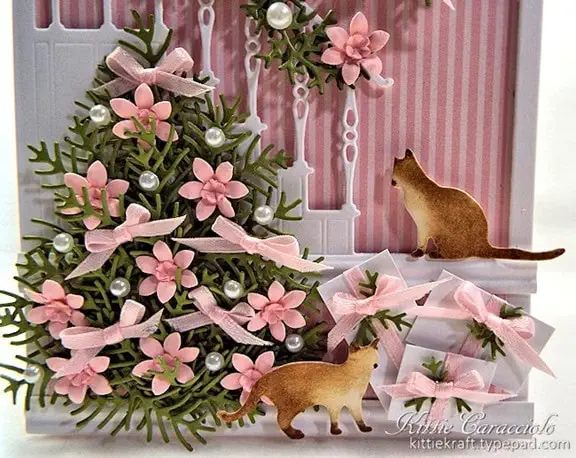 I had several pieces of pine left over so I created a tiny round wreath to fill in the open wall space about the landing. I added tiny flowers, pearls and finished it with a multi loop bow.  Here's a closer view.  I think it is so sweet.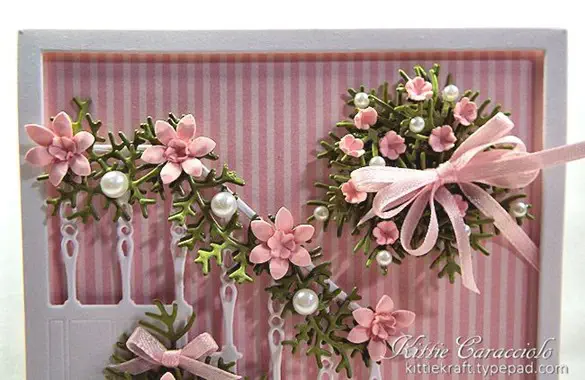 This is really a very busy card front but I really love it.  I especially loved adding the two cats to add a whimsical homey touch to a fairly elegant project.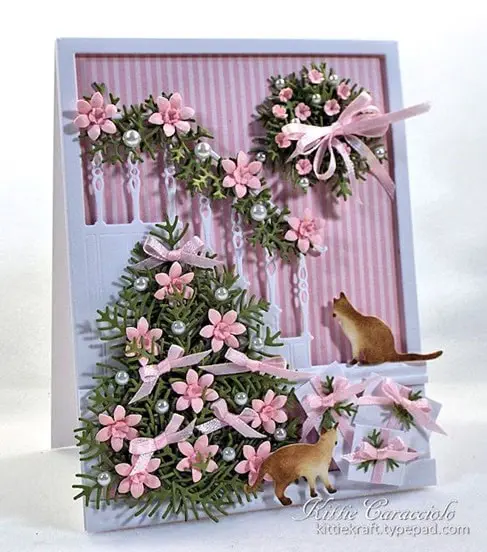 Thanks for coming by and I hope you enjoy a good day.
Card size:  5.50" x 4.25"