Good Monday morning.  I have another flower project to share with you today made using Susan's Garden Notes Rose 2 and Garden Patch 1 1/2 inch @ Mini Roses.  I stepped a little out of my wheelhouse and used some of the Mylar Sheetz from Elizabeth Craft Shimmer Sheetz Iris Sampler Pack..  I've never used this product before and wasn't exactly sure of what to do with it.  I read there are multiple uses for the Mylar sheets but I finally decided to use it behind my framed rose.  I think the framed background looks like a church window.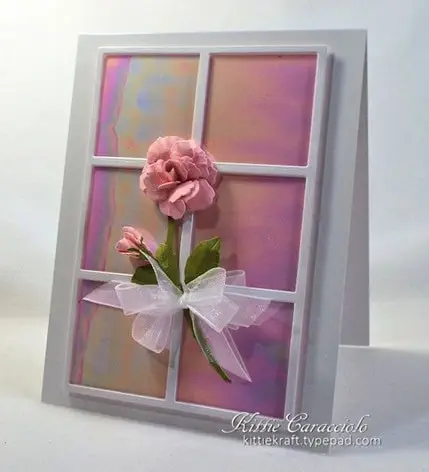 If Susan happens across my blog post I hope she doesn't take too close a look at my rose.  I wasn't quite sure I was assembling it together correctly but I just kept adding petals until I was happy.  I lightly formed all the petals with my stylus and molding pad and then applied Spun Sugar ink to each petal with a mini applicator before attaching the petals to the stem base. I applied Shabby Shutters and Squeezed Lemonade to the stems and leaves.
I applied rolled double stick tape to the back of the frame and attached it to the Mylar sheet.  I then applied mounting tape to the back of the frame and attached it to the card base.  Both the frame and card base were made using glossy cardstock.  The rose was attached with pieces of mounting tape.  I added the small multi loop bow for the finishing touch.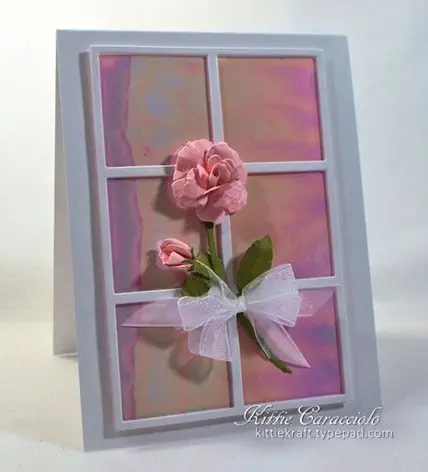 I usually have a center shot of my project but I couldn't get one because my hands and camera kept reflecting off the Mylar.  LOL! 
Thanks for stopping by and I hope you have a wonderful week.
Card size 5.50" x 4.25"