Hello, and welcome to the Spring 2015 Essentials by Ellen Release Hop! I'll be showcasing some of the new stamp sets and dies In my post today!  And, Woo Hoo!!! I also get to give this new stamp set, called Bohemian Garden to a lucky someone!  Please leave a comment to enter my giveaway!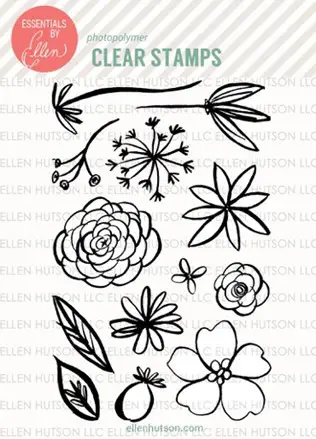 The fun begins in the CLASSroom and there is also a Grand Giveaway! To enter, be sure to leave a comment there, and at every stop along the hop by May 5th!  Winners will be announced May 8th.
Happy hoppin'!
The CLASSroom – http://ellenhutson.typepad.com/the_classroom_new/
Lisa Adametz – http://papergrace.com/
Sandy Allnock – http://sandyallnock.com/
Joni Nina Andaya – http://jonininaandaya.blogspot.com/
Joan Bardee – http://www.dearpaperlicious.com/
Laurel Beard – http://www.laurelbeard.org/
Heather Campbell -  http://parkermolly.blogspot.com/
Kittie Caracciolo – http://www.kittiekraft.com/  You are here
Julie Ebersole – http://papertrufflez.com/
Sharon Harnist – http://paperfections.typepad.com/
Pamela Ho – https://fishydesign.wordpress.com/
Tiffany Johnson – http://iheartartblog.com/
Emily Leiphart – http://leiphartonart.blogspot.com/
Jennifer McGuire – http://www.jennifermcguireink.com/
May Park – https://mayholicraft.wordpress.com/
Catherine Pooler – http://www.catherinepooler.com/blog/
Miriam Prantner – http://mprantner.blogspot.com/
Heather Pulvirenti – http://heatherpulvirenti.blogspot.com/
Julia Stainton – http://juliastainton.com/blog/
Alice Wertz – http://aliceslittlewonderland.blogspot.com/
Carissa Wiley – http://www.sprinkledwithglitter.com/
My first project is a cute scene that showcases one of the fun sentiments from Julie's 12 Days companion Greetings.  I couldn't resist pairing the little "calling bird" from the 12 Days set with the Just Chicken In sentiment.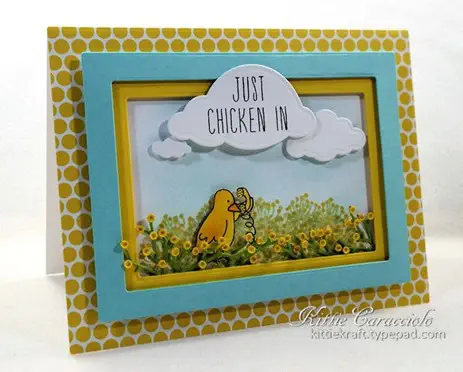 The sky and ground was sponged using distress inks and ink blending tools and the ground foliage was stamped with the smallest flower stamp from Julie's Bold Blooms set.  I used a yellow marker to add color to all of the flower tips.  The bird was stamped with with black versafine, heat embossed with clear embossing powder and cut out to pop up in the scene with mounting tape. The double mounted frame was cut using the nesting card templates set.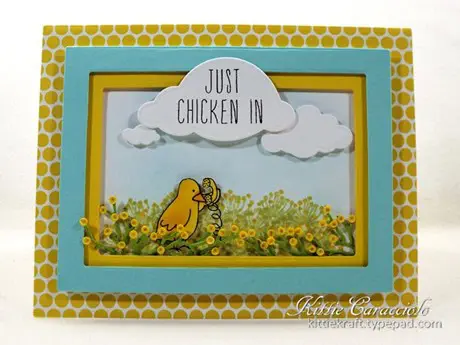 I cut several sections of the Wide Tree and cut them apart into smaller sections to use to create the foliage in front of the bird.  I punched 1/8" circles, formed them with my small tipped stylus and molding pad and attached them to the tips of the branches.  I wanted the dimensional flowers to replicate the floral background.  I stamped the sentiment on the largest cloud from the Cloud Set and attached it and the smaller clouds in the scene with mounting tape.  Isn't he the cutest little bird!!.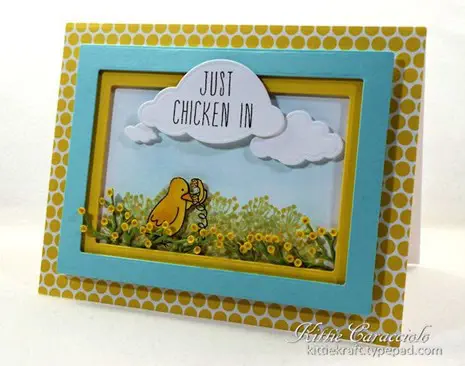 My second project was made using Julie's Wild Garden die set.  I love making die cut floral projects.  This unique set gave me lots of different pieces to layer and play with.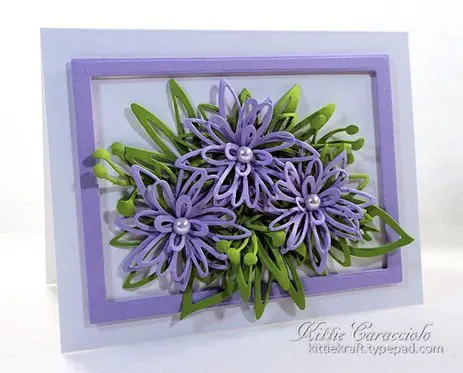 The flowers were made using the three similar shaped dies in the set.  Each flower section was formed using my stylus and molding pad and attached together with glossy accents.  I used several of the different shaped dies to create the green foliage background for my project.  Again each piece was formed using my stylus and molding pad. The frame was cut using the Nesting Card Templates and attached to the card base with mounting tape.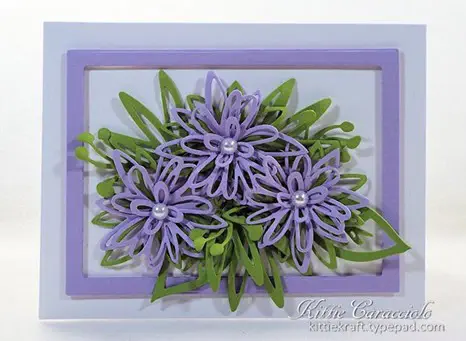 I created a base for the floral spray by attaching several pieces of foliage to the card base with glossy accents.  The flowers were attached with glossy accents and then I tucked several more pieces of foliage under and around the flowers to fill it.  I added the pearls for the finishing touch.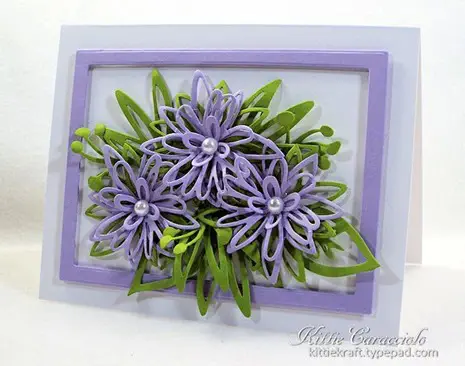 Thanks for coming by and I hope you enjoy all of the wonderful designs along our hop.
Both cards are 5.50" x 4.25"