Good Tuesday morning.  I recently received the new Memory Box Small Forest Archway and couldn't wait to use it on a project.  I thought by adding some leaves and flowers it would create the perfect backdrop for a house scene.  I created the house and yard using the Impression Obsession Brick and Square House sets, Fence Border, Small Grass Border and Small Bird Set.  The leaves and flowers were made using the tiny flowers from the Elizabeth Craft Designs Susan Garden Notes Sunflower and the tiny leaves from the Country Scapes The Woods 1 set.  Here's what I came up with.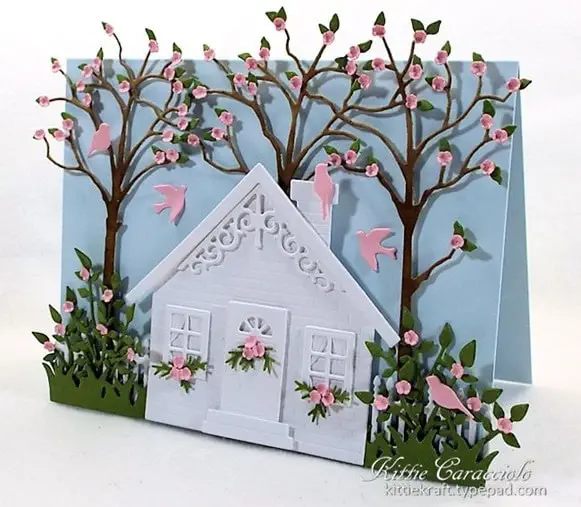 I cut two sets of trees using kraft cardstock and cut one apart to create a third tree for my scene. I colored the trees with a brown Copic marker and then added brown ink using a mini applicator.  I cut several sections of the tiny leaves and flowers, formed the flowers with my stylus and molding pad  and attached them to the tree using glossy accents. I applied thin strips of mounting tape to the  back of each tree and attached them to the card base.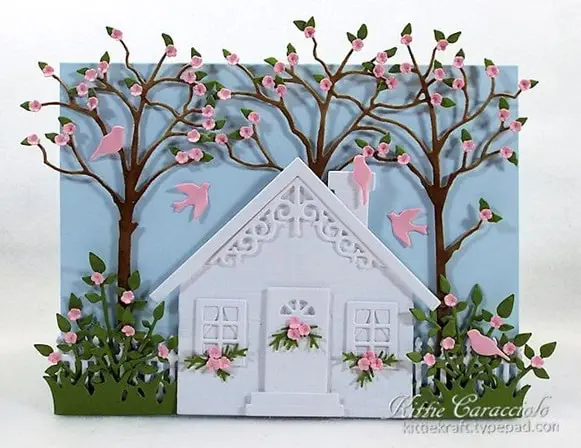 I assembled all the house pieces together using mounting tape and glossy accents and attached it to the card base using mounting tape. I added small branch sprigs and tiny flowers to the front of the house door and window attaching with glossy accents. I applied glossy accents to small sections of fence and attached on both sides of the house.  I applied thin strips of mounting tape to the back of two grass sections and attached in front of the fence.  I almost covered up the fence with the flower covered leafy branches but the scene looked so incomplete without the foliage height on both sides of the house.  I added the flying birds in the scene to fill a little of the empty space between the roof and trees and couldn't resist adding a few more birds to the fence, chimney and tree branch.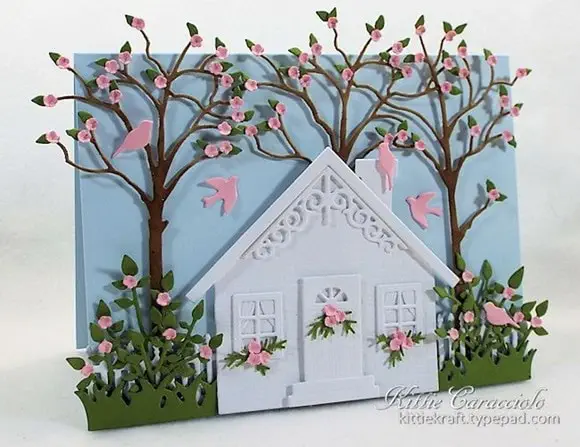 I know I've created several house scenes similar to this but I just can't seem to help myself.  I love the sweet cottage feel of the all white house with the sweet flower covered trees and flower garden. 
Thanks for coming by and I hope you have a wonderful Tuesday.
Card size:  5.50 x 4.25"