Good Friday morning. Today is the seventh and final day of the Splitcoaststampers Dare To Get Dirty week long challenge event. This event is a special thank you to all of the fan club members who support the site all year long. Have you had a desire to be on the Dirty Dozen design team? This special week of challenges will give you tons of opportunity to be inspired and to show off your wonderful and creative projects right along with the current Dirty Dozen team as well as the alumni team members.  Are you a member of the Splitcoaststampers Fan Club? If not go here to check out all the benefits of being a member. If you are a member hop right on over the special challenge forum here.
I have really enjoyed playing in the DTGD challenges this week and have especially loved going back to my roots to create scenes with watercolor, sponged and sketched backgrounds. For my project today I sponged in the water, ground area and sky using  Inkssentials ink blending tools, ColorBox stylus handle and foam tips and mini applicators.  I added some faint texture to the grassy area with the mini fern stamp from the Kittie Kits Outdoor Master and sketched in a few weeds in the background with a distress marker.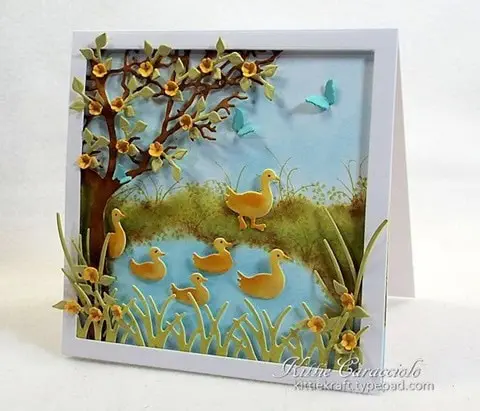 I attached the Grass Border to the back of the frame with double stick tape.  I cut off a couple branches from the Tree Frame so it could fit inside the frame, colored it with brown ink and a brown Copic marker and attached to the back of the frame with double stick tape.  I applied thin strips of mounting tape to the back of the frame and attached it to the scenic card base. I cut several sections of stems from the Leaves and Stems set, cut off a section of each to shorten and then attached to the branches with glossy accents. I attached tiny flowers from Susan's Sunflower to the tree branches and also to the remaining cut off portions of the stems to tuck in behind the grass.  The Tall Grass sections were added on both sides of the frame to soften..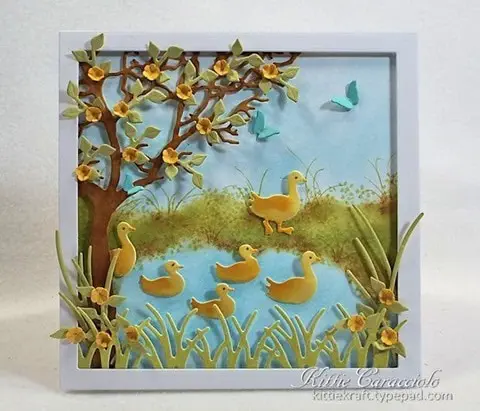 I cut the ducks from the Farm Girl set using white cardstock and sponged them with shabby shutters and wild honey ink.  I guess I should have left the larger ducks white and only colored their feet and beaks but didn't think of it until sitting here writing my post.  Oh well!  LOL! I cut the legs and feet off the smaller ducks so I could make them appear to be swimming in the pond and then attached them with rolled up glue dots.  I couldn't resist adding the three butterflies to the scene for the finishing touch.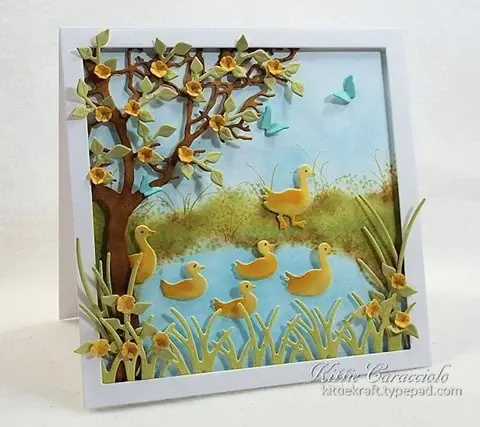 I hope you have been enjoying my DTGD projects this week.  I have several more to post over the next few days.  Happy Friday and I hope you have a wonderful weekend.
Card size:  4.25" square