Good Monday morning.  I hope you are enjoying this Labor Day holiday weekend.  I sure am.  It's always nice to have a three day weekend.   Labor Day usually means fall in right around the corner.  My project today is a fall scene with cute squirrels as the main focus and was made using the Impression Obsession Squirrel Set, Tree Frame, Oak Leaves and Rake, Small Grass Border and layered the Rectangle 6-in-1 Frames with my new Lawn Fawn Scalloped Rectangle Stackables.  Have you seen this new scalloped set of dies?  The largest die is 6.00" x 4.75".  I used the second largest die on my card today.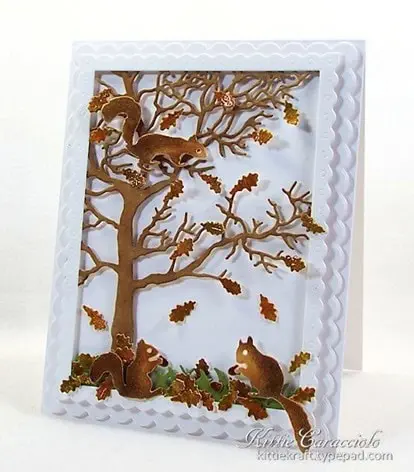 For the leaves I applied Rusty Hinge, Peeled Paint, Wild Honey ink directly to white cardstock with the ink pads and swooshed them around to mix the colors.  When I was finished swooshing I misted the inks with water and smoothed the colors together and heat dried.  I applied versa to the piece of colorful cardstock, embossed with clear embossing powder and then cut three sets of the smaller oak leaves.  I applied ink to the tree frame with a mini applicator  and then applied several of the leaves to the branches with glossy accents. The tree frame is a little larger than the rectangle frame so I cut off most of the frame border off so it would fit behind the frame and not show.  Then I attached it along with the grass border to the back of the frame with double stick tape.  I applied Antique Linen, Pumice Stone and Vintage photo to the squirrels, applied versa and embossed with clear embossing powder.  Clear embossing the colored image brightens and enhances the colors.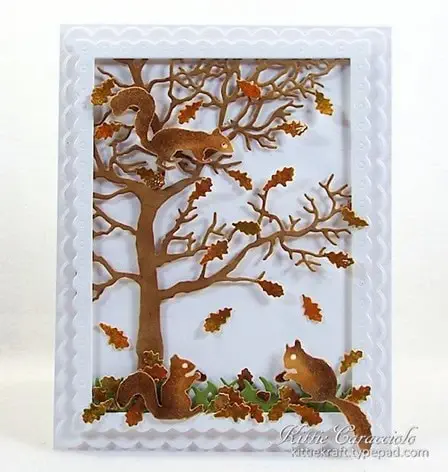 I attached the scalloped layer to the card base with mounting tape.  Then I attached the framed tree to the scalloped layer with thin strips of mounting tape. I attached the squirrels to the tree and ground with mounting tape and then surrounded them with leaves.  Can you see the tiny die cut acorns in their little paws.  They are so tiny but so cute.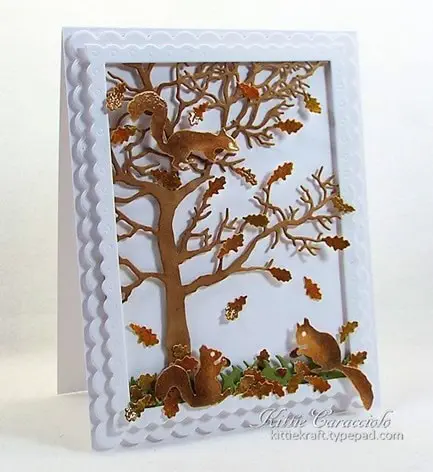 Thanks for stopping by today. I hope you enjoy your holiday.
Card size:  5.50" x 4.25"