Good Monday morning.  I love the Impression Obsession Deer and Doe set.  The are striking such an interesting pose and to me lend themselves perfectly to a clean and simple white on white project.  They look like they are looking to the stars and I couldn't resist using the large red star made from the Very Merry sentiment set along with several from the Sun and Moon set. I added another touch of red to the necks of both deer with red ribbon and and added pops of green with evergreen branches. I am always so excited to see how just a few pops of color adds so much interest to such a simple card.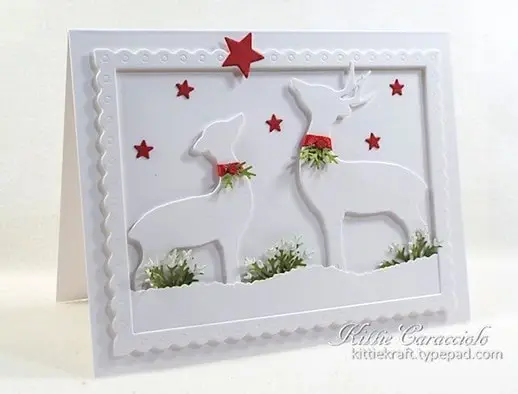 I hand cut a piece of ground snow using my deckle scissors and attached it to the back of the frame with double stick tape.  Then I attached the whole frame to the card base with thin strips of mounting tape.  I attached the red ribbon to the deer and then applied tiny branches with glossy accents.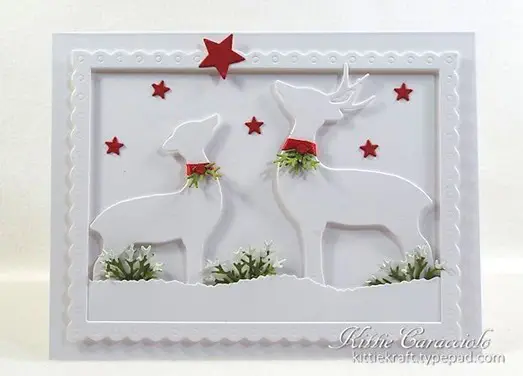 The deer were tucked in behind the snowy ground layer and attached with mounting tape.  The branches were attached in behind the ground area with glossy accents and then the tips were painted with white gesso. The stars were attached with tiny drops of glossy accents.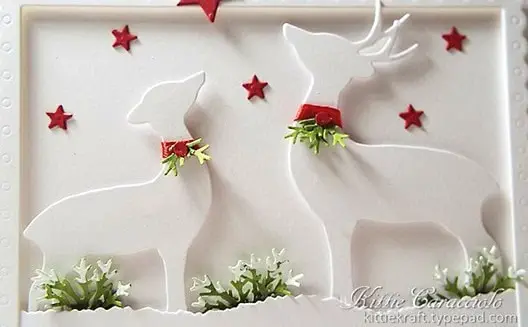 Here's a closer view to show the white tips painted on the evergreen.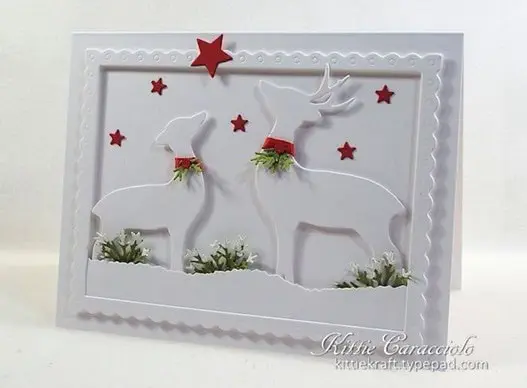 Thank you for stopping by today and I hope you have a great week.
Card size:  5.50" x 4.25"