Good Thursday morning and welcome to the Impression Obsession "Give Thanks" challenge.  Before I start my post I want to tell you all how excited our team has been with all of your participation in our "Feeling Blue" challenge.  It has been so much fun for us to check in every day to or two to see your new uploads.  Your projects are so lovely and inspiring.  Thanks so much for playing along with us. 
When I think of Thanksgiving I think of fall colors and pumpkins.  I couldn't resist making one more card this fall season using the new Pumpkin Set and pairing it with the new Sunburst  Background, Flourish, All-in-One Frames Rectangles 2,  Grass Border and Small Grass Border.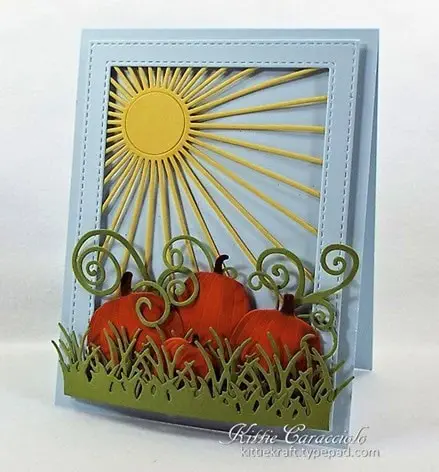 I started by attaching the sunburst to the back of the frame with double stick tape.  Next I added thin strips of mounting tape to the back of the frame and sun and attached it to the card base. I applied spiced marmalade and vintage photo ink to the pumpkins with mini applicators to add depth of color. I cut out the grass borders and flourishes and prepared to build my pumpkin scene.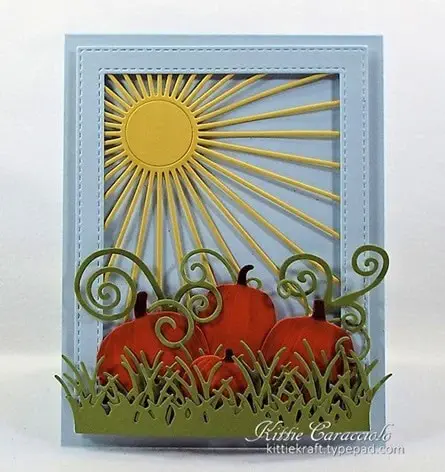 I applied small pieces of mounting tape to the back of the pumpkins and attached them to the card base. I attached one grass border directly in front of the pumpkins using double stick tape. I attached the second grass border to the small grass border with double stick tape and then attached pieces of mounting tape to both sides of the grass.  I attached one side, created a slight bow on the border and then attached the other side.  It's a little hard to see the bow in the photos but just that little element makes a big dimensional difference in the appearance of the card.  I cut the flourish apart into sections and attached them to the card base in behind the pumpkins with glossy accents to create the curlicues that grow on pumpkins.  Check out my Bendi Frame tutorial over on Splitcoaststampers if you would like to see how I create a bow frame or border on a card front.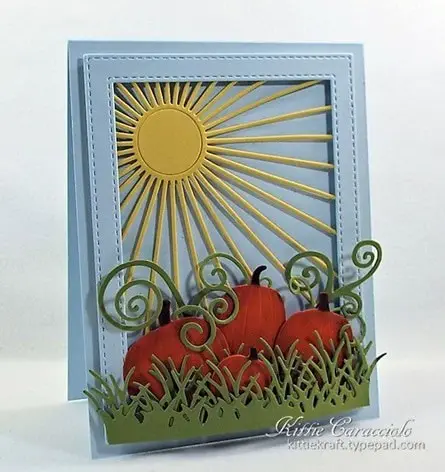 Why don't you come along and play with us. To enter the challenge go to the Impression Obsession Blog (all the details are there!). A random challenge card will be selected to showcase on the IO blog and you can enter to win a $25 gift certificate to IO just by playing! I hope you will go check out what the other IO teams members created for the challenge.
Kittie Caracciolo  (that's me)
Thanks for coming by and I hope you have a great day.
Card Size 5.50 X 4.25"